Location
Camp Douglas
1341 Margaret Road
Roberts Creek, BC V0N 2W2
Canada
Refund policy
Contact the organizer to request a refund.
Eventbrite's fee is nonrefundable.
Rediscover your inner child through a weekend of Lila (divine play) with RVN Wellness September 16-18, 2022
About this event
Set on the oceanfront grounds of Camp Douglas, join us for a weekend of summer camp style activities to bring out your inner child! All activities are suitable for everyBODY and plenty of choice will be offered to ensure you can choose activities that align with your intentions for the retreat. 
Acres of forest for exploring, beach combing on the ocean, multiple fire bits, and several indoor facilities and cabins scattered throughout the property ensure a balance of connection and privacy for campers. 
This retreat will be hosted by a team of yoga instructors/therapists/healers from RVN Wellness in Port Moody, BC. Be prepared for a weekend of choice in fun activities which may include: – yoga and inner child meditations– cacao ceremonies– sound healing– dance particies– fireside singalongs (and vegan smores!) – hiking– camp games– mindfulness exercises – arts and crafts– fact painting – all inclusive plant based menu with plenty of snacks– any other activity the imagination of your inner child can dream of! Be prepared to get silly and have fun!All activities will be accessible for everyBODY. We are both positive/body neutral and strongly object to diet culture and view movement and exercise as a form of play. 
*although this retreat will bring out your inner child, we do ask that participants are a minimum of 18 years old to attend. Additionally, the keepers of the land have requested no alcohol or smoking be permitted on property*
Frequently Asked Questions: 
1. Can I bunk with friends? Of course! Every effort will be made to place friend together. Book early to guarantee you will be in the same cabin. After booking, email dawn@rvnwellness.com to indicate your preference. Additionally, groups of 3 or more receive 15% off!
2. Can I come alone? Of course! You will be placed in a dorm or cabin with others and our hope is that by the end of the weekend you will be trading friendship bracelets!
3. Do I have to do yoga? Of course we will have multiple yoga class offerings each day but all our activities are optional. We will a choice of several activities at once to provide you with choice. You are welcome to create an itinerary that aligns with your intentions. 
4. Can I bring my child/pet? Unfortunately not this time (adult insurance stuff) 
5. Is transportation provided? We encourage carpooling and can get you in contact with others who are joining however cannot offer transportation as part of the retreat package. The retreat is located a 15 minute drive from the Gibson's ferry terminal. 
6. What kind of food will be provided? We will offer plenty of choice with our fully plant based menu and of course… snacks! If you require a gluten friendly or any other type of special diet, please email dawn@rvnwellenss.com so we can do our best to accommodate your needs. 
7. What is included? All activities, supplies, and meals. Your adulting ends as soon as you arrive, we will take care of the rest. 
8. What is not included? You'll want to bring your own bedding/towels as well as sunscreen, bug spray, yoga mat, reusable water bottle, and any comforts from home. The property is located on the ocean and water shoes might make swimming a little more enjoyable. 
9. What is your cancellation policy? A full refund is provided up to 30 days prior to the retreat. Bookings are fully transferable. If you find out you cannot make it after the 30 day cut off, you are welcome to transfer your registration to someone else.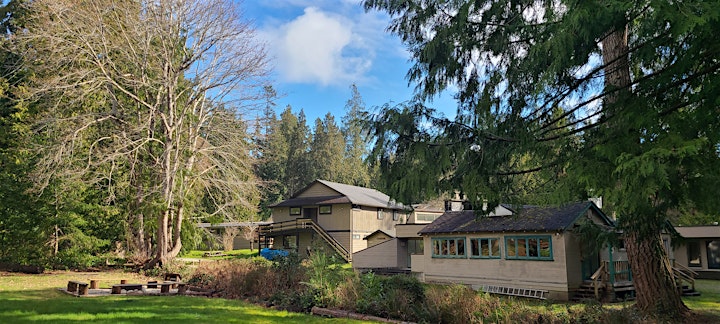 None