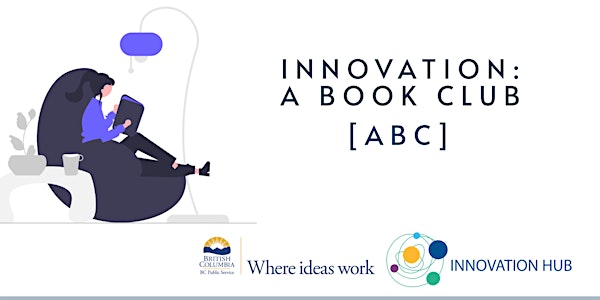 Innovation: A Book Club (ABC) Monthly Meet-Up
Join us for this monthly meet-up to discuss the Innovation Book Club selection. Everyone who attends will be entered to win a book!
About this event
Creating a community, fostering a growth mindset, inclusion and inspiration.... these are just a few elements of innovation that we strive to see in our modern public service.
Innovation: A Book Club (ABC) meets once every month to discuss our monthly group read. Join our innovation community on MS Teams to discover which book we're reading (and why it was chosen), and then book this time in your calendar each month to get together with colleagues to share back what you've learned.
It's not often we gift ourselves time and space to learn, reflect and grow. Let's start making a love of learning a priority!
Bonus! Everyone who attends this monthly meet up will be entered to win a book! See you there!
Who should come?
BC public servants who feel compelled to take the initiative to re-imagine their work, discover new ways of working, and who are looking for an opportunity to reflect on how to effectively introduce new ideas into their practices and their teams.
*Please note this is for BC Public Service employees only and is not open to the general public
Questions? Contact the InnovationHub@gov.bc.ca.
The BC Public Service Agency (BCPSA) is using Eventbrite to manage event attendance. The BCPSA is collecting your personal information through Eventbrite under sections 26(c) of the Freedom of Information and Protection of Privacy Act. Registration through Eventbrite is voluntary. Please be aware that IP addresses, event responses and personal email addresses (if supplied in place of a business email) will be collected by Eventbrite, and this information will be stored by Eventbrite outside of Canada. By clicking on the Complete Registration or Register button, you are consenting to your personal information being stored in the United States. Your consent is effective as soon as you register. If you do not wish to register through Eventbrite, please email InnovationHub@gov.bc.ca to be registered separately. If you have any questions about the collection, use or disclosure of your personal information, please contact InnovationHub@gov.bc.ca, 563 Superior Street, Victoria, BC, V8V 1T7, or call 250-507-0395.