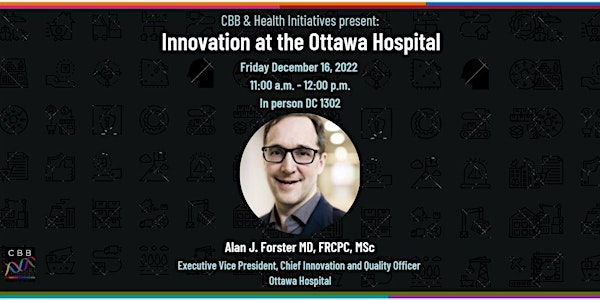 Innovation at the Ottawa Hospital with Dr. Alan Forster
Learn about the motivations for change in healthcare and how the Ottawa Hospital is supporting transformation.
About this event
Alan J. Forster MD, FRCPC, MSc is the Executive Vice President, Chief Innovation and Quality Officer at the Ottawa Hospital, Canada's largest Academic Health Sciences Center. His focus is enabling teams to create higher value health care – in which patient centered health outcomes are realized and health system costs are lowered.
Dr. Forster will describe the motivations for change in healthcare and describe how the Ottawa Hospital is supporting transformation using three related concepts: learning systems, data democratization, and open innovation. At the foundation of these concepts is a need for strong leadership and trust to support the meaningful collaborations required to achieve meaningful impacts.
Over his career, he has led research on patient safety and quality improvement. He performed the seminal work evaluating the incidence of adverse events following discharge from hospital. He has also led the Ottawa Hospital's data strategy which has been used to support research, operations, and planning. Overall, his work has led to over 240 publications in peer review journals and innumerable advances in quality of care.
In addition to his role at the Ottawa Hospital, Alan is a leader in the field of healthcare quality. He is a Professor of Medicine at the University of Ottawa and Senior Scientist at the Ottawa Hospital Research Institute. He provides ongoing advice to agencies at the local, national, and international levels, and he has served as associated editor for several prestigious peer-review journals.