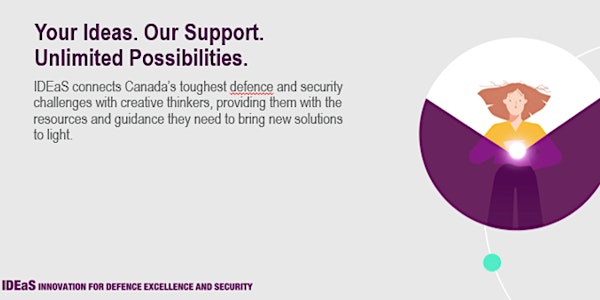 Innovation for Defence Excellence and Security (IDEaS) - French event
This webinar provides information on the elements of the IDEaS program.
About this event
French message will follow
About this event
Are you an innovator? Regardless if you are working from your home, an academic in a university lab or a scientist in a small or a major corporation, the Innovation for Defence, Excellence and Security (IDEaS) program is looking for your solutions to help resolve defence and security challenges. IDEaS will support the development of solutions from their conceptual stage, through prototype testing and capability development. The program includes several elements that promote collaboration between innovators, provides developmental resources and provides opportunities to interact with the Department of National Defence's science and military members.
This webinar will provide an overview of the IDEaS program and discuss the program elements including:
•Innovation Networks
•Competitive Projects
•Contests
•Sandboxes
•Test Drives
**********
Vous êtes un innovateur? Que vous travailliez à domicile, dans un laboratoire universitaire ou dans une petite ou une grande entreprise, le programme Innovation pour la défense, l'excellence et la sécurité (IDEeS) est à la recherche de vos solutions pour aider à relever des défis en matière de défense et de sécurité. IDEeS soutiendra le développement des solutions dès leur création, en passant par les essais avec des prototypes, jusqu'au développement des capabilités. Le programme comprend plusieurs éléments qui favorisent la collaboration entre les innovateurs, fournissent des ressources de perfectionnement et offrent des possibilités d'interaction avec les membres scientifiques et militaires du Ministère de la défense nationale.
Ce webinaire fournira des informations sur les éléments du programme IDEeS, y compris :
•Les réseaux d'innovation
•Les projets compétitifs
•Les concours
•Environnements protégés
•Banc d'essai