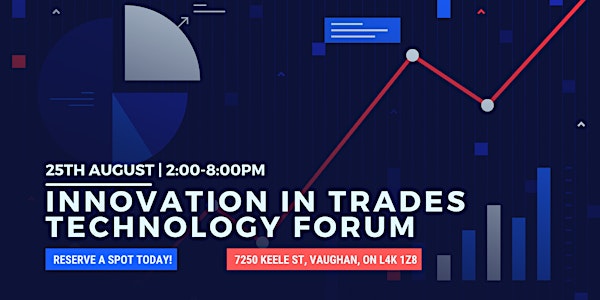 Innovation in Trades Technology Forum
The ITTF is a flagship event designed to Showcase emerging technologies in the skilled trades industry.
When and where
Location
Improve Canada 7250 Keele Street Vaughan, ON L4K 1Z8 Canada
About this event
The ITTF is a flagship event designed to showcase emerging technologies in the skilled trades industry and in the construction, renovation, and home improvement sectors.
 ITTF.ca or details and to learn more about this great event.
We welcome presentations of innovators in technology to pitch at the event.
Please send details of your project proposal that you plan to pitch to: invite@ittf.ca.
Investors are welcome at our event showcase.
Sponsors are also welcome for the ITTF.
Please call: (647) 642-8643 to discuss sponsorship options and opportunities.
The venue of the event, the IMPROVE building, is conveniently situated in Vaughan, the fastest-growing city in Canada. It is home to many start-up businesses, business development hubs, business incubator programs, and facilities. Slated to become the first Smart City in Canada; we believe the City of Vaughan is the best possible city to host the IMPROVE building for home improvement and the prime site for the Innovation in Technology Trades Forum.
The necessity for this state of the art trades and technology event has been created as a result of massive immigration to Canada over the past few years, an influx of domestic relocation from other cities in Canada to the Greater Toronto Area, a continued need for housing for marginalized people and for low-income would-be home-buyers and finally as a result of the housing boom; with new-build house construction throughout Ontario.
The ITTF will feature select presenters who will deliver seminars and showcase new technology advancements in the skilled trades; home improvement and renovations industry sectors.
In addition to the forum, ITTF will host a tradeshow component, with tables and booths hosted by companies that are industry leaders in new technologies in the skilled trades, home improvement, and renovation industry sectors.
The first 200 registrations spots are complementary