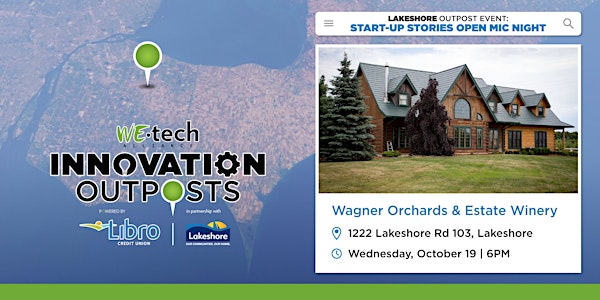 Innovation Outpost @ Wagner Orchards - Start-Up Stories Open Mic Night
If you want to hear a great story, talk to an entrepreneur! Join us and hear from founders on their most memorable set-backs and COMEBACKS!
When and where
Location
Wagner's Orchard 1222 Lakeshore Road 103 Lakeshore, ON N0R 1K0 Canada
About this event
*Reaches for microphone, is this thing on? *
We're calling entrepreneurs to the mic to share short stories and focused tales on instances when plans went awry, and how they persevered. We all learn from set-backs, and this is a front row seat for entrepreneurial minds to take in lessons learned in rallying when faced with challenges.
FREE ticket includes:
Complimentary harvest and autumn themed hors d'oeuvres & warm drinks set up in Wagner's beautiful hay barn
Access to the open mic presentation
A "letting go" activity (Founders will be asked to write their set back on a piece of recycled paper and throw it into the bonfire to let it go)
Explore an exclusive product display from Lakeshore business Affinity Custom Designs
Make connections and network over the time-honoured activity of a campfire !
The event is being hosted by WEtech Alliance, powered by Libro Credit Union, in partnership with the Municipality of Lakeshore.
Register, and get your wheels turning about a story that you could share with the group. Not sure where to start, here are a few prompts:
Is there a challenge you've dealt with or deal with, that is specific to your business' industry?
When set-backs happen, and they sure are to happen as an entrepreneur, who do you rely on for support?
Can you share any words of wisdom that came directly out to a challenge you faced in operating your business?
Have you ever supported a founder in your network in the effort to avoid a challenge that you've already been through?
What motivates you in the aftermath of a setback in your business?
Who is this event for? This event is for students, aspiring entrepreneurs, entrepreneurs and business owners, and anyone who is curious about entrepreneurship. The goal for this event is to help motivate, connect and support the local entrepreneurship community.
About Innovation Outposts: The Innovation Outposts event series, powered by Libro Credit Union, connects businesses with important resources designed to inspire growth and strong relationships. Innovation Outpost events include community building activities and workshops to connect entrepreneurs, supporting business development through educational programming, and strengthening networks to regional and national business support groups. For more details, visit www.wetech-alliance.com/outposts or email Lauryn Bodde, Events Coordinator, at lbodde@wetech-alliance.com.
About WEtech Alliance: WEtech Alliance is one of 17 Regional Innovation Centres funded by the Government of Ontario, serving the Windsor-Essex and Chatham-Kent regions. They provide entrepreneurs with business services, training, commercialization and IP support, mentorship, and strategic connections to help bring new ideas to market, scale to the next level and build a dynamic culture and a community of innovation. WEtech Alliance has served as the catalyst for technology and innovation in the Windsor-Essex and Chatham-Kent regions since 2011.
About Wagner Orchards & Estate Winery: Wagner Orchards and Estate Winery began with the first planting of apple trees in 1986. Beginning as a small "pick-your-own" farm, it has expanded to become a family agricultural destination. The proprietors of Wagner Orchards are Harold and Janice Wagner. Harold is a 1981 graduate of the University of Guelph with a degree in agriculture and Janice is a veterinarian (OVC 1984) and owner of the Essex Animal Hospital. Harold and Janice, along with their children, Matt, Melissa and Katrina operate the farm.