Innovation4D Professional Networking Night

Tuesday, 6 March 2018 from 5:30 PM to 8:30 PM (EST)
Event Details
Join us for a night of networking and facility tours at the Xerox Research Centre of Canada with Innovation4D host organizations Xerox Research Centre of Canada,GreenCentre Canada, and Research, Innovation and Commercialization Centre. Open to members of IntelliFLEX, IEEE, and the Chemical Institute of Canada professional associations.
Transportation to and from downtown Toronto is available on a first-come-first-served basis.
Proof of membership may be requested at the door.
IntelliFLEX will also be hosting a day-course on printable, flexible, and hybrid electronics from 8:00 - 16:30 on March 6th. Registration is discounted for CIC, IEEE, and intelliFLEX members and will include admission to the networking event. 

More information can be found here: https://intelliflex.org/event/9182/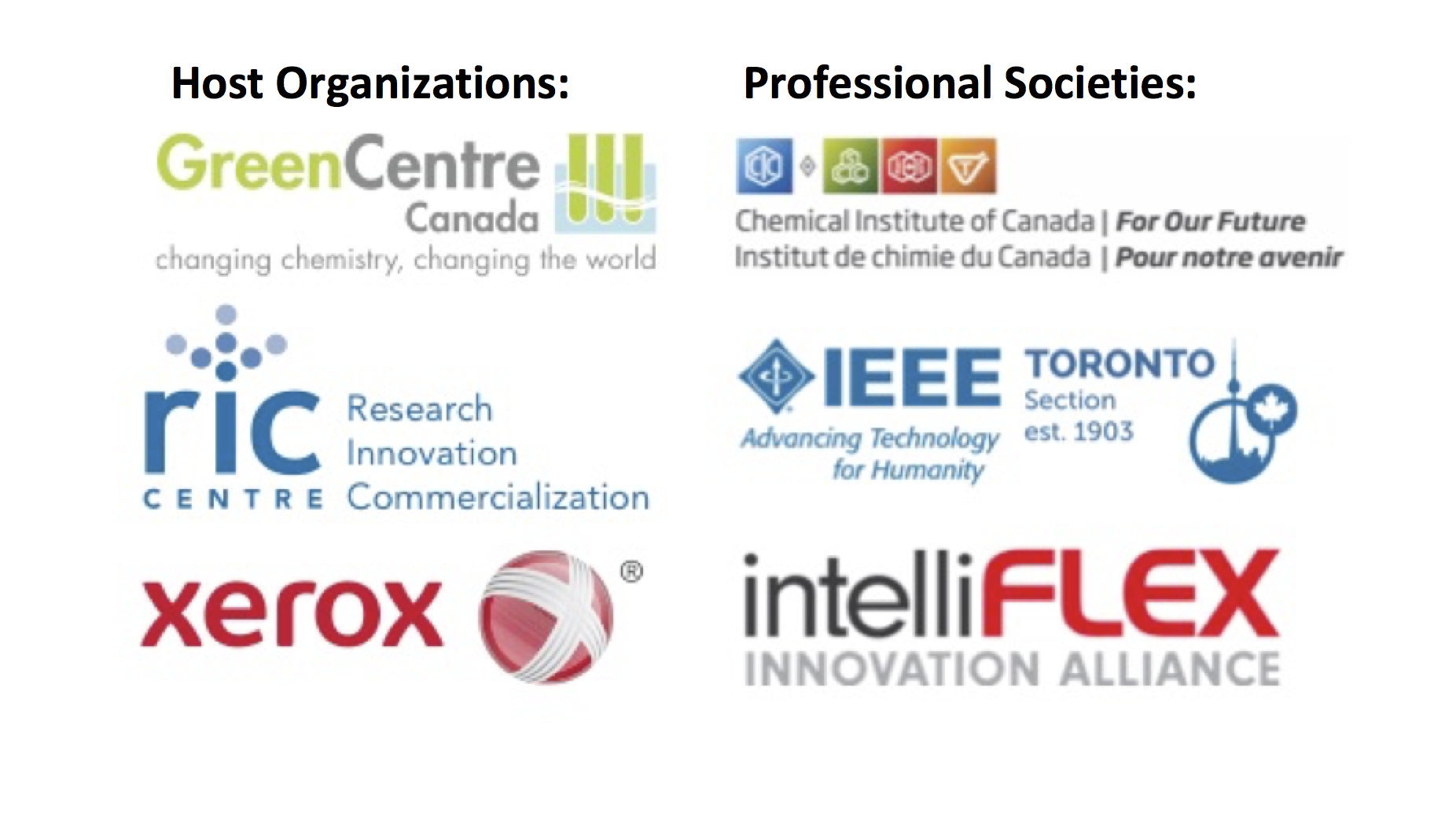 Schedule of Events 

5:30-6:15      

Arrival and registration

6

:15 pm

 

Welcome and opening remarks (Pake Auditorium)

6:20 pm 

Facility tour - first group

6:45 pm 

Host organizations overviews (XRCC, RICC, GCC) and Innovation Hub
     - Client Case Study - Anomera 

7:00 pm

Facility tour - second group

7:30 pm

Professional association overviews (CIC, IEEE, IntelliFlex)

7:45 pm

Facility tour - third group

8:25 pm  

Closing Remarks

8:30 pm

 Adjourn
When & Where

Xerox Research Centre of Canada
2660 Speakman Drive
Mississauga, ON L5K 2L1
Canada

Tuesday, 6 March 2018 from 5:30 PM to 8:30 PM (EST)
Add to my calendar
Organizer
About the host organizations:
GreenCentre Canada:
GreenCentre Canada provides an extensive and practical range of laboratory and commercial services to support the development of chemistry-driven products.  Through its two laboratory facilities in Kingston and Toronto, GreenCentre offers hands-on chemistry technology development, business development, and commercial services.  We serve the research and development needs of academics, entrepreneurs, and established companies by adding value across the entire development chain.
RIC Centre:
If you have an innovative tech idea…. We can help.  We provide services to tech start-ups of all shapes and sizes especially in Cleantech, Advanced Manufacturing. Materials and the Internet of Things. Whether you just have an idea or a million in revenue, we will tailor a custom strategy to your situation. The RIC Centre is a proud partner in the Ontario Network of Entrepreneurs.
Xerox Research Centre of Canada:
The Xerox Research Centre of Canada (XRCC) is home to a world-class team of scientists and engineers with over 40 years of industrial research and development expertise. XRCC recently opened its R&D facility to work for third party companies to accelerate their materials-based R&D, process engineering, scale up, and testing activities on a fee-for-service basis. XRCC has strong capabilities in  polymer, resin and industrial chemical synthesis,  engineered particles and nanoparticles production, dispersion and formulation development for inks and coatings, and printed electronics materials and processing demonstration. XRCC is committed to helping companies reduce their time-to-market by helping scale early-stage technologies where many materials technologies tend to fail.
About the professional organizations:
Chemical Institute of Canada (CIC):
CIC is a national not-for-profit organization committed to advancing the chemical sciences and engineering through its three constituent societies: The Canadian Society for Chemistry, the Canadian Society for Chemical Engineering, and the Canadian Society for Chemical Technology. We connect our members through Canada's two premier annual chemical conferences (The Canadian Chemistry Conference and Exhibition and the Canadian Chemical Engineering Conference) and through various events organized through our network of Local Sections, Student Chapters and Subject Divisions.
Institute of Electrical and Electronics Engineers (IEEE):
IEEE and its members inspire a global community to innovate for a better tomorrow through its more than 423,000 members in over 160 countries, and its highly cited publications, conferences, technology standards, and professional and educational activities. IEEE is the trusted "voice" for engineering, computing, and technology information around the globe. IEEE creates an environment where members collaborate on world‐changing technologies, from computing and sustainable energy systems to aerospace, communications, robotics, healthcare, and more.  Founded in 1903, the IEEE Toronto Section has 18 technical chapters, 5 affinity groups, and many student branches covering a wide range of engineering topics. With over 3500 members, IEEE Toronto is the largest and most active section in Canada.
Intelliflex:
IntelliFLEX is a not-for-profit industry alliance that partners with over 300 organizations nationwide to accelerate the growth of the flexible and hybrid electronics sector. They unite industrial companies and research and academic organizations into effective supply chains for flexible, 3D printable electronics, 2D large area printable electronics, wearable electronics, smart textiles, and hybrid electronics, including related semiconductors, integrated circuits and software. IntelliFLEX also facilitates sector growth through networking, conferences, workshops, partnerships to stimulate R&D, commercialization and manufacturing scale up.