Description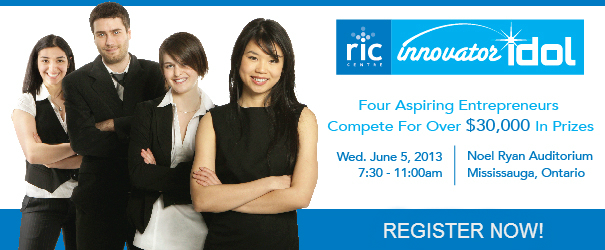 Innovator Idol is a hybrid of American Idol and Dragon's Den, where local entrepreneurs pitch their idea to a panel of industry experts for a chance to win prizes worth over $30,000. Register today to be part of the live audience and help choose the winner!
Finalists
• Joel Ironstone at SenoSENSE Medical Systems: Breast cancer pre – screening test.
• Samy Saad at Richpoint Pharma: Drug delivery technology to treat fungal infections.
• Dr. Ivan Zakharenkov at Veterinarium Corporation: Tablet application for the veterinary industry.
• Valdis Martinsons at XRomb Inc.: Mobile commerce platform.

Judges
• Sid Paquette, Director at OMERS Ventures
• David Scandiffio, President of IA Clarington Investments Inc.
• Stephen Beney, Partner at Bereskin & Parr LLP
Date & Time
• Wednesday June 5th 2013
• 7:30am – 11:00am
Venue & Address
• Mississauga Central Library (Noel Ryan Auditorium)
• 301 Burnhamthorpe Rd. W, Mississauga ON
Registration
• Pre-Registration: $25
• At the Door: $30

Contact Information:
• Mariya Shynlova, Communications Officer, RIC Centre
• 289-373-3050 x 201
• communications@riccentre.com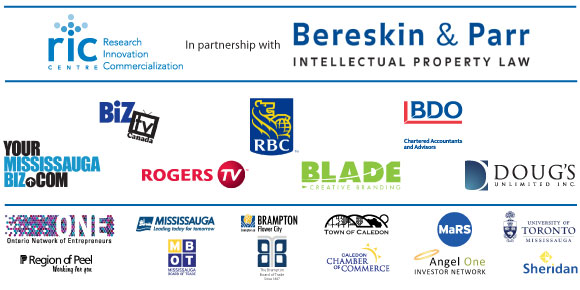 Organizer of Innovator Idol 5
About Altitude Accelerator (Powered by RIC Centre): Helping Tech Entrepreneurs Get to Market Faster
Altitude Accelerator provides business startup services and access to incubator space to entrepreneurs, startups and mature tech companies that want to kick-start growth for their enterprise within Ontario. Members have received over $490 Million in funding, generated $341 Million in revenue, and over 2,000 jobs were created last year.
We help with:
Mentorship and Advisory
Specialized Programming to Grow Early and Mid-Stage Ventures
Access to Customized Market Intelligence Reports
Connections to Professional Service Providers
Investor Pitch Practice
Access to Exclusive Entrepreneurship Workshops and Expert Speaker Events
Private CEO Peer2Peers
For more information, please contact communications@riccentre.com