INPM's 11th Biennial International Meaning Conference (Extended)
The only PosPsych conference which emphasizes flourishing through suffering. Our theme is "From Vulnerability to Resilience & Wellbeing".
About this event
Since the INPM's 11th Biennial Meaning Conference (August 6-8, 2021) is now over, the tickets on this page pertains to only the conference recordings. These conference recordings will be released on August 16th 2021, and be available until September 16, 2021.
Please register to receive these recordings by August 24th.
If you wish to enter a promo code, please click on "enter promo code" when registering (see image below).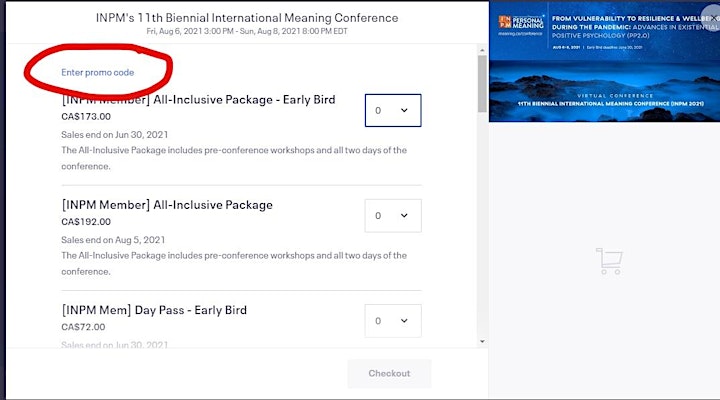 FROM VULNERABILITY TO RESILIENCE & WELL-BEING: ADVANCES IN EXISTENTIAL POSITIVE PSYCHOLOGY (PP2.0)
Our Meaning Conference once again rises to the challenge of the times with a world dangerously divided along ideological, economic and racial lines. The enormity and complexities of real-world problems, such as global warming, refugee crisis, growing income gap, and the alarming increases in depression, opioid-related deaths, and suicide, are beyond the scope of any school of psychology and demand a multidisciplinary solution. That's why, now more than ever, the world needs INPM's inclusive "Big Tent" approach...
Visit our conference website for more details.
—
Speakers
Keynote speakers include Kristján Kristjánsson, Darcia Narvaez, Robert Emmons, Todd Kashdan, Scott Barry Kaufman, Tim Lomas, Robert Neimeyer, Kirk Schneider, Scott Churchill, Blaine Fowers, Farooq Naeem, Christina Becker, and Paul Wong.
Visit our conference website for more details.
—
Testimonials from the 2018 Meaning Conference
–"It was truly a pleasure finally meeting you both… The presentation was well done and informative – kudos to both of you! … Thank you so much for your time and for allowing me the opportunity to experience firsthand your wisdom and kindness."
Don Laird, M.S., NCC, LPC Psychotherapist & Owner, Pittsburgh Psychotherapy Associates
—"Thank you SO MUCH for allowing me to participate in this wonderful weekend-long journey into meaning. I learned so much and plan on continuing to develop my coaching niche around the concepts and models you taught this weekend. With profound gratitude!" Karen Henry, M.A. Owner, Henry Healing
—"Thank you for the great learning and sharing during this weekend."
Zheni Nasi, B.A. Recent Graduate, York University
Visit our conference website for more testimonials.
—
Refund Policy
Refund requests will be accepted until June 30, 2021 at 11:59 PM (EST). After this time, NO refunds will be offered, although tickets may be transferred to another attendee as arranged by the person who purchased the tickets. Typically, refund or transfer requests will be responded to in 1-5 business days.
Tickets will be refunded in full minus a $50 processing fee. If multiple tickets from one order are refunded, the processing fee applies once. If multiple tickets from multiple orders are refunded, the processing fee applies per order.
All refunds will be processed online.
If the ticket purchase includes the option of CE Credits, this will also be included in the refund.
Organizer of INPM's 11th Biennial International Meaning Conference (Extended)
Mission & Vision
The INPM is dedicated to advancing health, spirituality, peace and human fulfillment through research, education and applied psychology with a focus on the universal human quest for meaning and purpose.
As a learned society, INPM believes that high-quality scientific research on the positive psychology of meaning in major life domains can contribute significantly to the well-being of individuals and communities. INPM also affirms the potential of personal and societal transformation through the impact of websites, publications, education and meaning-centered counseling/consultation. All the projects and activities of INPM need to be clearly related to the overarching purpose and mission of the INPM.
Who We Are
INPM is an international, multidisciplinary, learned society founded by Dr. Paul T. P. Wong in 1998 to expand the legacy and vision of Dr. Viktor Frankl. It was incorporated as a non-profit organization with the Federal Government of Canada in 2001. INPM is non-partisan, non-religious and non-governmental, governed by a Board of Directors and an Executive Committee.
INPM has attracted members with professional qualifications from over 30 countries. Although the majority of its members are psychologists and counselors, other professions represented include medicine, nursing, clergy, social work, education, and management.
Membership
If you are interested in becoming a member of INPM, please email info@meaning.ca or click here for more information.