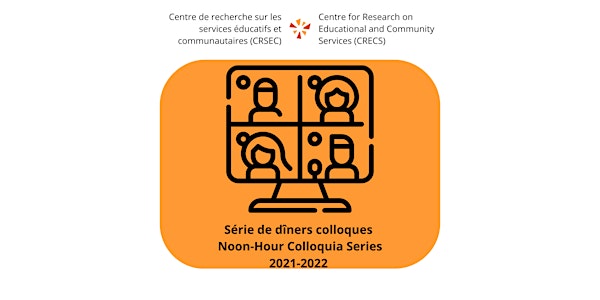 Dîner colloque du 16 mars| March 16 Noon-Hour Colloquium
Endroit
Événement en ligne
Le racisme systémique et l'éducation franco-ontarienne| Systemic Racism and Franco-Ontarian Education
À propos de cet événement
(English follows)
L' événement se déroulera en français.
Qui :
Mélissa Villella (elle/sa) est ancienne étudiante au doctorat à l'Université d'Ottawa et membre du CRSEC. Maintenant, elle est professeure adjointe à l'Université du Québec en Abitibi-Témiscamagne.
Quoi :
Cette présentation portera sur des exemples de racismes systémiques à l'école franco-ontarienne, selon la perspective de la théorie critique de la langue et de la race. Entre autres, nous explorerons le Programme d'appui aux nouveaux arrivants (PANA) en le joignant non seulement la théorie, mais aussi à la pratique.
S'il vous plaît, notez que le colloque utilisera Zoom comme plateforme de streaming. Vous recevrez le lien approximativement 48 heures en avance. Nous recommandons que vous vérifiiez dans votre dossier de pourriel la présence de ce courriel. Si vous n'avez pas encore reçu le lien, envoyez-nous un courriel à crecs@uottawa.ca.
Toutes les présentations des webinaires de la série des Colloques du midi sont enregistrées et rendues publiques sur les plateformes de médias sociaux du CRSEC. Les images vidéo et les messages vocaux et de chat peuvent être vus ou entendus dans l'enregistrement. En vous inscrivant à ce webinaire, vous consentez à ce que le CRSEC recueille et partage vos renseignements personnels dans le cadre de communications externes et dans du matériel promotionnel sur différents sites. La collecte et l'utilisation de vos renseignements personnels par le CRSEC sont conformes à la Loi concernant l'Université d'Ottawa, S.O. 1965, C. 137.
---
The event will be delivered in French.
Who:
Mélissa Villella (she/her) is a former uOttawa doctoral student and CRECS member. Currently, she is an Assistant Professor at Université du Québec en Abitibi-Témiscamagne.
What:
This presentation will focus on examples of systemic racisms in Franco-Ontarian schools from the perspective of critical language and race theory. Among other things, we will explore the Newcomer Support Program (NSP) by linking it not only to theory, but also to practice.
Please note that the colloquium will use Zoom as the streaming platform. You should expect to receive the link approximately 48 hours in advance. We recommend that you check your spam folder for this email. If on the day of you still do not have the link, send an email to crecs@uottawa.ca.
All webinar presentations in the Noon-Hour Colloquia Series are recorded and made public on CRECS social media platforms. Video, voice, and chat messages may be visible in the recording. By registering for this webinar, you consent to CRECS obtaining and sharing your personal information in external communications and promotional materials on various sites. The collection and use of your personal information by CRECS are per the University of Ottawa Act, S.O. 1965, C.137.