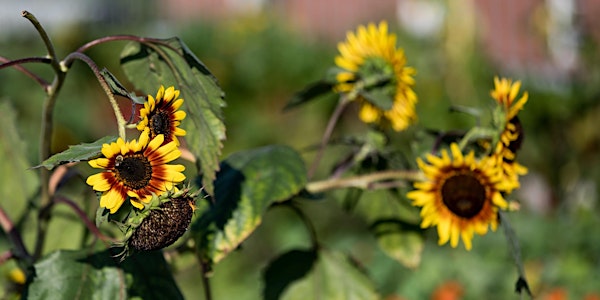 Insects in the garden workshop/Ateliers sur les insectes dans le jardin
When and where
Location
Santropol Roulant 111 Rue Roy Est Montréal, QC H2W 1M1 Canada
Description
(English will follows)
La saison estivale est en plein essor et notre série d'ateliers sur l'agriculture urbaine va de bon train avec un atelier sur les insectes!
Quels sont les ravageurs du potager et comment s'en débarrasser? Lesquels sont utiles et comment les attirer? Que faire avec les fameux écureuils montréalais? Cet atelier répondra à ses questions et bien plus encore!
*Notez bien que le même atelier sera donné deux fois et sera bilingue.
Quand : Le mercredi le 7 août dans une formule 17h30 à 19h30!
Où : Dans les Terrasses Roy en face de Santropol Roulant au 111, rue Roy Est
Coût : 10 à 15 $ suggéré (payez ce que vous pouvez!) + 5 $ de plus si vous ramenez votre insecticide!
L'atelier aura une partie théorique et une partie pratique où il sera possible de fabriquer son propre insecticide naturel et de le ramener à la maison. Il vous est conseillé d'amener votre propre contenant (style vaporisateur) pour y mettre votre insecticide.
Les sujets abordés durant cet atelier seront : les types d'insectes, leurs impacts sur les plantes, les solutions face à leurs ravages, l'importance des pollinisateurs, etc!
-------------------------------------------------------------------------------------------------------------------
Summer is officially here: veggies are growing, flowers are blooming, and our agriculture workshop series continues with an insect workshop!
Which insects are the enemies in your garden and how do we ward them off? Which ones are useful and how do we to attract them? What can you do with the famous squirrels of Montreal? This workshop will answer all of theses questions and more!
*Please note that the same workshop will be offered on two dates, and both will be bilingual.
When: Wednesday August 7th, from 17:30 – 19:30 pm
Where: In the Terraces Roy in front of Santropol Roulant, 111 rue Roy East
Cost: 10$ – 15$ (suggested contribution, pay-what-you-can) + 5$ for your homemade insecticide
The workshop will have a theoretical and practical component, which will give you the opportunity to make your own natural insecticide to take home. It is recommended that you bring your own spray bottle to transport the insecticide home.
The workshop will cover: the diversity of insects, their impacts on the plants, the solutions to keep it off, the importance of pollinators, etc!