Join us as Peter Balkwill of the Old Trout Puppet Workshop conducts an interview and studio tour with Papermoon Puppet Theatre in Indonesia.
About this event
The Canadian Academy of Mask and Puppetry (CAMP) is excited to host its new virtual series with Peter Balkwill of the Old Trout Puppet Workshop. Join us as Balkwill conducts interviews and studio tours in his inimitable style.
The free hour-long sessions will introduce you to Puppetry and Mask artists from around the globe over the year.
The third installment and incredible guests in this series are Ria and Iwan from Papermoon Puppet Theatre in Indonesia, makers of original puppet works, physical theater, and mechanical wonder.
Date and time
In Calgary : Wed, October 27, 2021 | 8:00 PM – 9:00 PM MDT
In Indonesia : Thurs Oct 28, 2021 | 9AM - 10AM GMT
Papermoon Puppet Theatre was founded as a brainchild of Maria Tri Sulistyani (an illustrator, writer and a former theatre performer) and Iwan Effendi (a visual artist). Since 2006, this couple has been doing lots of experiments on the arts of puppetry. Based in Yogyakarta, Indonesia, In a country with world-renowned puppetry traditions, the young, expert artists of Papermoon are extending the form with their mixed-media productions, and creating works that imaginatively explore identity and society.
Not only making performances, Papermoon Puppet Theatre also presents its artworks through visual art installations, and shares its knowledge by making lots of workshops, make puppet labs and initiates international biennale puppet festival calls Pesta Boneka since 2008.
Papermoon Puppet Theatre believes that anything can come alive. Every creature, every object, every single thing in the world holds life somewhere inside of it. With our performances, installations, workshops, collaborations, and festival, we hope to bring those things to life—through the amazing art form of puppetry, as well as by nurturing the good things around and within us.
You can find out more about Papermoon Puppet Theatre on their website at https://www.papermoonpuppet.com/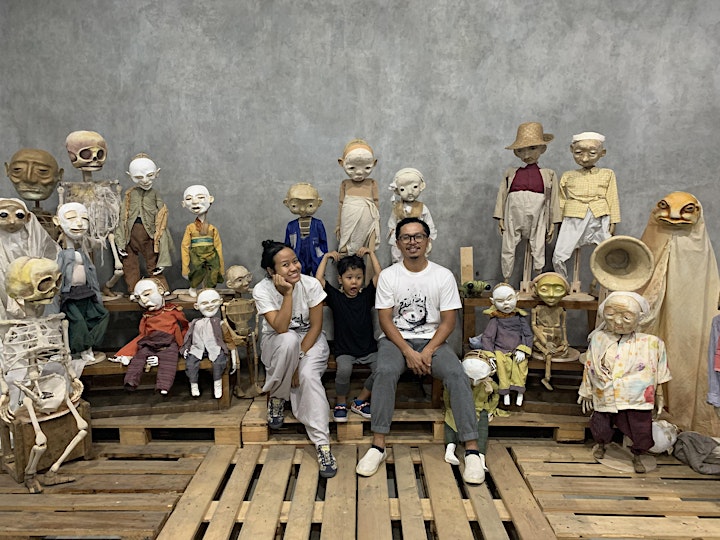 Organizer of Inside the Artist's Studio: Papermoon Puppet Theatre