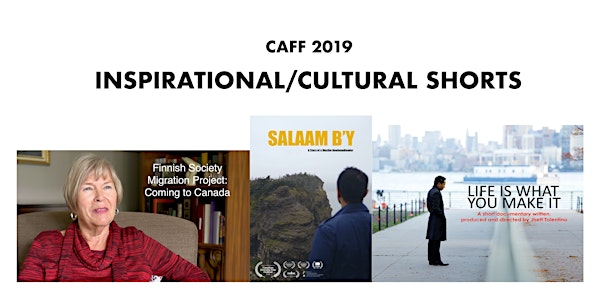 INSPIRATIONAL / CULTURAL SHORTS
When and where
Location
Carnival Cinemas 5402 47 Street Red Deer, AB T4N 6Z4 Canada
Description
CAFF Rating All Audiences
Life is What You Make It: Short Documentary
For the first time since immigrating to the United States over a decade ago, Jhett Tolentino decides to visit his hometown of Iloilo City in the Philippines. He traces his steps from his slum-stricken birthplace to the schools he attended.
Jhett always thought there is something bigger for him outside of Iloilo. He ventures into different careers until he finally finds his purpose in the Great White Way – not onstage but on the business side as the only Filipino producer on Broadway.
Witness Jhett's journey in this documentary as he shares his triumphant immigrant story and captures the special moments of his homecoming that is full of surprises, love, hope and inspiration.
Director: Jhett Tolentino
Finnish Society Migration Project: Coming to Canada: Short Documentary
"We live in Canada, but we like to keep our own roots. Finland was the country where I was born, but I'm happy in Canada because this is my homeland now. I've been here almost 60 years. So I have two countries to call home." -Ritva Haikarainen
Director: Ava Karvonen
Salaam B'y: Short Documentary
Aatif Baskanderi grew up in a place where not many people looked like him or believed in the same things that he did. As a Muslim child of Pakistani immigrants, Newfoundland became home. His experiences growing up on "the rock" was like something out of a story book. On this cold, isolated island in the Atlantic ocean, Aatif learned sincerity and appreciation for others that would set him up for remarkable success in life.
As an engineer with a keen interest for social justice, he embarked on a journey to connect the two. Guided by his Muslim & Newfoundlander values, this led him to studying at the London School of Economics, researching Fair Trade farmers in Palestine, working on malaria prevention in Sierra Leone, informing science policy in Canada, the UK & Europe, leading Engineers Without Borders across Canada, and currently working as an innovation specialist at a global power company in Calgary, Alberta.
While things are going well for Aatif, the same cannot be said for his home province, which is facing tumultuous economic times. In hopes of inspiring a new generation of Newfoundlanders to live their dreams, Aatif returns to Newfoundland to share his story of pluralism and tolerance.
At a time of increasing racial and religious friction across the west, Aatif's story is a reminder of what can happen when a community welcomes outsiders with open arms.
Director: Amar Wala