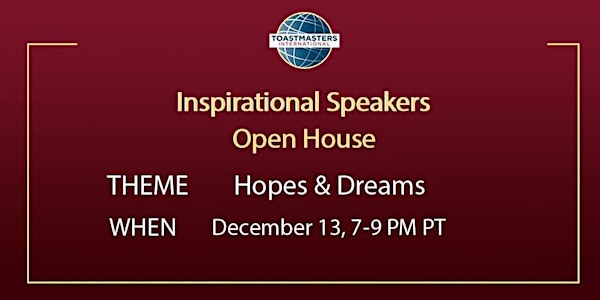 Inspirational Speakers Advance Toastmaster Club - Diciembre 13th
Toastmaster Club meeting. The theme of the Day: "Hopes & Dream"
About this event
Inspirational Speakers Advanced Toastmasters Club is a global community that learns and practices through the art of speaking. Every meeting has a lesson. After you click Leave on Zoom, we hope you take those lessons to your Toastmasters journey, work or personal life.
We meet monthly, every 2nd Tuesday at 7 PM (PST) via Zoom.
---
Toastmasters International is a nonprofit educational organisation that offers a proven education program that helps improve communication and build leadership skills through a worldwide network of clubs. The organisation's membership exceeds 300,000 in more than 15,800 clubs in 149 countries. Since 1924, Toastmasters International has helped people of all backgrounds build confidence as speakers and leaders. Our speeches inspire you to change people's lives.