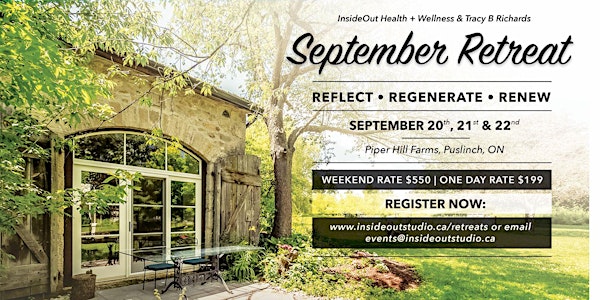 Inspired Living September Retreat in Ontario
When and where
Location
Piper Hill Farm, 711 Arkell Rd 711 Arkell Road Puslinch, ON N0B Canada
Description
Inspired Living September Retreat 2019 - Piper Hill Farm
(Next to Guelph, Ontario. See spectacular images here: https://www.piperhillfarm.ca/piper-hill-gallery)
Caring for ourselves throughout the cycles and seasons of life is necessary for us to feel free and joyful. September is full of transformations. The temperature begins to get crisp, the leaves illuminate new colours into a picturesque nature landscape that inspires and envelopes us. Aside from the weather's transformations that occur during this season, we are transforming our lives, too.
This theme of new beginnings, regeneration and renewal exists in nature, within humanity and also in the work of spiritual transformation. Join Tracy B Richards, Barry H Samuel and guest facilitators as they guide you Over three relaxing days. You will be taken on a journey of reflection, regeneration and renewal which will inspire and uplift you.
WHAT YOU CAN EXPECT:
During your stay, our themed programming will draw from both the personal and professional experience of Barry & Tracy. Barry has a couple of decades in practice plus an extensive background in Health, Fitness & Mindful Living while Tracy's brings her passion and expertise in Relationships, Authenticity, Courage & Faith. Tracy will draw from her personal and professional experience with the teachings of Brene Brown throughout the retreat program.

In addition to our wellness activities, delicious meals and enriching themed programming, you will have plenty of free time. We encourage you to explore the grounds, be curious and create personal connections with the other participants.
(To access early bird rate, please call or email Insideout Studio at events@insideoutstudio.ca
*Early Bird registration must be booked and paid for by September 15, 2019
(includes upto 5 meals, shared accommodation and all activities)
One-Day Rate: $395 pp +HST for Saturday. E (9:00 am to 11:00 pm; Includes 3 meals and all activities; No overnight accommodation.)
Early Bird One-Day/Refer a friend One-Day rate- $345
Returning guests Discount 10% full rate, 5% One-Day rate.
*Discount rates cannot be combined
ACCOMMODATIONS
All rooms are located in the gorgeous Piper Hill coach house.
The following Room Types are available:
Single/Double Private Room + Ensuite Bath: 1 Queen Bed, Ensuite Bath, Walkout (only 1 room of this type is available)

Single/Double Private Room w/shared Bath: Queen Bed, Shared Bath (only 1 room of this type is available)

Twin Room w/shared Bath: 2 Twin beds, Shared Bath (only 2 rooms of this type are available)

Bunk Room w/shared Bath: 2 sets of Bunk beds (2 x double bottom, 2 x single top; only 1 room of this type is available)
MEALS
All meals and snacks are lovingly prepared by Lisa, Piper Hill's chef & proprietor. Please notify us of any restrictions/allergies/intolerances.
The following meals will be provided:
Friday dinner

Saturday breakfast, lunch, dinner

Sunday breakfast
RETREAT ITINERARY (Note: All activities are optional. Itinerary may be subject to updates)
FRIDAY
Theme: Reflection & Letting Go
3:00 – 6:00 Arrival, Check-In & Self-Orientation
3:30 – 5:30 Optional Afternoon Program/Explore Venue
6:00 – 7:30 Meet & Greet followed by DINNER
7:30 – 8:00 Break
8:00 – 11:00 Evening Program
SATURDAY
Theme: Regeneration
7:00 – 7:30 Fitness
7:35 – 8:30 Restorative Postures, Movement & Mindful Awareness Practice
8:30 – 9:00 Break
9:00 – 10:00 BREAKFAST
10:15 – 12:15 Morning Program
12:30 – 2:30 LUNCH & FREE TIME
2:30 – 4:00 Afternoon Program (assign Creative Project)
4:00 – 5:30 Free time to work on Creative Project
5:45 – 6:30 Sunset (outdoor) Program – Restorative Postures, Movement & Mindful Awareness Practice
6:30 – 9:00 DINNER & FREE TIME
9:00 – 11:00 Evening Program
SUNDAY
Theme: Renewal
7:00 – 7:30 Fitness
7:35 – 8:30 Restorative Postures, Movement & Mindful Awareness Practice
8:30 – 9:00 Break
9:00 – 10:00 BREAKFAST
10:15 – 12:15 Morning Program & Wrap Up Ceremony
YOUR HOSTS
www.insideouutstudio.ca/retreats
Enjoy scenes from our very first Retreat at Piper here:
https://www.facebook.com/nsideoutpodcast/posts/808110642695241?__xts__[0]=68.ARAyn90OBMi88XNyVhb1ff-nvaydXeyFQoVlQiOhPEx_8ybRUq9XRGHCtBsn05UZip84UpmIwEkJ-5FIgvDueDfpMCgaGO0IyZvOL64ndlFbgGbzZehRDaGBs2KQbsgmait8MyNUbCN8NwDsxKESoHjfRkIRQHH8saLlRbFu-uCCzigdsh7poMqUcRjT2rIcvHN8dEtvmmGC9XxKqr4bt87o9BXfWq3eD6pz0WGed0v8Sp44zYGbg2Et_w3l6FVLMZCnjQrE_x1O6RErA6-jnTCOt0QPf3HNj4_n31N1WKG9tEo_kVy6DrjZm3ZYlQmEgw1fAGClg1dNEq1DlvbPClYjtPDaHnej&__tn__=-R