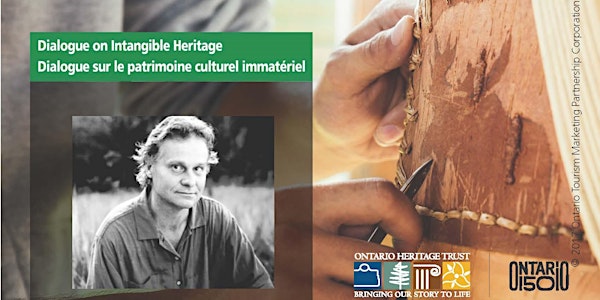 Intangible Cultural Heritage with Wade Davis - Wade Davis sur le patrimoine...
Description
Named by the National Geographic Society as one of the Explorers for the Millennium, Dr. Wade Davis has been described as "a rare combination of scientist, scholar, poet and passionate defender of all of life's diversity." Join the Ontario Heritage Trust and Dr. Wade Davis at the Isabel Bader Theatre for an evening lecture on intangible cultural heritage.
Considéré par la National Geographic Society comme l'un des explorateurs du millénaire, Wade Davis est loué pour sa rare capacité de combiner les talents de scientifique, d'universitaire, de poète et de fervent défenseur de la diversité de la vie. Pour acheter des billets, cliquez sur le bouton vert.
Organizer of Intangible Cultural Heritage with Wade Davis - Wade Davis sur le patrimoine culturel immatériel
The Ontario Heritage Trust serves as the heritage trustee and steward for the people of Ontario. In this capacity, it is empowered to conserve provincially significant cultural and natural heritage, to interpret Ontario's history, to educate Ontarians of its importance in our society, and to celebrate the province's diversity. In 2017, the Trust celebrates 50 years of service to Ontarians.
la Fiducie du patrimoine ontarien est l'intendant et le fiduciaire du patrimoine pour la population de l'Ontario. À ce titre, il lui incombe de conserver le patrimoine culturel et naturel important à l'échelle provinciale, d'interpréter l'histoire de l'Ontario, de renseigner les Ontariennes et les Ontariens sur son importance dans notre société et d'honorer la diversité de la province. En 2017, la Fiducie célèbre 50 ans au service de la population ontarienne.