Description
You are invited to the Seattle launch of Integrated Investing with author Bonnie Foley-Wong.
Thursday, June 29, 2017
Integrated Investing helps people making mindful investment decisions to help create a better world. It is a decision-making framework for impact investing.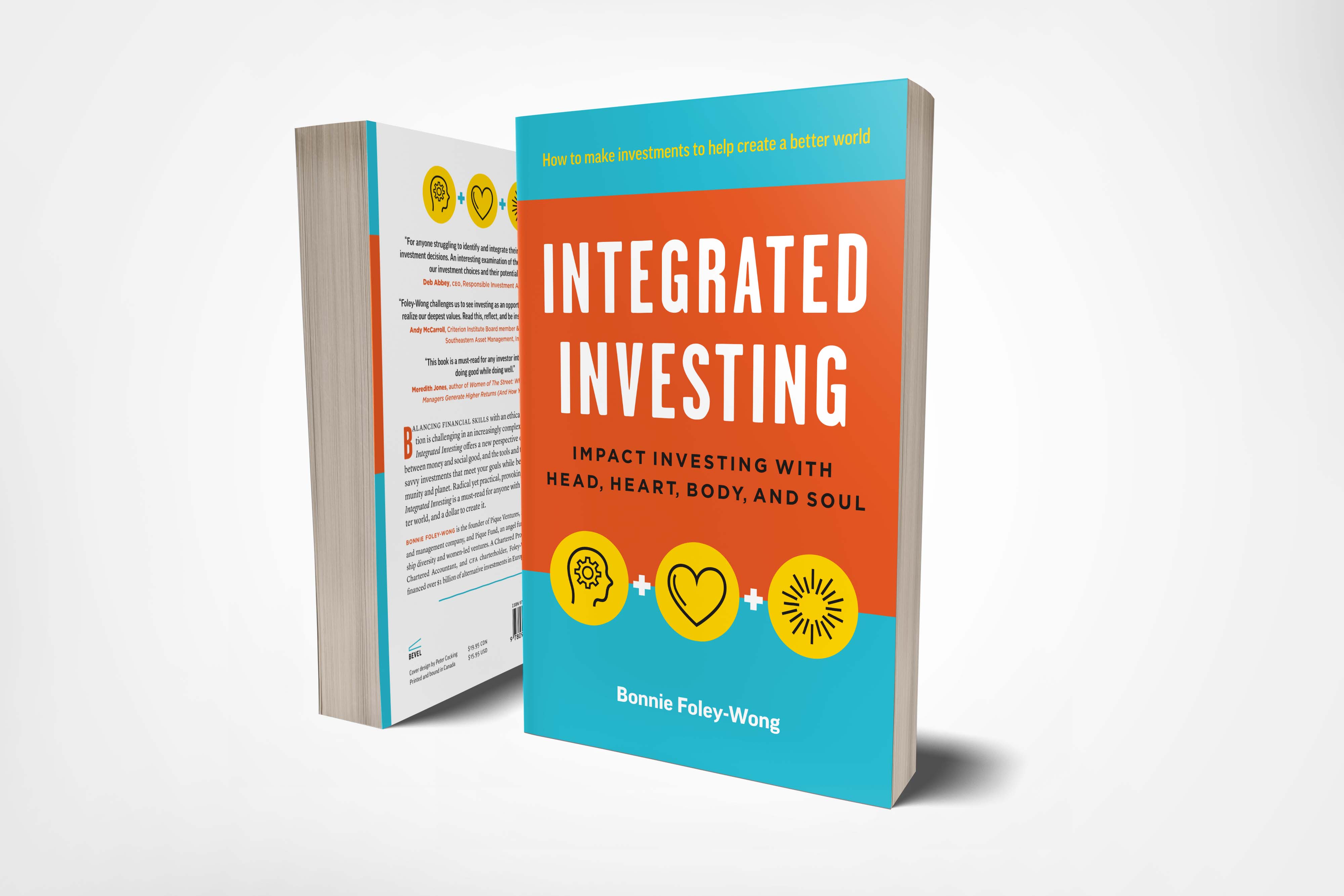 Integrated Investing: Impact Investing with Head, Heart, Body, and Soul by Bonnie Foley-Wong
• Presents a radical new way of looking at investing
• A defensible framework for making decisions with positive impact
• Offers guidance for people to get started in impact investing
• For experienced impact investors, provides tools and techniques to better communicate and direct impact investing activities
Come and enjoy good food, drink, and company at Integrated Investing's first US event!
About the Evening

18.00 - arrive, eat, drink and meet the author
18.45 - stories, insights, and readings from Integrated Investing by the author
19.05 - until close - connections and conversation continue
About the Speaker
Bonnie Foley-Wong is the founder and Chief Investment Innovator of Pique Ventures, an impact investment and management company based in Vancouver, BC. She is the founding investor of Pique Fund, an inclusive angel fund focused on leadership diversity and BC-based women-led tech companies. With close to 20 years experience of mobilizing capital for entrepreneurial businesses, Bonnie has financed over $1 billion dollars of alternative investments in Europe and North America and continues to help people move their money in a purposeful way.
As featured in Inc., Huffington Post, and Forbes.
Praise for the Book

"This book is a must-read for any investor interested in doing good while doing well."
-- Meredith Jones, Head of Emerging Manager Research and partner, AON Hewitt, author of Women of The Street: Why Female Money Managers Generate Higher Returns (And How You Can Too)
"Bonnie Foley-Wong is a living example of all she conveys in Integrated Investing, combining professional investment experience with her own full-fledged humanity. At the core of this book is the echoing refrain, "towards what end?" It lights a path towards creative, engaged investing, profitable in all dimensions."
-- Katherine Collins, Head of Sustainable Investing, Putnam Investments, Author of The Nature of Investing
"For anyone struggling to identify and integrate their values with their investment decisions. An interesting examination of the motivations behind our investment choices and their potential impact."
-- Deb Abbey, CEO, Responsible Investment Association

"Foley-Wong challenges us to see investing as an opportunity to express and realize our deepest values. Read this, reflect, and be inspired for our future."
-- Andy McCarroll, Board of Directors – Criterion Institute, General Counsel – Southeastern Asset Management, Inc.

About the Book

We will have a limited number of copies of Integrated Investing at the event for purchase. Book purchases will be discounted by the ticket price you paid, with proof of purchase. Integrated Investing is also available on Amazon and other online book retailers.
For more information, visit Integrated Investing or Pique Ventures.
About our Sponsors
Venue kindly sponsored and hosted by: