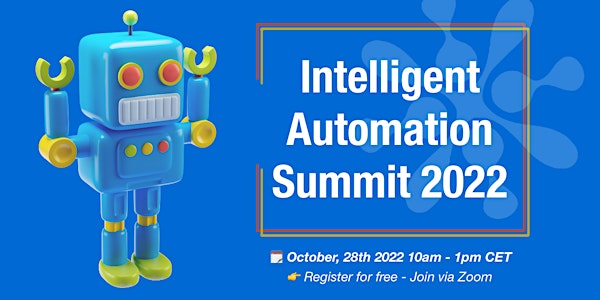 Intelligent Automation Community Summit 2022
Hands-on community summit for industry experts who wish to deepen their understanding of Intelligent Process Automation
About this event
This Summit is a hands-on community event with 6 speakers with years of experience in the field of Intelligent Automation.
Whether you are an automation expert, business manager or knowledge expert, this day is for anyone who wants to understand and learn about Intelligent Process Automation, how it can be applied and scaled in practice. Our speakers will share valuable insights, provide you with inspiration and approaches based on best practice examples.
In this Summit, you will
learn from first-hand insights and best practices from experienced practitioners
gain insights from various automation projects and initiatives
understand the challenges of organizational development, adoption and scaling of automations
gain knowledge about building, training and upskilling powerful automation teams.
be able to ask questions to all of our speakers on our Q&A session
Speakers:
Dr. Lukas Kölbl - Head of Data Science @ Accenture DACH
Andreas Schmelzer - Head of Digital Transformation @ Porsche Holding
Pedro Berrocoso - Intelligent Automation Advisor
Nico Bitzer - Co-Founder & CEO bei Bots and People
Clemens Wasner - Founder & Chair @ AI Austria
🗓 more speakers announced in the upcoming days
Note that while the event is free of charge, seats are limited, so be sure to secure your spot by registering for free!
❌ Can't attend the Summit? No problem. Register anyway and receive all presentations, recording and information afterwards by email.
💾Please be informed, that the event will be recorded and streamed on LinkedIn with StreamYard. By registering to the event, you confirm that you have been informed on our data processing activities in relation to this event.