Sales Have Ended
Registrations are closed
Thank you for your interest in The NICHE Intensive Online Certificate Course for Young Black Leaders. A staff member will be in contact with you shortly to provide additional details. - HTCO Team
The Niche is a capacity-building​ certificate program focused on Young Black Leaders (age 20-35 ) working within the social service sector.
About this event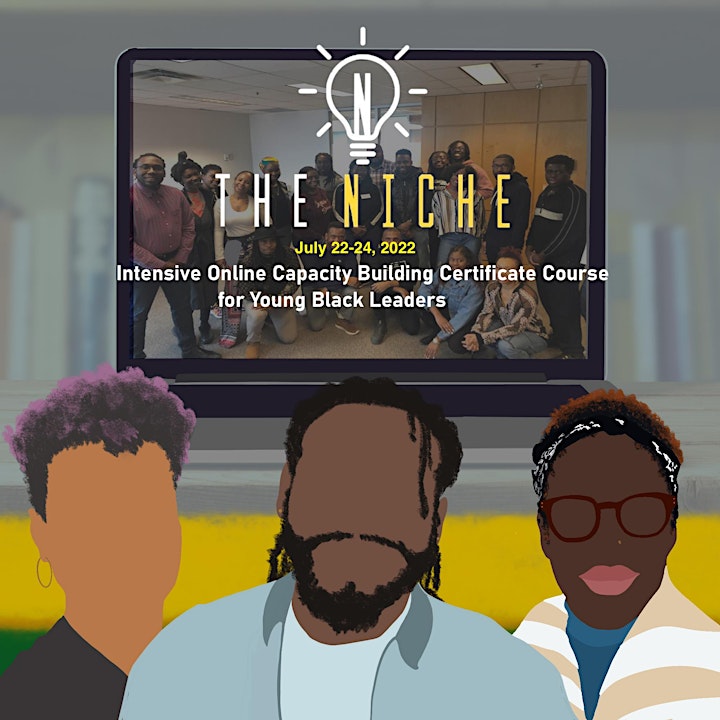 Are you between 20-35 years old?
Do you self-identify as a part of the African, Caribbean, Black community in Toronto?
Do you have extensive experience (paid or volunteer) or post-secondary training in social services?
Interested in building your professional skills and understanding of navigating the social service sector as a Black Leader?
The Niche: Intensive Online Certificate Course for Young Black Leaders led by The Harriet Tubman Community Organization, funded by The City of Toronto Confronting Anti-Black Racism Unit (CABR) offers a FREE 3 day and online Certificate course for Young Black Leaders (20-35 years) who are active within the social service sector and are seeking to advance their careers into decision making roles.
While we acknowledge that to be both successful and Black is a complicated journey, The Niche hopes to combat anti-Black racism in Toronto by developing, providing an opportunity for participants to Conceive, Connect, and Create their professional goals as social service leaders.
The Niche: Intensive Online Certificate Course for Young Black Leaders will take place over the course of three (3) days. Attendance to all workshops is required in order to obtain your certificate -
The schedule is as follows:
Friday July 22, 2022 5:00pm -7:30pm
Saturday July 23, 2022 11:00am -4:00pm
Sunday July 24, 2022 11:00am -4:00pm
Facilitators:
-David Lewis-Peart
-Dr. Leo Edwards
-Danielle Gilmore
-Dr. Fatimah Jackson-Best
-Teshyla Bailey
-Kim Katrin Milan
-Pascale Diverlus
Followed by a partial morning 3 months following the intensive week. During the three days, you will interact with and learn from Black leaders who are actively working in the social service sector. These leaders understand how to navigate the workplace, develop their own skills, and succeed in their roles.
During the certificate course, you will learn how to unlock your potential for greatness, realize that you are irreplaceable in the market, and discover your skills and strengths. In doing so, The Niche will allow you to discover who you are, what you offer, and how you can thrive.
Beyond the skills and opportunities to develop a network with other professional folks of similar lived experience. The Niche will provide you with an opportunity to, upon completion, receive a certificate of completion that is endorsed by the Making Space Lab at the Ontario Institute for Studies in Education - the University of Toronto and The Harriet Tubman Institute- York University. Participants in the certificate program will also be given access to professional Black mentors and an ongoing online network of The Niche graduates.
Kindly note that attendance for all workshops for all three days is required. If you have any questions or concerns, please contact us at nichelearningcoordinator@gmail.com
Follow our instagram for updates: @thenicheto