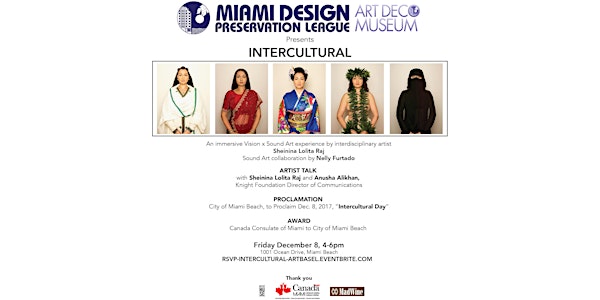 INTERCULTURAL Art Basel Artist Talk, Proclamation, Award
When and where
Location
Miami Design Preservation League 1001 Ocean Drive Miami Beach, FL 33139
Description
INTERCULTURAL Worldwide, an immersive Vision x Sound Art experience by Sheinina Lolita Raj and Nelly Furtado.
Artist Talk with Sheinina Lolita Raj and Anusha Alikhan, Knight Foundation Director of Communications.
Proclamation will be awarded to Sheinina Raj by the city of Miami Beach as Dec. 8, 2017 will be Proclaimed "INTERCULTURAL DAY".
Award from Canada Consulate of Miami to the City of Miami Beach for the partnership exhibition of INTERCULTURAL at the MDPL Art Deco Museum.
"The intention of INTERCULTURAL is to enlighten cultural ideologies, initiate respect for diversity and unify humanity for a peaceful coexistence worldwide".
Sheinina Lolita Raj
Interdisciplinary Artist
"The ancient solfeggio tonal frequency 417Hz was used as a basis for this quadrophonic sound art piece, and is heard throughout the entire piece. The intent of this healing tone is undoing situations and facilitating change. This tone produces energy to bring about change. This frequency cleanses traumatic experiences and clears destructive influences of past events. I felt that using the healing tone as the building block to support this piece would enhance Sheinina's mission of encouraging peace and change through art. This, the exhibit truly becomes a holistic, sensory healing experience".
Nelly Furtado
Artist / Musician / Lyricist / Producer
"Every aspect of artist Sheinina Raj's photography-based practice is undertaken in a singular spirit of progressive humanism. Knowing the power of the pure expressive gesture, Raj uses herself — both her story and her body — as both the intuitive site and narrative touchstone for what is ultimately a deeply personal and generously universal message of peace, acceptance, and beauty".
Shana Nys Dambrot
Huffington Post Essayist / Art Critic
www.facebook.com/interculturalworldwide
www.instagram.com/interculturalworldwide
www.twitter.com/interculturalww