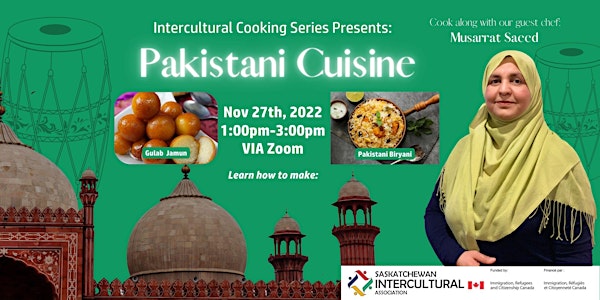 Intercultural Cooking Series: Pakistani Cuisine with Chef Musarrat Saeed
An intercultural cooking experience featuring guest Chef Musarrat Saeed who will be sharing her Pakistani culinary skills and stories!
About this event
SIA's CultureSync team is pleased to present the Intercultural Cooking Series!
Experience a unique culinary and cultural learning experience through an intercultural cooking session with our guest Chef Musarrat Saeed!
Join us via Zoom.
Sunday, November 27, 2022 ~ 1:00 pm to 3:00 pm
We will be preparing Biryani and Gulab Jamun for dessert!!
All registered participants will receive the recipes that include the list of ingredients and instructions. You can purchase the ingredients and be prepared to cook along in the comfort of your home kitchen!
Grocery boxes will be provided to the first 10 permanent residents and their families who register!
Send an email to mclaypool@saskintercultural.org and let us know if you need a grocery box and how many people are in your household. Those permanent residents receiving a grocery box are required to provide PR#'s for you and those in your household. Information will be kept confidential and used for reporting purposes only.
You will be contacted by a SIA staff to arrange pick up on Nov 24th or 25th
Registered PR Clients will be contacted to provide their PR information
Chef's Note:
"My name is Musarrat Saeed. I am a child minder with SIA for the past 13 years. I was born and raised in Pakistan and moved to Canada after I got married. My family and I are Pashtun and come from northern Pakistan. We have many popular dishes but Biryani and Gulab jamun are two delicacies. Gulab jamun is a dessert and is usually eaten during celebrations. Whereas Biryani is a more common meal for dinner but loved as it requires lots of effort to make."