Intercultural Ramadan Iftar Dinner with Nile Academy-2016

Wednesday, 29 June 2016 from 7:30 PM to 10:00 PM (EDT)
Event Details
Intercultural Dialogue Institute in collaboration with
Nile Academy and Toronto Police Services 31 Division CPLC cordially invites you to
Intercultural Ramadan Iftar Dinner
June 29th, 2016, 7:30-10:00pm
Nile Academy Blue Haven Campus
5 Blue Haven Crescent, Toronto, ON 
Theme:
Connecting with Youth: Community Strategies for Meaningful Youth Engagement
Keynote Speaker:
Michelle Dagnino, Executive Director, Jane/Finch Community and Family Centre
 Michelle Dagnino is a Gen-Y innovator, speaker, writer, lawyer and social entrepreneur. She has spoken to thousands of people around the world from students to educators, from workers to bosses about the issues affecting Gen Y, also known as Millennials, also known as "those kids living in your basement".  
Michelle is the recipient of 2004 YWCA Young Woman of Distinction award, and in 2006 was named by The Globe and Mail and the Women's Executive Network as one of Canada's Top 100: Most Powerful Women. The Toronto Star named her "a woman to buoy the soul", and Maclean's magazine named her one of Canada's top 30 under 30. She is the subject of two documentaries. 
Michelle is currently the Executive Director of the Jane/Finch Community and Family Centre, a social services agency in West Toronto, dedicated to supporting the local community through service delivery and resident capacity-building. Prior to this, Michelle held positions as the Canada Director for Ashoka's Youth Venture, Executive Director of Youth Action Network, and was in private practice with one of Canada's leading labour and human rights law firms. She is also a frequent consultant on issues of program evaluation, youth work, organizational governance, and board development. 
Michelle holds a Masters of Arts in Political Science, and Bachelor of Laws (LLB) from Osgoode Hall Law School. She was called to the Bar in 2007.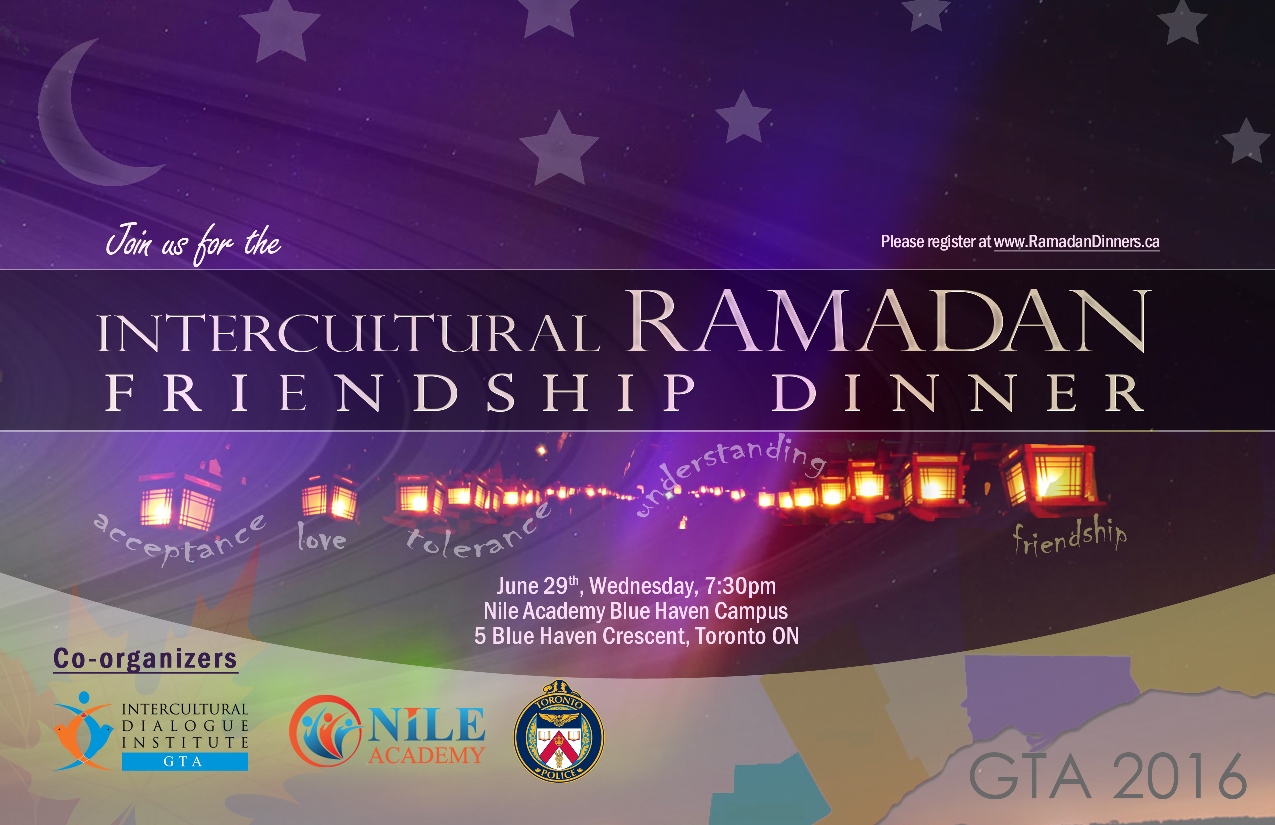 Every year, the Intercultural Dialogue Institute GTA hosts a series of community Iftar (fast-breaking) dinners during the month of Ramadan. Iftar dinners bring together people of various faith and ethno-cultural backgrounds and serve as a means of fostering dialogue and cross-cultural awareness. They address various topics related to common teachings and values in different faith traditions and cultures. A centre piece of the event is the keynote address provided by a distinguished speaker who has relevant expertise with regards to a pressing/relevant matter of discourse.
For more information on IDI GTA Ramadan dinners, please visit: 
http://toronto.interculturaldialog.com/activities/ramadan-iftar-dinners 
When & Where

Nile Academy Blue Haven Campus
5 Blue Haven Crescent
Toronto, ON M9M 1W6
Canada

Wednesday, 29 June 2016 from 7:30 PM to 10:00 PM (EDT)
Add to my calendar
Organizer
Intercultural Dialogue Institute is a non-profit organization whose purpose is to advance social cohesion through personal interaction by promoting respect and mutual understanding among people of all cultures and faiths through dialogue and partnership.
Intercultural Dialogue Institute aims to promote enduring interfaith and intercultural cooperation, tolerance and dialogue by sharing our differences and similarities in an effort to enhance civil society, to promote the development of human values, and to advance diversity and multiculturalism in the society. The Institute aims to eliminate or reduce false stereotypes, prejudices and unjustified fears through direct human communication. By this mission IDI aims to contribute to improvement of diversity, pluralism and multiculturalism throughout Canada.
IDI was formed in 2010 as a joint effort of several organizations and currently have 11 chapters* and regional offices in major cities of five Canadian provinces.
* GTA branch of IDI was established with the name Canadian Interfaith Dialogue Centre in 2004. Until July 2013 it had been known as Intercultultural Dialogue Institute (IDI) Toronto. In July 2013 it was re-branded as IDI GTA to represent the whole Greater Toronto Area.
Refund Policy: you can get a full refund if you cancel at least 72 hours before the event. If you cancel within 24 to 72 hours before the event, the refund amount is 50% of the ticket price. No refund will be issued for cancellations within 24 hours before the event or anytime after the event.