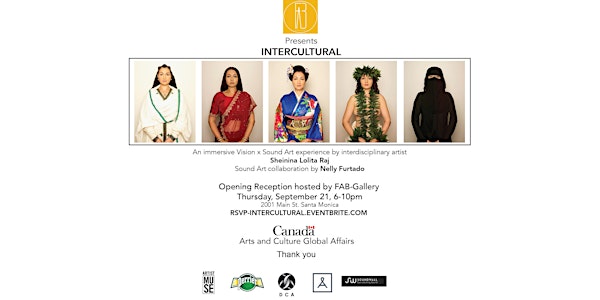 When and where
Location
FAB-Gallery 2001 Main Street Santa Monica, CA 90405
Description
INTERCULTURAL Worldwide is an immersive Vision x Sound Art experience by Sheinina Raj and Nelly Furtado.
"My intention with INTERCULTURAL Worldwide is to enlighten cultural ideologies, initiate respect for diversity and unify humanity for a peaceful coexistence worldwide". - Sheinina Lolita Raj
"The ancient solfeggio tonal frequency 417Hz was used as a basis for this sound piece, and is heard throughout the entire piece. The intent of this healing tone is undoing situations and facilitating change. This tone produces energy to bring about change. This frequency cleanses traumatic experiences and clears destructive influences of past events. I felt that using the healing tone as the building block to support this piece would enhance Sheinina's mission of encouraging peace and change through art. This, the exhibit truly becomes a holistic , sensory healing experience". - Nelly Furtado
INTERCULTURAL is a conceptually rigorous, painstakingly detailed portfolio exploring conventions of ethnographic perceptions through a series of costumed self-portraiture featuring Raj arrayed in the traditional authentic finery of various regions and nations — India, Mexico, Morocco, Japan, Jordan, Greece, First Nation, North America, Saudi Arabia, Hawaii, and with more versions added regularly as inspiration and occasion occur. Her own crossborder heritage and intercontinental family history first inspired her to embark on this serial self-transformation, in which her inviting countenance is revealed as ethnically morphic as she successively embodies both the epitome and increasing obsolescence of race-based constructs of identity. The larger than life scale, and the perfect regularity of Raj's serene gaze and relaxed but formal front-facing pose creates a clean, almost classical structure within which comparisons are encouraged, as both differences and samenesses are celebrated equally, and attention to detail moves the story forward. In these images, audiences see the artist more deeply, and inevitably come to see themselves as well.
Nelly Furtado whose respective soundscapes are directly inspired by the art which they not only accompany, but whose forms they now physically inhabit. Through the magic of aluminum photographic printing and integrated new smart sound projection technology, the soundtracks created for specific works emanate from within and behind the images themselves. This happens at an enveloping human scale, so that an aural environment grows in and around the optical experience of the works in a way that transcends what either could do alone. Sound makes for not only a more complete aesthetic experience, but saliently provides a new and perhaps unexpected entry point into the work and its meaning, magnifying the magic, and deepening the sense of connection between the artist and her audience. Furtado's work with INTERCULTURAL is based on the world music sensibility of fusion and multi-linguistic layering for which she is known, and was inspired by the parallels between her story and Raj's.
Shana Nys Dambrot
Huffington Post Essayist / Art Critic
www.facebook.com/interculturalworldwide
www.instagram.com/interculturalworldwide
www.twitter.com/interculturalww