Refund policy
Refunds up to 7 days before event
Eventbrite's fee is nonrefundable.
INTERFACE Women's Health Summit 2022 is Back. Inspiring talks. Daring conversations. Fierce idea exchanges. Great networking.
About this event
Welcome to the 2nd annual virtual conference designed to give women a stronger voice in healthcare and digital health innovation and empower them to lead and drive the changes needed to create a better world.
This year's theme is EQUAL ACCESS.
Access to new ideas, research, education, healthcare, investment, equality, sustainability, justice and more. 

The event is divided in two parts: Virtual (9am-3pm PST) and In Person (5-7pm PST).
INTERFACE Women's Health Summit 2022 will provide a virtual global stage for the women who inspire us with their resilience, creativity and capacity to be leaders, care givers, entrepreneurs, investors and agents of change.
We asked women what they want to talk about.
An overwhelming 69% of our open poll responders said the most important area is access to investment. Also 53% of the responders suggested mental health and wellness as the #1 topic of interest, followed by chronic diseases, and sexual health and menopause.
This virtual conference will rock, with inspiring keynotes, daring presentations, insightful interviews, fierce idea exchanges and expert panels.
Confirmed speakers include:
Dr. Katherine Saunders - Co-Founder, Intellihealth and Assistant Professor of Clinical Medicine at Weill Cornell Medical College, New York
Rena Tabata - CEO & Co-founder, ShareSmart, Vancouver
Heidi Worthington - President & CEO, YMCA Greater Vancouver
Susan Paley - CEO, Drop Labs, Los Angeles
Dr. Sylvain Moreno - CEO and Scientific Director, Digital Health Circle, Vancouver
Dr. Diane Gromala (PhD) - VR Pioneer and Canada Research Chair & Professor at SFU, Surrey
Bhairavi Warke - PhD Student, SFU School of Interactive Arts and technology, Surrey
Tim Kagiri - Teaching Assistant, SFU, Vancouver + Design Director, Nairobi, Kenya
Julia Elvidge - Co-founder, SheBoot, Ottawa
Shelley Kuipers - Co-founder and Co-CEO, The 51, Calgary
Suzanne Grant - Executive Director, Capital Angel Network, Ottawa
Christine Von Raesfeld - Founder & CEO, People with Empathy, San Francisco
Benjamin Smarr - Assistant Professor, UCSD Bioengineering & Data Science at University of California San Diego
Anna Chan - Founder & CEO at myMomentum, Impact Investor, Vancouver
Danika Kelly - CEO, My Normative, Calgary
Dr. Roxie Mooney (PhD) - CEO & Healthcare Strategist, Legacy DNA, Greater Miami
Pauline V Egan - COO, FACE Africa, Los Angeles
Alexandra Kitson - Post Doctoral Researcher, SFU, Vancouver
Dr. Purnima Tyagi - Director, Wearable, Interactive and Mobile Tech Access Centre in Health & Social Innovation Research, Centennial College, Greater Toronto
Michael Bidu - CEO and Founder, INTERFACE Health, Vancouver
A link to Zoom will be provided to attendees 48 hours prior to the event.
Don't forget to watch an inspiring talk by Rebecca Love, a nurse entrepreneur from Boston, at our summit last year.
Plus, we organized a networking party in person at the beautiful and newly renovated Tap & Barrel Bridges on Granville Island. Excellent food and drinks. Gret people. Fantastic location!
Time: 5:00 - 7:00pm PST
Address: 1696 Duranleau St, Vancouver, BC V6H 3S4
Thank you to our sponsors and INTERFACE Health+ members.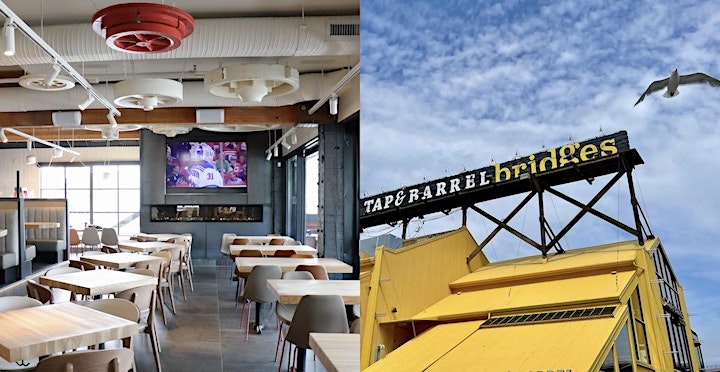 Join us at the new Tap and Barrel Bridges for a great networking event. Limited to 40 guests.
Can 19 Million Nurses Change the Future of Healthcare?
Enjoy this passionate talk with Rebecca Love at the 1st annual INTERFACE Women's Health Summit 2021.