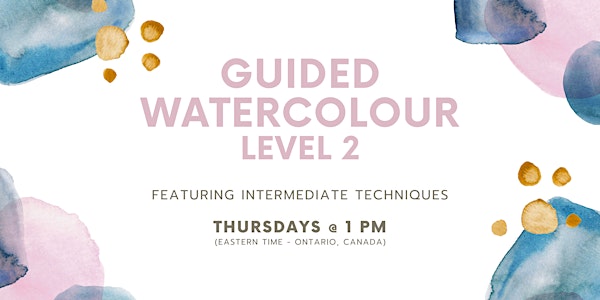 Intermediate Watercolour - Guided Art Class
A gently guided art class featuring intermediate level watercolour techniques.
Refund Policy
Contact the organizer to request a refund.
Eventbrite's fee is nonrefundable.
About this event
INTERMEDIATE LEVEL WATERCOLOUR CLASS
"When you can't go outside, go inside" and find a little distraction from the everyday with this on-line art class featuring intermediate level guided watercolour techniques.
Join this class of 30-50 regular students and bring your curiosity to a meaningful activity that includes a mixture of stimulation, reflection, thought provocation, peaceful calm, relaxation and mindfulness.
Each class begins with a centering moment and breath practice to help lift away stress and invite freedom and focus into the session. Mid-way through the lesson the instructor will pause for a time of relection with a reading from the "May You Know Joy" meditation card set.
Fully detailed step-by–step instruction with in-session feedback, offered in a spirit of kind gentleness throughout the class. Follow-up support with the instructor via e-mail is also available.
Your guide will be Cathy Wild, who began painting as therapy in April 2016 after her own journey of self-discovery following brain surgery.
Cathy is excited to teach others to paint while continuing her own recovery. May you find yourself inspired by the giftedness that emerges through your creations.
"My promise is to be completely present with you at each and every class. Thank you for your curious interest and I look forward to serving you with an 'Artist's Heart'." -Cathy Wild
Since the beginning of the pandemic in April 2020, Cathy has taught her level 1 watercolour class to students on-line every Tuesday, a community that has grown to nearly 100 artists any given week.
Now many folks are ready to take their skills up a notch, so Cathy has opened up a second weekly class to develop and draw in the intermediate skill-set and style.
TECHNIQUES COVERED
Examples of some techniques that will be covered include a Salt Process, Negative Painting, layering, lifting off, etc., just to name a few.
BASIC MATERIALS NEEDED
Regular paper or craft paper, or sketch paper for pencils and pencil crayons. Watercolor paper for watercolors, preferably 140 lb. This can be Canson's from Walmart or wherever you are able to order or pick up supplies.
Pencil, painters tape, backer board (to tape art paper/canvas to), paper towel, brushes Curry's #0, #3 & #6
Water dish (for rinsing brushes), 2nd water dish, paper towel
These classes are geared to an intermediate level of skill and experience. All are welcome to give it a try.
NOTE: These classes are presented with CLOSED CAPTIONING live transcription. Learn more here.
DATE/TIME: Thursdays @ 1:00 PM Eastern Time (Ontario, Canada) - [6:00 PM in the U.K.)
ZOOM ONLINE: Attendees will receive a link to this session after registering (as well as reminder emails beforehand) for how to join the video conference on your tablet or PC from the comfort of your own space.
NOTE: For the best experience, please be sure you have the latest version of ZOOM by checking here.
NOTE: The RSVPs here represent only some who may attend (mostly new students) however this class is attended every week by 30-50 students.
FACEBOOK GROUP (PHOTO ALBUM & PAST CLASS VIDEOS)

CREATING CONNECTION CANADA is a network of welcoming and inclusive communities committed to sharing authentic conversation, nurturing meaningful activities, promoting holistic wellness practices, and fostering compassionate action. We are LGBTQ+ affirming.
As a REGISTERED NON-PROFIT charity working to bring community together through like-minded interests, we welcome and gratefully appreciate any financial support. Tax receipts are provided.
You can also visit our PRODUCTS 4 PURPOSE online store and make a purchase that benefits our partner organizations, gifted artisans and local operations.
Or support us by shopping on Amazon with this link.
Your kind generosity is gratefully appreciated!

You can also visit our PRODUCTS 4 PURPOSE online store and make a purchase that benefits our meaningful partner organizations, gifted artisans and local operations.