A conversation with the interns. Come to learn how the features really get made.
About this event
Ever wondered how interns spend their work days? Or why is it called Intern Season?
For our first event of the school year, we've invited a panel of students and alumni who spent their time working at IBM, Ubisoft, FormaAI, StoneX Financial Inc., and more to answer questions about their internship experiences and how they are using web technologies at work. From answers to questions like "how did you get your first internship" to "what's the biggest 'oopsie' you made at work", we'll be diving deep into what the internship experience is really like.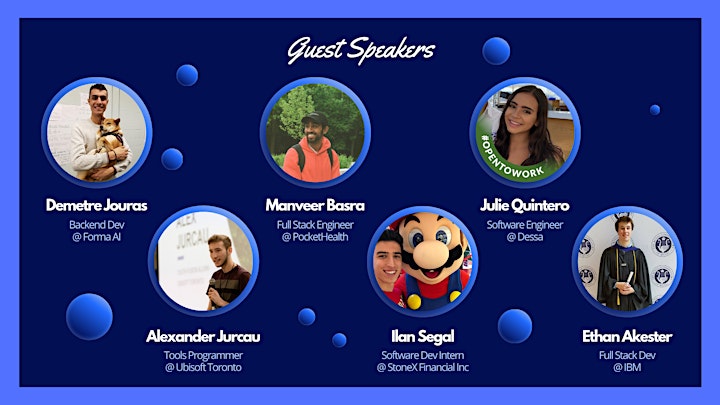 Our panelists:
Demetre Jouras | Backend Developer @ Forma
Alexander Jurcau | Tools Programmer @ Ubisoft Toronto
Manveer Basra | Full Stack Engineer + Lead Data Analyst @ PocketHealth
Ilan Segal | Software Engineer @ StoneX Financial Inc
Julie Quintero | Software Engineer @ Dessa
Ethan Akester | Software Engineer @ IBM
Plus there will be an open QA section where you'll be able to ask your own questions to the panel, so be sure to stick till the end!