International Café - Paolo Utano, Manager of Global Trade, EDC

Monday, 14 November 2016 at 7:00 AM

-

Tuesday, 15 November 2016 at 4:00 PM (EST)
Event Details
Attending the Canadian Council for Public-Private Partnerships 2016 Conference?
Meet experts who can help for free!
Each year, EDC helps more than 7,000 Canadian companies, a majority of them small businesses, to conduct trade and investment in nearly 200 countries. From finding new customers to securing financing and ensuring payment from foreign buyers, EDC is here to help businesses grow – and we can help your company, too. As a Crown corporation serving Canadians since 1944, EDC offers market intelligence and supports international sales and investment through a mix of financial and insurance products and services.
Paolo will be in Toronto attending the Canadian Council for Public-Private Partnerships (CCPPP) 2016 Conference and would like to meet with you. International Café meetings will be taking place in the Sheraton Hall C on November 14-15, 2016.
 Please select the desired meeting time to register for a meeting with International Café participants.
***Please note that these meetings are reserved for Canadian companies only. A company may book a maximum of one 30-minute meeting per participant.***
 If you would like to meet Paolo outside of the meeting hours listed above, please contact him at: PUtano@edc.ca

Assistez-vous à la Conférence annuelle 2016 du Conseil Canadien pour les Partenariats Public-Privé?
Venez rencontrer des experts qui peuvent vous aider gratuitement!
Chaque année, quelque 7 000 entreprises canadiennes, majoritairement des petites entreprises, ont recours aux services d'EDC, qui les épaule en matière de commerce et d'investissement dans près de 200 pays. Qu'il s'agisse de trouver de nouveaux clients et du financement, de s'assurer du paiement des clients étrangers, EDC est là pour aider les entreprises à croître – et nous pouvons aider votre entreprise, également. À titre de société d'État au service des Canadiens depuis 1944, EDC offre pour soutenir les ventes et les investissements à l'étranger une mine de renseignements sur les entreprises et, toute une gamme de produits et de services de financement et d'assurance.
Paolo sera à Toronto pour la Conférence annuelle 2016 du Conseil Canadien pour les Partenariats Public-Privé (CCPPP). Les rencontres « International Café » se tiendront à la Salle « Sheraton Hall C » les 14 et 15 novembre 2016.
Veuillez sélectionner les heures qui vous conviennent afin de vous inscrire à une rencontre auprès d'un participant.
  ***S'il vous plaît noter que ces réunions sont réservées pour les entreprises canadiennes seulement. Une entreprise peut réserver un maximum d'un billet pour une rencontre de 30 minutes par participant***
Si vous désirez rencontrer Paolo en dehors des heures de réunion mentionnées ci-dessus, prière de lui contacter à: PUtano@edc.ca
Have questions about International Café - Paolo Utano, Manager of Global Trade, EDC?
Contact Paolo Utano
When & Where

Sheraton Centre Toronto Hotel
123 Queen St W
Toronto, ON M5H 2M9
Canada

Monday, 14 November 2016 at 7:00 AM

-

Tuesday, 15 November 2016 at 4:00 PM (EST)
Add to my calendar
Organizer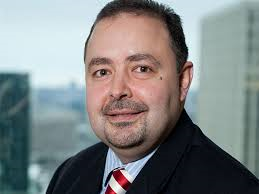 Paolo Utano is Manager for Global Trade at EDC, responsible for connecting Canadian companies to international supply chains within the Infrastructure, Power and ICT sectors.  He brings over 15 years of a deep and broad experience in international trade including underwriting and advising on structured bonding and insurance transactions on EDC's Contract Insurance and Bonding team.   Prior to joining the Global Trade team, Paolo was a Senior Program Manager within EDC's insurance group, providing program support to underwriters and worked on the development of new products.  In addition to his transactional background, he spent a few years as a Sector Advisor on the Infrastructure and Environment team covering construction, power and environmental sub-sectors, facilitating trade creation activities such as matchmaking, B2B meetings, webinars, and advising EDC Account Mangers on account plans.  Paolo developed a strong network within the Trade Commissioner Service and other government partners, working to promote Canadian capabilities.
Paolo Utano est directeur pour le commerce international à EDC,  responsable pour la facilitation de commerce entre les entreprises canadiennes et  les chaînes d'approvisionnement à l'international dans les secteurs des infrastructures, de l'énergie et des technologies de l'information et communication. Il apporte plus de 15 ans d'expérience et de connaissances approfondies en souscription et en conseil de transactions de cautionnement et d'assurance structurée au sein de l'équipe assurance et cautionnement de contrats d'EDC, secteur des infrastructures  et du transport.  Avant de se joindre au Groupe de Commerce International, Paolo a occupé le poste de directeur principal de programme au sein du groupe des assurance d'EDC – Gestion de produits d'assurance, où il supportait l'équipe de souscription et travaillait au développent de produits.  Au-delà de ses antécédents transactionnels, il fut, pendant quelques années, conseiller sectoriel en infrastructure et environnement, couvrant les sous-secteurs  de la construction, de l'environnement et de l'électricité, facilitant les activités de création d'échanges tels que le jumelage, rencontres B2B et webinaires, en plus de conseiller les directeurs de comptes d'EDC sur les plans de développement de comptes. Paolo a développé un réseau robuste au sein du service des délégués commerciaux et autres partenaires gouvernementaux, afin de promouvoir les capacités canadiennes.