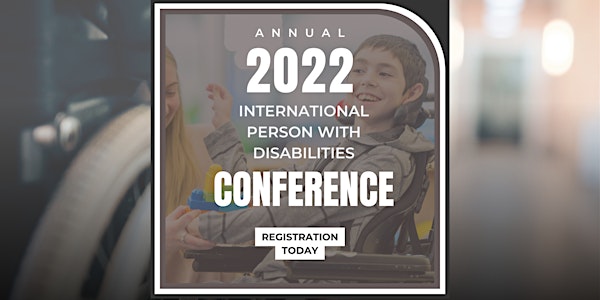 International Day of Persons with Disabilities Conference
On December 3, industry experts, policymakers and community members will share their steps and stories that need to be taken for inclusion.
About this event
On December 3rd, 2022, between 1 p.m. to 4 p.m. EST, the Alliance for Equality of Blind Canadians (AEBC) and partner organizations are hosting a conference for International Day for Persons with Disabilities.
This year's theme for the International Day of Persons with Disabilities Conference is Empowering Ourselves: Thriving in This New Reality
Throughout the conference, the following themes will be discussed by individuals with lived experiences, professionals with disability inclusion knowledge, those from the disability community, service providers, businesses,advocates, allies, among others.
Thriving in this new reality.
The idea of mainstream vs specialized.
Disability without poverty-living with dignity.
Accessibility is good for all.
How do we stay connected in this new virtual world?
How do we advocate for ourselves in our daily life?
How does the intersection of identities including those with disabilities impact your participation in daily society?
This virtual conference will be accessible to all and will feature ASL interpreters and real-time live captioning.
To request accommodations or register via email, please send an email to: aebctoronto@gmail.com
Guest Speakers
We have a remarkable line-up of distinguished speakers that will bring insights to our conference.
Opening Remarks
Indigenous name: D'baa waane waaskane kwe "She Carries the Light" or Melanie Marsden registered with Alderville First Nation (Ojibway; my Father). My Mother was Mohawk (6 Nations reserve).
I am a Consultant for Circle Insights, and formerly Project Manager - Accessibility Specialist at Springtide Resources. I am a registered social worker. Currently enrolled in the master of Social Work Indigenous field of Study at Wilfred Laurier University. I use an intersectional approach based on wholistic teachings. as an Indigenous person that is blind I offer my personal and professional knowledge I carry in my bundle. I am a parent of 3 and a grandmother. I honor working together collectively and stand in solidarity alongside racialized communities honoring diversity and full inclusion. In my spare time I love being with my granddaughter and family. To stay fit I enjoy tandem cycling.
David Lepofsky
David Lepofsky is a visiting professor of Disability Rights and Legal Education (part-time) at the Osgoode Hall Law School and a past adjunct member of the University of Toronto Faculty of Law. He holds volunteer leadership roles in the disability community. David is chair of the Accessibility for Ontarians with Disabilities Act Alliance, and a member and past chair of the Toronto District School Board's Special Education Advisory Committee. He is also a member of the Kindergarten-Grade 12 Education Standards Development Committee appointed by the Ontario Government to recommend reforms to tear down barriers impeding students with disabilities.
Keynote Speaker 1
Sandhya Rao - IBUG-Today
The mission of the i Blind Users Group or iBUG Today is to promote the individual independence, social integration, and educational development of the blind through accessible technology training. iBUG has been serving the blind community since May of 2011. From Houston, Sandhya Rao, Vice-President, was diagnosed with a rare brittle bone disease called osteo petrosis, which also caused her blindness. Sandhya attended Rice University where she graduated Magna Cum Laude in 1991 with a Bachelor of Arts in Psychology and Behavioral Science. In June 1994, she received her Doctor of Jurisprudence from the Stanford University Law School and she was admitted to the State Bar of Texas in November 1994. She worked for a year as a law clerk of the United States District Court for the Southern District of Texas, Galveston Division, and has been working as a staff attorney in the United States District Court for the Southern District of Texas, Houston Division ever since.
Keynote Speaker 2
Michael Gottheil - Accessibility Commissioner
"With over 35 years' experience under my belt as a lawyer, adjudicator, mediator, Tribunal Chair, and seeking out ways to drive positive community change, I am honoured to have been named Canada's first Accessibility Commissioner. It is so exciting to now have this fantastic opportunity to work with all who believe in making Canada fully accessible for persons with disabilities by 2040 or before. A long journey whose time has come! I have been fortunate to have worked collaboratively on projects that improve access to justice. Recent initiatives include work on inclusive justice technology, connecting with community organizations to help people access the legal system, and building capacity in the administration of justice through diversity and engagement"
Panelists
Keenan Wellar – LiveWorkPlay
Keenan Wellar has served as Co-Leader and Director of Communications for charitable organization LiveWorkPlay since 1997. As the media and public relations spokesperson, he champions inclusion for people with intellectual disabilities and autistic persons in the Ottawa area community, as well as provincially as a founding member of the From Presence To Citizenship initiative, and nationally and internationally in partnership with housing, employment, and other advocacy organizations, including Community Living Ontario and Inclusion International. He has appeared in more than 100 media interviews and has been the subject of career features in the Globe and Mail, Ottawa Citizen, and Ottawa Sun.
Penny Bennett - President of Barrier Free Canada
Penny Bennett is a Canadian with over 50 years of successful advocacy experience. She is the Chair of the Board of Directors of Deaf Blind Community Services, President of Barrier Free Canada and member of the accessibility advisory committee for Via Rail. Penny is a motivational speaker who has presented informally and formally. She is a disability awareness activist, determined to seek equal opportunities for everyone to live a meaningful life. "We have many tools in our tool-kit of advocating well, but they are all tools that need some sharpening"
Robert Hampson – Accessibility Advisor
Robert Hampson has received the King Clancy Award from the Canadian Foundation for Physically Disabled Persons, a Queen's Diamond Jubilee Medal, and has been inducted into the Canadian Disability Hall of Fame in recognition of his work for accessibility and inclusion. He is a graduate of St. Lawrence college and was a competitive swimmer for 17 years. "Never tell me something is impossible. I think, if you want to do a thing badly enough you can find a way. When somebody tells me I can't, it usuallymakes me want to do it even more."
Event Sponsors
Canadian Council of the Blind (CCB) Gold Sponsor
Ontario Chambers of Commerce (OCC) Gold Sponsor
Trailblazers Tandem Cycling Club Gold Sponsor
Canadian Institute for the Blind (CNIB) Silver Sponsor
Event Partners
Accessible Housing Network (AHN): accessiblehousingnetwork.org
Alliance for Equality of Blind Canadians (AEBC): blindcanadians.ca
Autistics for Autistics (A4A) Canada: a4aontario.com
Baker Mckenzie LLP: bakermckenzie.com/en
BALANCE for Blind Adults: balancefba.org
Canadian Council of the Blind Toronto Visionaries (CCB): ccbtorontovisionaries.ca
Canadian National Institute for the Blind: cnib.ca/en
Ethno-racial People with Disabilities Coalition of Ontario (ERDCO)
Ontario Chamber of Commerce: occ.ca
Ontario Disability Coalition (ODC): odcoalition.com/author/odcoalition
Trailblazers Tandem Cycling Club: trailblazerstandem.org
WoodGreen Community Services: woodgreen.org