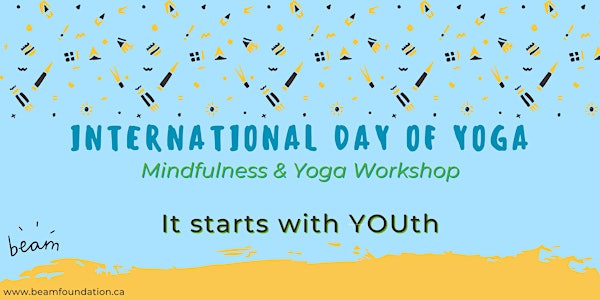 International Day of Yoga - BEAM Mindfulness & Yoga Workshop
Mindfulness & Yoga Workshop in celebration of International Day of Yoga!
About this event
Join BEAM Foundation and Jessica Ecclestone (RMT, RYT, Lululemon Ambassador) for a free 45-minute virtual Mindfulness & Yoga Workshop in celebration of International Day of Yoga!
Open to all youth and families/caregivers/teachers!
It starts with YOUth!
In all parts of our lives and in every situation, there are things that we can control and things that we cannot control. By breaking this down, it can help us to understand that, while we cannot control others' thoughts, behaviors, and actions, we CAN control our own.
This is a powerful concept that can empower youth to feel more in control, especially when things in their world seem out of control. And let's be honest, a lot has been out of our control this past year… so it's about time we take some control back!
Led by the amazing Jessica Ecclestone, we will be reflecting on our 'Circle of Control', discussing mindful mental health strategies, and closing with a yoga/meditation practice.
CLICK HERE to join us on Zoom on June 21 at 12:00pm. Please try to login 5-10 minutes early to allow time to get settled. We hope to start the class promptly at noon. You will need a yoga mat/towel, pencil/pen, and paper.
To join our mailing list and be entered for some amazing Lululemon raffle prizes, click here.
This is a FREE event, but any and all donations to our CRA Registered Charity would be much appreciated. We will automatically issue a tax receipt to any individual who donates a minimum of $20. Click to DONATE HERE!
To learn more about BEAM, visit us at www.beamfoundation.ca