A free Mega Celebration streamed from India with world renowned teachers of yoga and meditation and amazing music! A transformative event
About this event
Together let us make compassion contagious
International Day of Yoga
#InternationalDayofYoga #Heartfulness
Virtual Event on June 20, 2020
https://www.youtube.com/heartfulness
https://www.facebook.com/practiceheartfulness
As current events continue taking precious lives and bringing the global economy to a standstill, there is a sense of urgency for all people of the world to come together as one. What is required is a change of consciousness and an opening of hearts to make humanity united on International Day of Yoga.
One of the root principles of yoga is compassion. Compassion begets non-violence. Compassion is contagious. It transmits at a much higher rate than any known virus. and is a spiritual vaccine that will protect us.
The Heartfulness Institute in North America has created a virtual celebration with music, yoga, and meditation. Renowned musician Shankar Mahadevan and Maestro Jasraj together with Yoga Guru Ramdev and Kamlesh Patel, Global Guide of Heartfulness, will offer a program of soulful music, heartful conversations and meditation.
When: Saturday June 20, 2020 at 7 PM EST
Where: YouTube, Facebook, Instagram, Twitter
This event is made possible by the generosity of Guru Ramdev, Kamlesh Patel (Daaji) along with hundreds of volunteers of Heartfulness. Moreover, hundreds of cultural, professional and industry associations like American Association of Physicians of Indian origin (AAPI), Tie USA, and the Consul Generals of India, etc. are supporting this event.
About Heartfulness - Heartfulness (www.heartfulness.org) is a way of life based on simple meditative practices and life skills that have been around for over 100 years. Heartfulness has over a million practitioners worldwide in more than 5,000 Heartfulness Centers in 160 countries.
Presenters
Kamlesh Patel, also known as Daaji, is the Global guide and Spiritual leader of Heartfulness meditation.
Yoga Guru Ramdev is a yoga teacher known all over the world for his work in Ayurveda, Yoga and agriculture. He founded Patanjali Group of Institutions.
Shankar Mahadevan is an Indian singer and composer who is part of Shankar-Ehsaan-Loy composing trio for Bollywood films.
Pandit Jasraj is an internationally renowned vocalist. His career of classical and semi-classical vocals music has spanned over 80 years.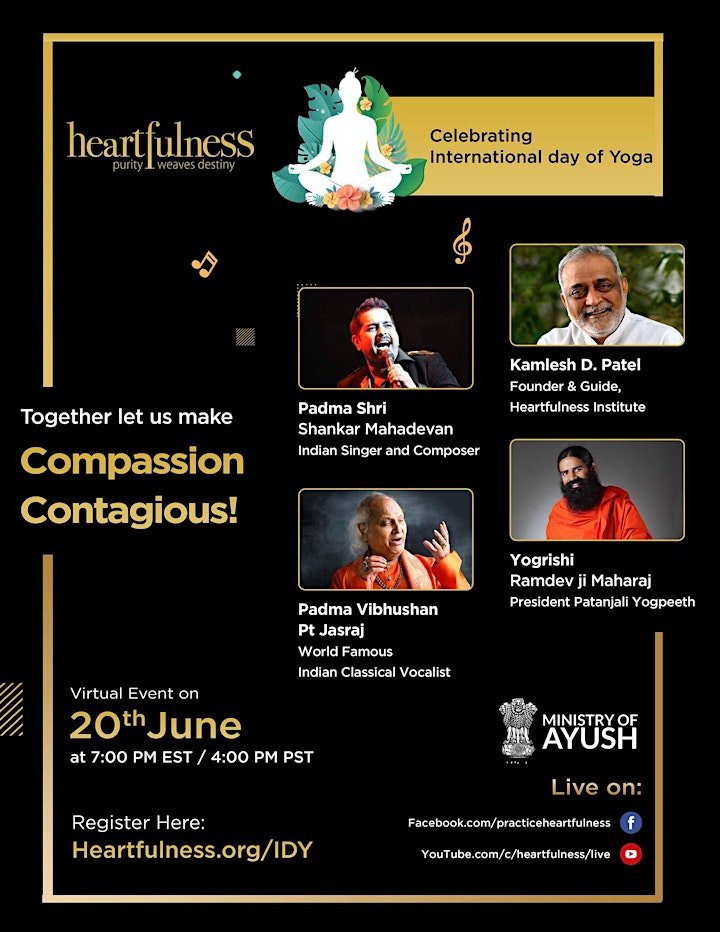 Organizer of International Day of Yoga Worldwide Virtual Celebration June 20 at 4:00 pm
In Heartfulness Meditation we place our attention on the area of the heart, with the thought that the source of light is in the heart. It is not a visual light like a light bulb, but more a feeling of lightness. I've heard that some spiritual practices call the heart the seat of the soul and is where we experience our deepest inner self and also our connection with something bigger and more than our individual self.

The heart is also the source of feelings of peace, joy, love, and universal oneness. These feelings come from within not from outside and are our true nature. By putting our attention on the heart, we can cultivate these feelings and also our intuition. Like tending a garden.

There is also the Heartfulness aspect of yogic transmission which helps to uncover and nourish our inner light. It is a very very subtle light energy and can give us feelings of increased lightness, openness and expansiveness of the heart. It can feel like finally coming home in the deepest and most real sense.