Gender Equality Week 2020: how do women in STEM fare globally?
About this Event
INTERNATIONAL PERSPECTIVES ON ADVANCING WOMEN IN STEM CAREERS AND LEADERSHIP
A global discussion during Gender Equality Week 2020
"Rise-togetHER".....
"She Matters".......
or
"Let her Radiate".......
are not merely slogans or hollow actions but concrete initiatives to encourage & support an increasing number of women in STEM.
Women are needed, because over the last few decades, "each step-up the ladder of scientific research system sees a drop in female participation until, at the highest echelons of scientific research and decision making, few women are left". (Huyer, 2015:86).
The exodus of professional women in the academic pipeline, ranging from junior posts to executive ones, is dramatic, as globally only 5% out of a total 30% women researchers can be seen in executive posts. Despite remarkable innovative developments, women continue to face the barriers persisting in the research system. Many bright minds falter in a male-dominated environment, leading to bias work cultures and monotonous teams, lacking diversity.
Today, with an increasing number of celebrated examples in the world such as first-all-women spacewalk, it is crucial to keep this momentum by encouraging emerging female professionals. It has been estimated that gender parity in the workplace may add up to $28 trillion (or 26%) to the annual global GDP by 2025 (Forbes, 2018).
In observance of Gender Equality Week, SCWIST is honoured to present an international panel of distinguished women in STEM who will share their insights and tips on advancing women in STEM careers and leadership roles. This event is in collaboration with She Leads Canada, SmartSTEM, WISE Africa and Balochistan Women and Girls for STEM.
PROGRAM
9:30- 10:00 AM Socials/ Ice-Breakers (Optional)
Main Session
10:00 AM
Welcome | Noeen Malik, Moderator
10:10 AM
Successful Trajectory in STEM (Academia)|Prof. Joan W. Bennett , USA
10:20 AM
Overview of the Gender Equality Network- Canada (Alliances)| Fariba Pacheleh, Canada
10:30 AM
Finding Your Voice and Developing a Public Persona (Professional Development)| Dr. Natoshia Anderson, USA
10:40 AM
Successfully navigating and blending often disparate spaces of research, academia, industry and politics (Leadership)| Senamile Masango, South Africa
10:50 AM
Empowering women in underprivileged areas to open doors for STEM careers (Community Impact)|Hadeel Sahal Al Balushi, Pakistan
11:00 AM
Q & A
11: 30
Final thoughts (speakers)
11: 50
Closing remarks
12:00
Program ends*
*Program ends at noon, but participants may stay for optional small group breakout rooms for further discussion until 1 pm.
MODERATOR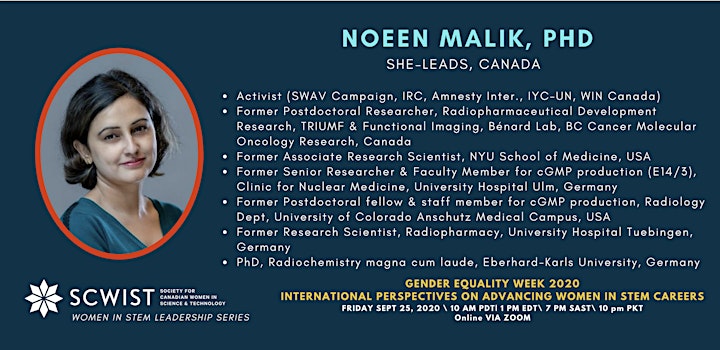 Dr. Noeen Malik is a scientist active in oncology and neurodegenerative disease research. She completed her PhD in Nuclear Medicine at the University of Tübingen, Germany followed by research stints in Germany, the United States and Canada. Most recently, she worked as a postdoctoral researcher at TRIUMF in Vancouver, Canada.
A passionate advocate for gender equality in STEM, Noeen is an active member of SCWIST and WIN Canada; and recently launched She Leads which featured a STEM Career Workshop sponsored by IsoSIM.
Noeen is also an activist for women's rights at #SWAV (support women against violence), NGO CSW/NY, Amnesty International and for rehabilitation of children from conflict zones with International Rescue Committee (IRC), UN-International Youth Council (IYC), and supporter of successful refugees integration in west (via IRC).
Noeen is vocal about practicing integrity in the workplace.
Twitter: @NoeenMalik
SPEAKERS

Professor Joan Wennstrom Bennett, PhD is Distinguished Professor of plant biology and pathology, and Senior Faculty Advisor (formerly Associate Vice President), Office for Promotion of Women in Science, Engineering, and Mathematics, Rutgers University, New Jersey, USA. She also holds the distinction of being Chair of the Committee on Women in Science, Engineering and Medicine for the National Academies. She was elected to the National Academy of Sciences in 2005. Joan was also a past president of the American Society for Microbiology (1990-1991) and of the Society for Industrial Microbiology and Biotechnology (2001-2002), and past Editor in Chief of Mycologia (2000-2004).
A fungal geneticist, Joan was educated at Upsala College (B.S. 1963) and the University of Chicago (M.S. 1964, Ph.D. 1967). She was the first tenure track woman hired on the faculty of the Biology Department at Tulane University. While there, Dr. Bennett and her laboratory established a research program on the genetics and biosynthesis of aflatoxin in collaboration with scientists at the Southern Regional Research Center, a branch of the United States Department of Agriculture in New Orleans, Louisiana. This research provided a useful model for other polyketide secondary metabolites and expanded the possibilities for reducing these poisons in foods and the environment. While at Tulane University, Joan was on the committee that established the first women's center at Newcomb College (the women's college at Tulane) and taught a popular course on the biology of women beginning in 1975. She was on the faculty of Tulane University for 35 years.
After Hurricane Katrina, Professor Bennett moved to Rutgers University where she currently is a Distinguished Professor in the Department of Plant Biology and Pathology. Her Rutgers laboratory has pioneered the use of genetic model systems for elucidating the physiological effects of fungal volatile organic compounds. Upon joining the Rutgers faculty, she was appointed Associate Vice President to establish an Office for the Promotion of Women in Science, Engineering & Mathematics which promotes gender and racial equity in the sciences, mathematics, and engineering.
Awards:
1990 - Honorary Doctor of Literature, Upsala College
2001 - Carski Teaching Award, American Society for Microbiology
2003 - Charles Porter Award, Society for Industrial Microbiology & Biotechnology
2005 - National Academy of Sciences
2005 - Honorary Doctor of Science, Bethany College (West Virginia)
2006 - Alice Evans Award, American Society for Microbiology
2007 - Honorary Professor, Institute of Microbiology, Chinese Academy of Sciences
Read more about Joan: personal memoir on Hurricane Katrina and fungal volatiles here, career journey here and find her CV here.

Dr. Natoshia Anderson is the engaging, prodigious founder of ​Smart STEM, a ​groundbreaking gender equity/diversity and inclusion ​advocacy entity for girls. Smart STEM, is an educational consulting company promulgated to supply expert STEM curriculum development, STEM professional development opportunities, strategic STEM Events, and critical STEM research to schools, school districts, and other educational institutions.
In her private practice, Dr. Anderson offers intensive professional and leadership development coaching and training for STEM educators and school system staff respectively, and STEM keynote/motivational speaking services to organizations, associations, corporations, ​conferences, ​and educational systems nationwide.
A former Dean of the industry-progressive Georgia Piedmont Technical College (an entity member of the extensive Technical College System of Georgia), and former Director of Georgia Piedmont Technical College's STEM Initiatives, Dr. Anderson's days as a Mechanical Design Engineer were replete with the expert designing of HVAC, piping, plumbing, and fire alarm systems for businesses, educational institutions, and military installations.
In addition to her practice, motivational speaking, and Smart STEM activities, Dr. Anderson currently works with the Georgia Department of Education to ensure STEM Certification and professional development materials for schools and teachers respectively, statewide. She also dutifully served as a high school Mathematics instructor, unwaveringly dedicated to the mentoring of academically gifted students.
Also an author, Dr. Anderson's expertise is featured in the​ gender equity/diversity and inclusion​ compilation books, ​If Her Purse Could Talk​ (2018);​Gumbo for the Soul: Liberating Memoirs to Inspire Females of Color​ (2016); and, ​R.A.C.E Mentoring Through Social Media: Black and Hispanic Authors Share Their Journey in the Academy​ (2017). Additionally, she serves as the popular host of the​ 2020 edition​ of her widely-followed ​STEMming in Stilettos​ podcast.
Dr. Anderson holds a Bachelor of Science degree in Mechanical Engineering Technology from Southern Polytechnic State University, and both an MBA and a Doctorate of Education in Educational Leadership from the University of Phoenix. In her off hours, she also tirelessly assists numerous outreach organizations and youth clubs with increasing awareness of STEM opportunities for minority youths. Dr. Anderson's laser-focused mission is to expand her efforts to increase STEM awareness and opportunities, especially for female minority students and women professionals of color, worldwide.
Twitter: @drtoshia11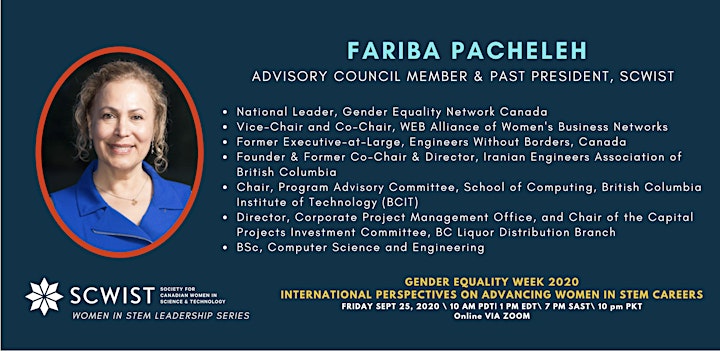 Fariba Pacheleh is a passionate and high-performance leader specialized in integrating and delivering project management and information technology solutions for strategic success.
She started her career as a hardware engineer in Iran and after moving to Canada has worked in diverse industries and driven transformational solutions while navigating through highly complex and regulated businesses in public, private, and government sectors.
Her background in technology and leadership roles enables her to stay alert to disruptive landscape and ensure business is ready to respond to rapid changes in the industries and cultural shifts while keeping a laser sharp focus on strategic objectives.
She's worked for a number of international companies such as Siemens and Finning, and now finds herself at the BC Liquor Distribution Branch (BCLDB) where she serves as the director of Project Management Office.
Fariba's strengths reside in her ability to provide teams with vision, values and guidelines to enable them making the best possible decisions to advance the organizations' objectives.
Throughout her career, she has invested a lot of time and energy giving back. As an immigrant woman in STEM, Fariba has been actively advocating for diversity, inclusion and equity in the Tech Industry.
As a national leader of the Gender Equality Network Canada (GENC), she has worked with a pan-Canadian network of 150 women leaders to advocate for policy change, build inclusive intersectional leadership, and take collective action to advance gender equality in Canada.
As the chair of BCIT School of Computing PAC (Program Advisory Committee), she works with technology leaders in B.C. to provide strategic advice and assistance to BCIT to retain its reputation and strengthen its place.
Fariba has been involved in many other organizations that support immigrants and women in technology. She's been president of SCWIST (Society for Canadian Women in Science and Technology) where she made a presentation to the House of Commons on the Status of Women with focus on equity and equality gaps in STEM field, founder of IEBCA (Iranian Engineers of BC Association), board member of many other organizations, and speaker in a wide range of events. She's worked with the WEB Alliance of Women Business Network, United Way, WiredWoman Society, Unicef Canada and Engineers Without Borders (EWB).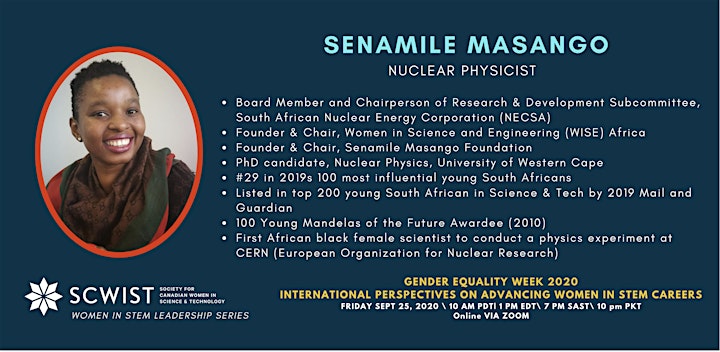 Senamile Masango, Nuclear Physicist, is currently a Board Member and Chairperson of the Research and Development Subcommittee of the South African Nuclear Energy Corporation SOC Limited (NECSA). She is the youngest Board Member to be appointed at a state-owned enterprise (SOE).
Senamile hails from KwaNongoma a deep rural area in KwaZulu-Natal, she has become one of South Africa's very few black female nuclear physicists. She is a PhD candidate in Nuclear Physics at the University of Western Cape, where she also completed her MSc in Nuclear Physics (Cum Laude). Her undergraduate degrees include a BSc (Physics and Electronics) and BSc Honours (Nuclear Physics) from the University of Zululand and a Diploma in Project Management from Varsity College. She completed her high school at Mlokothwa High School.
Driven by her passion in nuclear energy research, she has conducted several experiments locally and abroad; she is the first African woman to be part of an African led experiment at CERN. She is also South Africa's Research Leader at BRICS youth energy outlook.
A firm believer in sharing knowledge and experiences, and in women empowerment; Senamile is Founder and Chairperson of Women in Science and Engineering in Africa (Wise Africa), a foundation that allows women to engage with one another about social issues that affect them.
Ms. Masango is a Princess by birth, from the Zulu Royal household, who could have easily been satisfied with just her Royal status, but her ambition, hard work and remarkable contribution to the body of knowledge in nuclear physics has seen her being named a Global Goodwill Ambassador, award winner and nominee.
She is privileged to have been recognized as:
• one of South Africa's successful Black woman scientist under 35 years of age;
• 2019 Mail and Guardian's list 200 of young South African in Science and Technology;
• Ranked 29 in 2019's 100 most influential young South Africans;
• A Golden Key Member and she also received a New member recognition award from Golden key society, a monetary acknowledgement for new members who excel academically, hold leadership positions, committed to community involvement and participate in extra - curricular activities alongside their scholarly commitments
• News24's 100 Young Mandelas of the future 2010.
As an International speaker, she has had the honour of addressing the South African President, His Excellency Cyril Ramaphosa more than three times, ISilo Samabandla, His Majesty King Goodwill Zulu, and the former President Jacob Zuma. She has shared a platform with internationally renowned figures such Naomi Campbell; Dr Nkosazane Dhlamini Zuma: former AU Chairperson, currently Minister of COGTA; Former President of Ghana, John Maharnan and more. She has been invited in parliament (South Africa) to be part of the International woman conference 2017, she made a speech addressing issues that are faced by women in science especially women from the disadvantaged background, where her passion is at she wants to take science to the people. She was invited to be part of the Second Eurasian Women's Forum 2018 in Russia. The Eurasian Women's Forum is the world's biggest influential platform for discussing the role of women in-contemporary society.
Senamile has been invited to talk shows on numerous Radio Stations and television such as SABC1 news, ANN7, uKhozi Fm, Gagasi FM, SAFM, Khaya-FM, First Lady Documentary, Afternoon Expresso, Vuma fm, Cape Talk radio, Nongoma FM, ENCA etc. and she has been also featured on numerous magazines such as Move Magazine, Destiny Magazine, women in energy magazine from the Department of Energy (August 2018), women in science magazine from the Department of Science and technology (August 2019), Reinvented Magazine from the USA, BRICS youth energy outlook Magazine and more.
Her past portfolios include among others: Executive Member of Project Management South Africa (KZN Region), Executive Member in Faculty of Science and Agriculture in UNIZULU, Deputy secretary of Peace Aid International, Chairperson of Young African Women in Leadership, NEC Member at Progressive Professional Forum (PPF), Chairperson of United African Youth
She is all about Women empowerment, she would like to see more South Africans including herself graduating in PhD, she is passionate about education, she wants to contribute in making RSA system a better one, contributing in RSA's technology and economic growth, changing lives of the youth especially from the disadvantaged background and Bringing science to people and encouraging more black researchers in scare skills throughout Africa, Improving high school pass rate in Maths and Science, Being a good role model and a mentor; and making education fashionable in her lifetime.
Read more about Senamile here.
Twitter: @SenamileMasango

Hadeel Sahal Al Balushi is a broadcast journalist currently connected with Pakistan Television Network Balochistan and National. She hosts the Bolan Morning Show which provides a platform for women in different career paths to find their voice.
As a Women Empowerment Activist, she supports Women Balochistan's efforts to bring local women's issues on the international stage.
Hadeel hails from the southwestern Pakistan, a region known as Balochistan which is the largest (by area) of the four provinces of the country. Balochistan is the second major supplier of natural gas in the country, but still largely undeveloped (" a neglected province where a majority of population lacks amenities". Hadeel grew up in a community which was extremely conservative with many restrictions for girls and women. Girls' education was curtailed at a certain level and women had limited career choices (e.g. teaching, medical profession).
Hadeel was fortunate that her father decided to provide education to his children, and thus she was sent to Karachi. She held multiple jobs to support her education, including a coordinator/tutor stint as young as 13 years old. Eventually, she finished a BMS in Media Science, Film and TV from Iqra University, one of Pakistan's best universities.
Hadeel was the first in her extended family and the whole of Balochistan to seriously pursue a career in the Media Industry. Unfortunately, careers in media, fashion industry, airlines and hotel management are deemed unsuitable for women in Balochistan. Despite the cultural barriers and social pressure; and with the support of her mother. siblings, teachers and a few good friends, she persevered and bravely continued to pursue her Media career until she became a well-known anchor and tv host, and a much sought after event host for government and corporate functions.
A strong advocate for Women Empowerment, she supports Balochistan women by marketing their handicrafts nationally and internationally via Culture Online which she founded and is currently CEO.
Hadeel completed both her Bachelors (Media Sciences: Film, TV & Photography) and Masters (Advertising) from Iqra University, one of Pakistan's top universities. She is currently a PhD student (Philology) at Karachi University.
Twitter: @HlHadeel
REGISTRATION
Free.
But, you are encouraged to attend with a donation to any of the following organizations:
-SCWIST
-WISE Africa
-Pakistan Girls & Women for STEM (kickstarter fund)
- SmartSTEM
PHOTO AND VIDEO CONSENT
By registering for the event, you understand that the session may be video recorded and/ or photos will be taken for use in SCWIST digital communication platforms, including but not limited to: the SCWIST website, e-newsletter, Twitter, Facebook, Instagram, Youtube, and others. You therefore are providing consent for your image and voice to be used by SCWIST for free and in perpetuity.
If you do not want your image to be captured in video or photographically, please ensure that your camera is off during the session.
QUESTIONS AND FEEDBACK
For questions about the event, or to sign up as a speaker, please contact Khristine Carino, Director for Events, by email at director-events(at)scwist.ca.