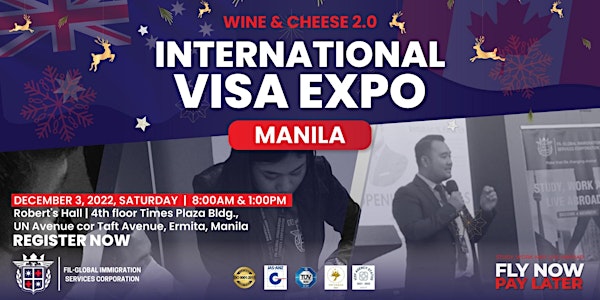 INTERNATIONAL STUDENT VISA EXPO AUSTRALIA: MANILA
INTERNATIONAL STUDENT VISA EXPO: MANILA
When and where
Location
Robert's Hall 4th Floor Time Plaza Bldg., UN Avenue Cor Taft Avenue Ermita, Manila Robert's Hall 4th Floor Time Plaza Bldg., UN Avenue Cor Taft Avenue Ermita, Manila Manila, NCR 1000 Philippines
About this event
𝐓𝐡𝐢𝐬 𝐢𝐬 𝐲𝐨𝐮𝐫 𝐜𝐡𝐚𝐧𝐜𝐞 𝐭𝐨 𝐫𝐞𝐚𝐜𝐡 𝐲𝐨𝐮𝐫 𝐠𝐨𝐚𝐥 𝐨𝐟 𝐥𝐢𝐯𝐢𝐧𝐠 𝐚𝐛𝐫𝐨𝐚𝐝 𝐢𝐧 𝐂𝐚𝐧𝐚𝐝𝐚 𝐚𝐧𝐝 𝐀𝐮𝐬𝐭𝐫𝐚𝐥𝐢𝐚 𝐰𝐢𝐭𝐡 𝐅𝐢𝐥-𝐆𝐥𝐨𝐛𝐚𝐥 𝐅𝐥𝐲 𝐍𝐨𝐰 𝐏𝐚𝐲 𝐋𝐚𝐭𝐞𝐫 𝐏𝐫𝐨𝐦𝐨
Don't miss the chance in achieving your goal of migrating abroad. See you at 𝐓𝐡𝐞 𝐖𝐢𝐧𝐞 & 𝐂𝐡𝐞𝐞𝐬𝐞 𝟐.𝟎 𝐈𝐧𝐭𝐞𝐫𝐧𝐚𝐭𝐢𝐨𝐧𝐚𝐥 𝐕𝐢𝐬𝐚 𝐄𝐱𝐩𝐨 this coming December 03, 2022, Saturday; 8:00am to 11am for Australia Expo. Save the date and see you in Robert's Hall 4th Floor Time Plaza Bldg., UN Avenue Cor Taft Avenue Ermita, Manila.
Enjoy these perks when you attend our roadshow:
✅ On-the-spot assessment and consultation
✅ Tuition fee discounts
✅ Waived IELTS
✅ Fly Now Pay Later Promo
What are you waiting for? Your future is calling you. Sign up now!
𝐕𝐢𝐬𝐢𝐭 𝐮𝐬:
💻 Website: www.Fil-Global.com/apply-now
𝐂𝐨𝐧𝐭𝐚𝐜𝐭 𝐮𝐬:
📞WhatsApp/Viber: 0908 350 7506
See you all ✈️✈️
#FGonestepcloser #FGmovingforward #immigration
#StudyWorkLiveAbroad #FGISC #StudyinCanada #StudyAbroad #StudyAbroadPH #studentvisa
✅ Choose WHITE Registration (FREE)
-FREE REGISTRATION
✅ Choose RED Registration P500.00
-500PHP OFF FOR CONSULTATION
-SNACKS
-GIVEAWAYS
-RAFFLE ENTRY
✅ Choose 1,500 BLUE REGISTRATION 1,500:
-FREE CONSULTATION
-SNACKS
-REGISTRATION KIT
-UNLIMITED INFOPACK
-GIVEAWAYS
-RAFFLE ENTRY
- Discounts on Membership
NOTE: Double-check your e-mail address to receive complete details and FB Page Live a day before the event.
Fil-Global Immigration Services Corporation
2nd Flr. Times Plaza Building, United Nations Avenue corner Taft Avenue, Ermita, Manila 1000
Fil-Global Immigration Services Corporation
Company SEC Reg No. CS201721718
ISO 9001:2015