International Week of Happiness at Work: North American Event
Sales Have Ended
Ticket sales have ended
Thank you for signing up to the first International Week of Happiness at Work North American Event. This event is created to help us attract, inspire and retain your teams during The Great Resignation. The event is running every work day throughout the week, you will receive an email with a link to login to the platform, and a reminder before each session. Each day: 09:00 - 09:30 PST| 12:00 - 12:30 EST - Inspiration Session hosted by Tia Graham, Sheona McGraw & Sarah Metcalfe 09:30 - 10:30 PST| 12:30 - 1:30 EST - Keynotes & Fireside Chats 10:30 - 11:30 PST | 1:30 - 2:30 EST - Networking, Discussions & Action For more information please contact sheona@woohoounlimited.com, tia@arriveathappy.com, sarah@woohoounlimited.com
Sales Have Ended
Ticket sales have ended
Thank you for signing up to the first International Week of Happiness at Work North American Event. This event is created to help us attract, inspire and retain your teams during The Great Resignation. The event is running every work day throughout the week, you will receive an email with a link to login to the platform, and a reminder before each session. Each day: 09:00 - 09:30 PST| 12:00 - 12:30 EST - Inspiration Session hosted by Tia Graham, Sheona McGraw & Sarah Metcalfe 09:30 - 10:30 PST| 12:30 - 1:30 EST - Keynotes & Fireside Chats 10:30 - 11:30 PST | 1:30 - 2:30 EST - Networking, Discussions & Action For more information please contact sheona@woohoounlimited.com, tia@arriveathappy.com, sarah@woohoounlimited.com
Join us for a week of virtual education, motivation, and proven tactics to increase the well-being and success of your organization.
About this event

Study after study shows that happy employees perform better in almost every business outcome. In the face of the great resignation is your business ready to create a workplace where employees and people are at the heart of your business?
Where employees and teams are more:
engaged
productive
creative
collaborative
loyal
successful at sales
resilient... the list goes on!
The idea of investing in the employee experience and creating a workplace that actively promotes positive mental health is certainly gaining momentum in Canada and the US. That said, we've still got a long way to go if we truly want to see a fundamental shift in the way we work.
Join us for the week-long event and learn how your organization can gain a significant competitive advantage by leveraging the strengths of your team.
Join speakers :
Opening Keynote: Nic Marks, Founder & CEO of FridayPulse
Fireside Discussions with:
Jane Dzielski, Principal Analytical Lead & Nima Oftedeh, Head of Analytics, Home and Consumer Services at Google
Asad Ahmed, SVP Commercial Services, Hyatt Hotels
Alex Genov, Head of Customer Experience, Zappos
Closing Keynote: Rich Sheridan, CEO & Chief Storyteller, Menlo Innovations
Each day will also feature:
* 30 minute Happiness at Work Inspiration session discussion led by 3 international Chief Happiness Officers.
*1 Hour Interactive networking and breakout areas, with access to Happiness at Work Experts.
*Tips, and real business takeaways that you can start implementing in your business today.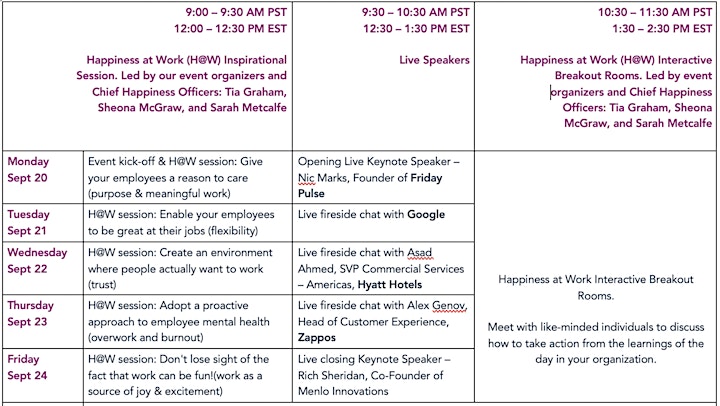 Cost to attend: *free! (though donations to our non-profit partner are encouraged!)
We're on a mission to change the way we think about work. To make this event as accessible as possible, we've decided not to charge anything for our tickets. Instead, when you register to attend the event, you'll be asked to make a voluntary donation to our amazing non-profit partner, CAABWA. You can choose to give $0, $10, $100, $500 - whatever floats your boat! 100% of ticket "sales" will go directly to CAABWA for maximum impact.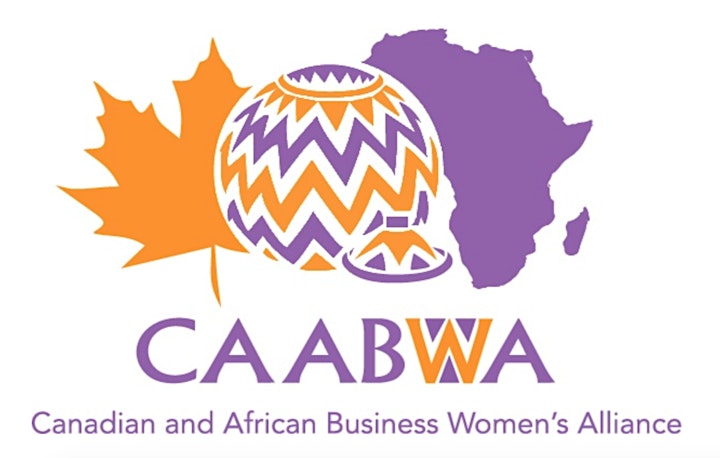 Our mission is to Empower.
The Canadian and African Business Women's Alliance (CAABWA) is a non-profit, Canadian and African association dedicated to improving economic sustainability and growth in Africa. We work hard to encourage gender equality, strengthen women's empowerment, and to advance private sector development.
It doesn't take much to make a significant impact on the work we're doing in Africa. Donations, big or small, will go a long way to empowering women entrepreneurs and creating opportunities for communities across Africa.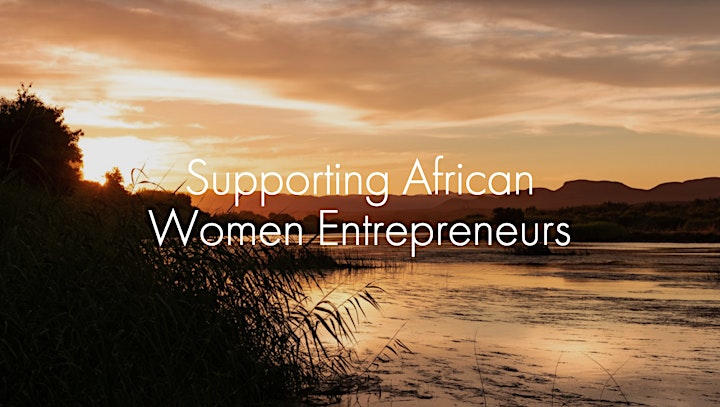 For more information on the International Week of Happiness at Work, or on the event itself, check out our website!