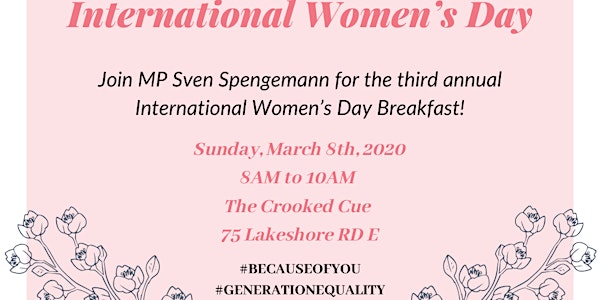 International Women's Day Breakfast
Location
The Crooked Cue
75 Lakeshore Road East
Mississauga, ON L5G 1C9
Canada
Description
Join MP Sven Spengemann for the third annual International Women's Day Breakfast!
International Women's Day is a time to recognize the outstanding contributions of all women and an opportunity to promote and support gender equality.
This year the event will focus on Women & International Development. Through the Feminist International Assistance Policy, Canada is focusing its international assistance on the empowerment of women and girls as the most effective approach for reducing poverty, and building a more inclusive, peaceful, and prosperous world.
I invite you to join us as we renew our collective efforts to break down barriers to women's advancement and prosperity!
Special Guests:
Kamal Khera, Parliamentary Secretary to the Minister of International Development.
LCdr K.L. Topham, Commanding Officer, 2 Military Police Regiment.
Noora Sharrab, Co-Founder & CEO, Sitti Social Enterprise Ltd.
Date: Sunday, March 8th, 2020
Time: 8 AM to 10 AM
Location: The Crooked Cue (75 Lakeshore Road East)
#BECAUSEOFYOU
#GENERATIONEQUALITY