Description
Spectacular People of Toronto! You are invited to join us for an exclusive gathering, the 1st Annual Celebration of IWB.
On International Women's Day March 8th, IWB Calls for Strengthening Role of Women as Tool for Real Change in our Society.
Please join us to share your glorifying uplifting stories, empower and inspire Toronto immigrant ladies. This is the opportunity for you to network closely with some amazing business high-achievers, females thought-leaders, entrepreneurs, innovators, activists.

Join to celebrate All Women - Great Leaders and great Mothers, those who lead with Massive Action and Compassion, Determination to Win coupled with Humble Giving Attitude,
Mental Toughness and simple, continuous acts of Kindness.
Enjoy delicious drinks and snacks, share collaborative networking, enjoy meaningful conversation and support IWB's Mission to unite women to be change agents in the world and IWB's Goal - accelerating women's business ownership and strengthen their impact on the economy.

On the 8th of March every year, the world celebrates the Women's Day, which comes as an important reminder of women's role in making real and positive change in the human society over the ages. This year on International Women's Day, we are all urged to celebrate women's achievements while calling for gender equality.

This event is open to women from all communities, races, ethnicities and religions. The world needs us to come together, All are welcome!
You will gain inspiration from remarkable IWB Founding Members as they share their experiences and offer insight into the world of business. Event features 24 women speakers all from Toronto Canada with a diverse array of backgrounds will each talk for couple of minutes. The topic: How they are changing the world.
6.00pm – Networking
6.30pm - Inspirational Speeches by Entrepreneurs, Women-Leaders, Activists
7:30pm - "Women's powerful Karaoke Songs. Singing Together for Change
7:45pm – Awards. Kindness, Compassion, Mother, Collaboration, Courage, Passion, Giving, Persistence
8:00pm - Benefits to become a Member, Founding Member, and the over-all message of the Organization
8.15 - 9:30pm – Networking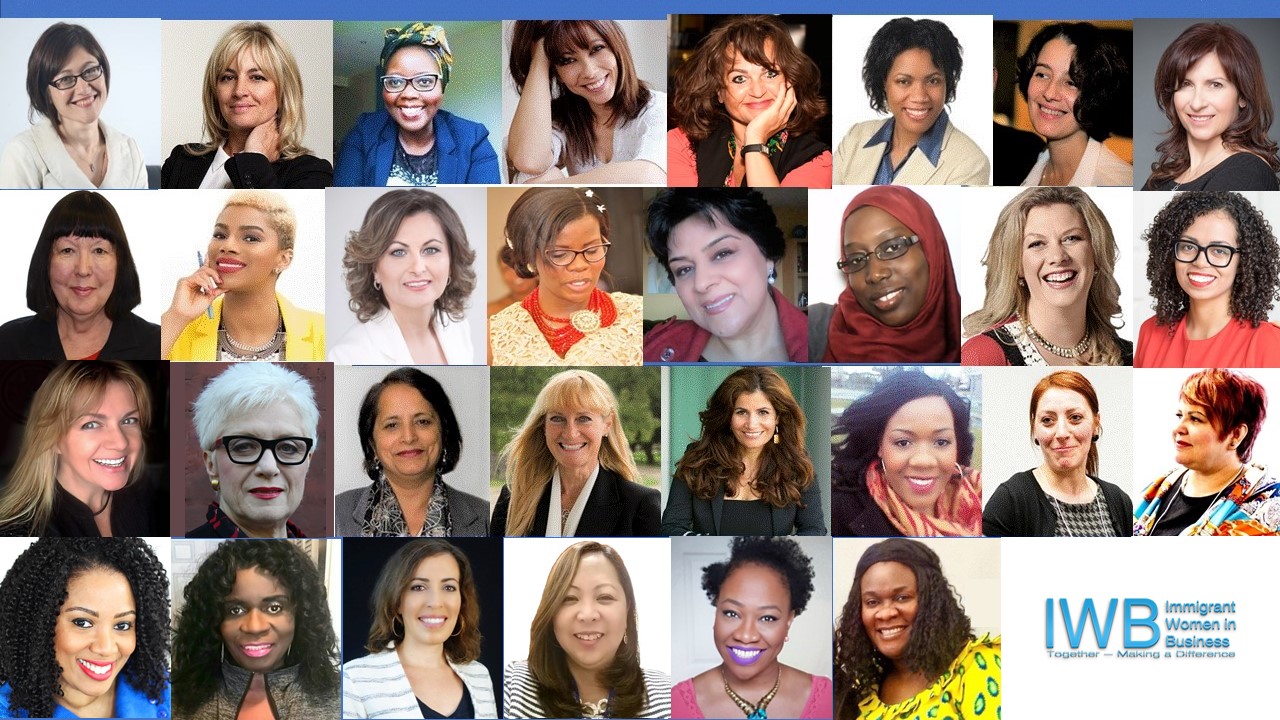 Founding Members:
Emma Kaufman (Israel) http://www.thinklongterm.ca/
Jackie Porter (Jamaica) http://askjackie.ca/
Sally Kane (Mauritania) https://www.sellykane.com/
Karlyn Percil (Saint Lucia) http://karlynpercil.com
Andrea Carter (Germany) https://www.wealthywomanwarrior.com/
Eszter Sebok (Hungary) https://ca.linkedin.com/in/esebok
Dr. Edna Aryee (Ghana) http://immigrantwomeninbusiness.com/board-partners/dr-edna-aryee/
Nilgun Uzunhasanoglu (Turkey) https://ca.linkedin.com/in/nilgunuzunhasanoglu
Tahani Aburaneh (Palestine) http://tahani.ca/
Natasa Panova (Macedonia) https://ca.linkedin.com/in/natasa-nastova-panova-79bb1839
Mandana Attarzadeh (Iran) https://www.linkedin.com/in/mandana-attarzadeh-48369220/
Christen N. James (Tobago) http://yourchosencoach.com/
Susan Dasmarinas (Philippines) https://www.immigrationmastersofcanada.com
Dagma Koyi (Saint Lucia) https://www.restcentres.org
Khady Ndoye (Senegal) https://ca.linkedin.com/in/khadyndoye/en
Olesya Kolisnyk (Ukraine) https://www.linkedin.com/in/olesya-kolisnyk-8a71a342
Dara Clancy (NC, Canada) https://www.linkedin.com/in/dara-clancy-8397415
Nira Sharma (Nepal) https://ca.linkedin.com/in/nira-sharma-maes-pmp-aa540613
Robin Noble (United Kingdom) https://ca.linkedin.com/in/nobledestinations
Naira Velumyan (Armenia) https://www.linkedin.com/in/naira-velumyan-phd-12758111a
Cheryl Bedard (Canada) https://ca.linkedin.com/in/cherylbedard
Elena Paltseva (Kazakhstan) https://www.linkedin.com/in/elena-paltseva-375b8638
Dr. Marlyn Morris https://www.linkedin.com/in/dr-marlyn-morris-81049a21
Francina Grazette (Barbados) https://www.linkedin.com/in/francina-grazette-059612152
Svetlana Ratnikova (Russia) https://ca.linkedin.com/in/svetlanaratnikova
Bring extra business cards so you can enter the draw to win 2018 Success Planners https://karlynpercil.com/product/2018-success-planner/ & Mentoring sessions with IWB Founding Members.

200 people will be attending this event. You must be registered.
Both genders are welcome.