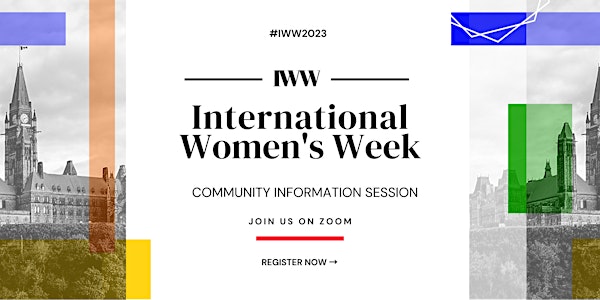 International Women's Week 2023 - Community Information Session
We're excited to share our vision for IWW 2023 and collaborate with you to inspire, empower and equip women leaders in Ottawa and beyond!
About this event
On March 8, the world celebrates International Women's Day. During the month of March, our community will come together with partners across Ontario, throughout Canada, and around the world to host the Fifth Annual International Women's Week (IWW) 2023.
Join our Invest Ottawa team and many incredible collaborators on Thursday, December 15, at 10:00 am (EST) for our first IWW Community Information Session. Register now, and you will receive a Zoom link via email to participate online.
During this session, we'll discuss our collaborative vision for IWW 2023 and:
Provide an overview of the goals and target outcomes we have established as a community and the many ways you can contribute to this initiative,
Discuss how our team will help to equip and support you and our community to have an impact,
And address any questions you may have.
We couldn't be more excited as we prepare for launch. Now, all we need is you!
All are welcome.
We are committed to helping create a critical mass of successful women leaders from every walk of life who significantly impact our economy and society. We're calling on all people, teams, and organizations who believe in our mission to inspire, equip and empower women leaders in every professional sphere.
We want all folks from every walk of life and sector engaged and working collaboratively to expedite change. This includes all champions, allies, collaborators, and community members! We need everyone working together to drive long-term, impactful and sustainable change.
We look forward to sharing our plan and how you can help make this our most impactful IWW yet.
Please note:
This event will take place virtually over Zoom.
A recording of the information session will be published on Youtube for those who can't attend. Make sure to subscribe at Invest Ottawa
We Want You: Stay Connected and Engaged!
To stay apprised of all IWW developments, please visit: www.investottawa.ca/IWW
To acquire information about Invest Ottawa's Women Founders and Owners Strategy, please visit: www.investottawa.ca/women
Register for newsletter updates: https://www.investottawa.ca/women-mailing-list/
We look forward to welcoming you to our first 2023 IWW Information Session!
Watch our highlight video from International Women's Week 2022 to get a sense of what's to come - and get excited!