Description
Course Overview
The emerging paradigm of Internet of Things (IoT) has created both new smart services and economic opportunities for industries, businesses and communities. The IoT technology is revolutionizing the smart healthcare sector, energy sector, smart cities, smart transportation systems, smart security sectors, and e-governance systems by taking connectivity, data mining and communication to the next level. It is predicted that by 2020, about 7.6 billion people will be interconnected via 50 billion devices which is a good indication of worldwide diffusion of things and data connected to the internet via IoT technology. According to business analysts, IoT technology will lead to an economic growth of 4.6 trillion dollars in the Global Public Sector by 2020.
Due to unlimited opportunities for IoT entrepreneurships and businesses, a huge number of small and medium sized business owners and entrepreneurs have already welcomed the gold rush for IOT worldwide. Also due to the emergence of enormous open source IoT and M2M platforms, the development of IOT systems is quite cost effective and worthy to start the IOT businesses. The resilience to manage sizable production of IOT products has immensely encouraged the electronics product owners to integrate their devices and products with mobile applications and networks.
This course covers major aspects of IoT, Machine to Machine (M2M) Communication and Big Data Analytic techniques for IoT. This course will provide a solid base for Information & Communication Technology (ICT) engineers, researchers, marketing managers, IoT software application designers, embedded design engineers, and entrepreneurs to learn about state-of-the-art IoT applications for smart cities, smart healthcare sector, smart grid, smart transportation systems, smart security systems and e-governance. In this course, we intend to guide the IoT enthusiasts/entrepreneurs with latest IoT technologies and business trends of the emerging IoT industry so that they will not only be able to establish smart Iot based business ventures but will also gain the knowledge to design IoT industrial applications using sophisticated cloud based IoT platforms and data analytics tools.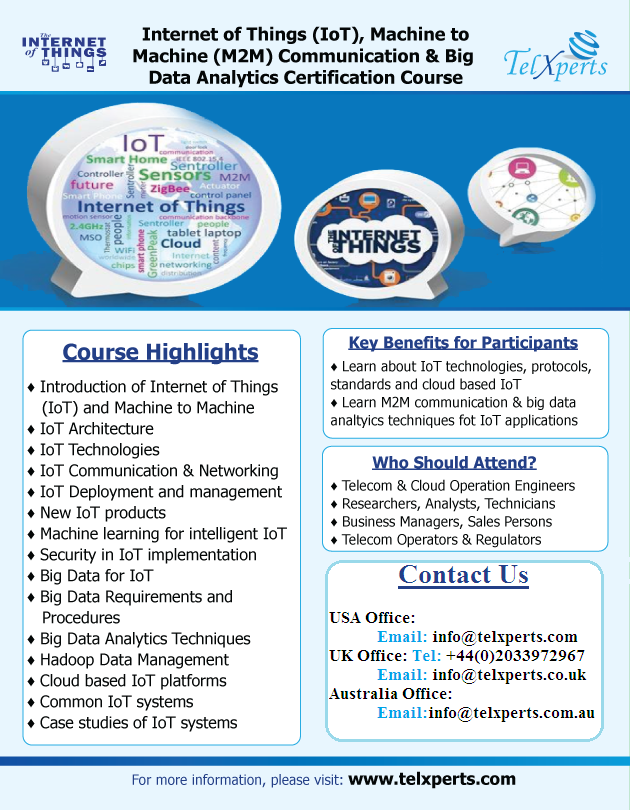 Key Benefits for Participants
This course will provide the following key benefits to the attendees:
Learn about sophisticated software and hardware tools for designing IoT industrial applications using cloud based IoT platforms which can potentially generate massive revenue streams.
Enhance their knowledge about big data analytic techniques for smart IoT applications
Brainstorm potential valuable business ideas linked with IoT based smart cities, smart homes, smart gird, smart health and smart transportation applications.
Extensive understanding of IoT technologies, protocols, standards and cloud based IoT platforms
Gain detailed knowledge about state-of-the-art IoT commercial products
Extensive understanding of mobile app platform for IoT, machine learning for IoT and Analytic engine for IoT
Gain comprehensive knowledge about marketing terms for Internet of Things based industrial products and applications.
Understand key ideas related to e-governance, public safety and disaster management
Course Objectives
This course has the following major objectives:
Provide comprehensive knowledge about IoT ecosphere, IoT applications, IoT standards, architecture, protocols and cloud based IoT platforms.
Deliver insights about IoT technology market trends, IoT businesses and deployment of IoT applications.
Detailed insight to Bluetooth Smart Technology, Sensor networks, ZigBee, Low Power WiFi, RFID, IEEE 802.15.4, IEEE 802.15.4e, 802.11ah and Relay Access Point (AP)
Discuss Mobile app platform for IoT, machine learning for IoT and Analytic engine for IoT
Detailed insights to Machine to Machine (M2M) communication
Comprehensive knowledge about Big Data analytic tools such as Hadoop.
Case studies of cloud based IoT platforms from various leading technology companies for smart healthcare, smart transportation, smart buildings, smart grid and e-governance.
Course Content
Why IoT is so important -Overview
IoT history and evolution
Case Studies from Nest, CISCO and top industries
IoT adaptation rate in North American & and how they are aligning their future business model and operation around IoT
Broad Scale Application Area
Smart House and Smart City
New devices: wearables, vehicles, homes, drones and robots
New interfaces: augmented reality, virtual reality, telepresence and haptic interfaces
Smart Home Healthcare
Business Rule Generation for IoT
Standards and requirements
IoT enabling technologies
3 layered architecture of Big Data — Physical (Sensors), Communication, and Data Intelligence
Functionalities and structure
IoT Architecture and Technologies
Key components: Hardware and firmware
Device drivers and application software
Networking protocol structure
Semantic Web 3.0 Standard for M2M and IoT
Cloud connectivity
ZigBee and RFID,Target Wake Time (TWT)
SuperSpeed USB Inter-Chip (SSIC)
Bluetooth Smart Technology
UniPro, SPMI, BIF
Bluetooth Smart Technology
Relay Access Point (AP)
Sensor networks
IoT Communication and Networking
Serial communication
Power consumption and optimization
Wired connectivity, Ethernet/GigE
Grouping of stations and Augmented Reality
IoT Deployment and Management
Mobile integration & Convergence
Value chain and Business models
Lifecycle solution management
Real-time response and delay
New IoT products- Product requirement document for IoT
State of the present art and review of existing technology in the market place
Suggestion for new features and technologies based on market analysis and patent issues
Detailed technical specs for new products- System, software, hardware, mechanical, installation etc.
Packaging and documentation requirements
Servicing and customer support requirements
High level design (HLD) for understanding of product concept
Release plan for phase wise introduction of the new features
Skill set for the development team and proposed project plan -cost & duration
Target manufacturing price
Mobile app platform for IoT
Protocol stack of Mobile app for IoT
Mobile to server integration –what are the factors to look out
What are the intelligent layer that can be introduced at Mobile app level ?
iBeacon in IoS
Window Azure
Linkafy Mobile platform for IoT
Axeda
Xively
Machine learning for intelligent IoT
Introduction to Machine learning
Learning classification techniques
Bayesian Prediction-preparing training file
Support Vector Machine
Image and video analytic for IoT
Fraud and alert analytic through IoT
Bio –metric ID integration with IoT
Real Time Analytic/Stream Analytic
Scalability issues of IoT and machine learning
What are the architectural implementation of Machine learning for IoT
Analytic Engine for IoT
Insight analytic
Visualization analytic
Structured predictive analytic
Unstructured predictive analytic
Recommendation Engine
Pattern detection
Rule/Scenario discovery — failure, fraud, optimization
Root cause discovery
Security in IoT implementation
Why security is absolutely essential for IoT
Mechanism of security breach in IOT layer
Privacy enhancing technologies
Fundamental of network security
Encryption and cryptography implementation for IoT data
Security standard for available platform
European legislation for security in IoT platform
Secure booting
Device authentication
Firewalling and IPS
Updates and patches
Database implementation for IoT : Cloud based IoT platforms
SQL vs NoSQL-Which one is good for your IoT application
Open sourced vs. Licensed Database
Available M2M cloud platform
Axeda
Xively
Omega
NovoTech
Ayla
Libellium
CISCO M2M platform
AT &T M2M platform
Google M2M platform
Few common IoT systems
Home automation
Energy optimization in Home
Automotive-OBD
IoT-Lock
Smart Smoke alarm
BAC ( Blood alcohol monitoring ) for drug abusers under probation
Pet cam for Pet lovers
Wearable IOT
Mobile parking ticketing system
Indoor location tracking in Retail store
Home health care
Smart Sports Watch
Big Data for IoT
4Vs of Big Data
Why Big Data is important in IoT
Big Data vs legacy data in IoT
Hadoop for IoT-when and why?
Storage techniques and Distributed database
Distributed database
Parallel computing basics for IoT
Big Data Analytics Techniques
Introduction to R (statistical tool)
Data exploration and visualization
Cluster analysis and Decision Trees
End to End Analytics
Hadoop Data Management
Hadoop Installation
Introduction to HDFS and HBASE
Hive Data Management
Cloud based IoT platforms
Case studies of available M2M cloud platform
Libellium, Ayla, Axeda
CISCO M2M platform
AT &T M2M platform
Common IoT systems
Home automation
Energy optimization in Home
Automotive-OBD
IoT-Lock
Smart Smoke alarm
BAC ( Blood alcohol monitoring ) for drug abusers under probation
Pet cam for Pet lovers
Wearable IOT
Mobile parking ticketing system
Indoor location tracking in Retail store
Home health care
Smart Sports Watch
IoT Business Model – The Changing Customer Relationship
The new intimate relationship
Creating Values with IoT Businesses
The IoT business model continuum
Business model choices and examples
The business model as the feature
Risk Management
Sources of liability
The Information Security Plan
Privacy best practices
The IoT Business Plan – Strategic analysis and planning for your IoT business.
Analysis methodology for customer and desired outcome
Barriers to entry
First mover advantages
Shifting boundaries of competition
Department by department analysis
Human resource considerations
IOT Strategy
Summary of operator strategies
IOT Integration into Business Processes
Aligning IOT to Business & Product Strategy
IOT Solutions
Trends and analyses
Software Agents and Cloud Services
Networking Technologies
Political Ramifications
IOT Application and Case studies
Data managers
Utilities
Municipalities
Mobile App Integration Services
Enterprise Mobility and cloud services
Social Media vs. Smart Mobile
Social Networking
Value chain and Business models
Cases studies of Scenario Transportation, ITS and Convergence of IT and Automation
Smart factory of the future
Smart Cities
Smart Environment
eHealth


Delivery Options
Who Should Attend
Technical managers and engineers who are specifically interested planning, designing, building, managing or operating IoT technology and applications
Engineers who require in depth knowledge about cloud based IoT platforms and big data analysis.
Investors and IoT entrepreneurs
Managers and Engineers whose company is venturing into IoT space
Business Analysts & Investors