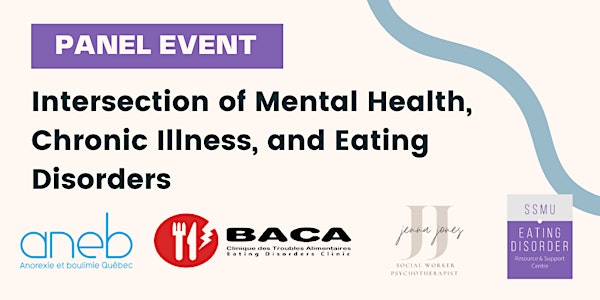 Intersection of Mental Health, Chronic Illness, and Eating Disorders Panel
Join the EDRSC and our panelists to explore the intersection of mental illness, disabilities, and eating disorders.
About this event
We will have a total of four panelists consisting of a family physician with background in those exploring their gender identity, an eating disorder specialist at ANEB Quebec which focuses on prevention and education, a psychotherapist with a background in binge eating and a focus of sociocultural factors on eating disorders, and an advocate for people recovering from Avoidant Restrictive Food Intake Disorder from Post-Traumatic Stress Disorder and other Physical Illnesses. Join us as they share their stories, perspectives, and resources.
Speakers:
1.Dr. A.J. Rubineau, MD MPH will share experiences from her career caring for individuals with eating disorders in the outpatient setting, since 2007. She is a family physician with a passion for caring for the whole person, who has been particularly inspired by working with people seeking to recover from eating disorders, and with those exploring their gender identity.
2. Josée Lavigne, will speak on how community groups such as ANEB Québec can help people who are suffering from an ED and their closed ones. They work on the Lead, Prevention and Education Component at ANEB Québec.
3. Jenna Jones is a social worker and psychotherapist that specializes in eating disorders. She subscribes to the idea that the wellbeing of a person extends beyond their physical and mental reality and into their sociocultural world. SHe is interested in how relationships, society, internalized messages, and oppressive structures influence a person's mental health. SHe will be speaking about the link between the inner dialogue, social expectations, cultural norms and eating disorder symptoms.
4. Laura Ramesey will be speaking on raising awareness for Avoidant Restrictive Food Intake disorder and how it relates to chronic illness and comorbid mental health disorders. She is a content creator on tiktok and Instagram where she raises awareness on ARFID and OCD. Laura created The Capable Co where she designs and sells positive affirmation stickers and an eating disorder recovery planner co-written by registered dietitian Jessy Heckroth.