Intersections between Jewish and Christian Thought
The Fall symposium of the Eckstein Institute aims to foster dialogue between Jewish and Christian scholars.
About this event
The Eckstein Institute for Jewish-Christian Relations is pleased to hold its first academic symposium in Canada on Friday, October 15th. Keynote speakers include Rev. Dr. Ephraim Radner (Professor of Historical Theology, Wycliffe College of the University of Toronto) and Rabbi Pesach Wolicki (internationally acclaimed Jewish-Christian Relations educator), who will be flying in from Israel. The academic portion of the symposium will take place from 10:30am-6:15pm. Thereafter, the Institute is partnering with the Fellowship Student Ambassador club to provide attendees with an advance screening of "Eva," a movie funded and produced by the International Fellowship of Christians and Jews. The evening will conclude with a Christian worship and praise session.
A simple *free* lunch will be provided for all attendees who register for this event prior to October 8, 2021, and Kosher meals are available upon request. Additionally, refreshments will be available throughout the day. For observant Jews in attendance, Shabbat candle lighting is scheduled for 6:``15pm on October 15th; please feel free to leave the symposium in time to return for your observance.
Tickets for students are free. Tickets for non-students have an *optional* donation option, with all proceeds going toward costs related to the Symposium and/or future publication of the conference proceedings.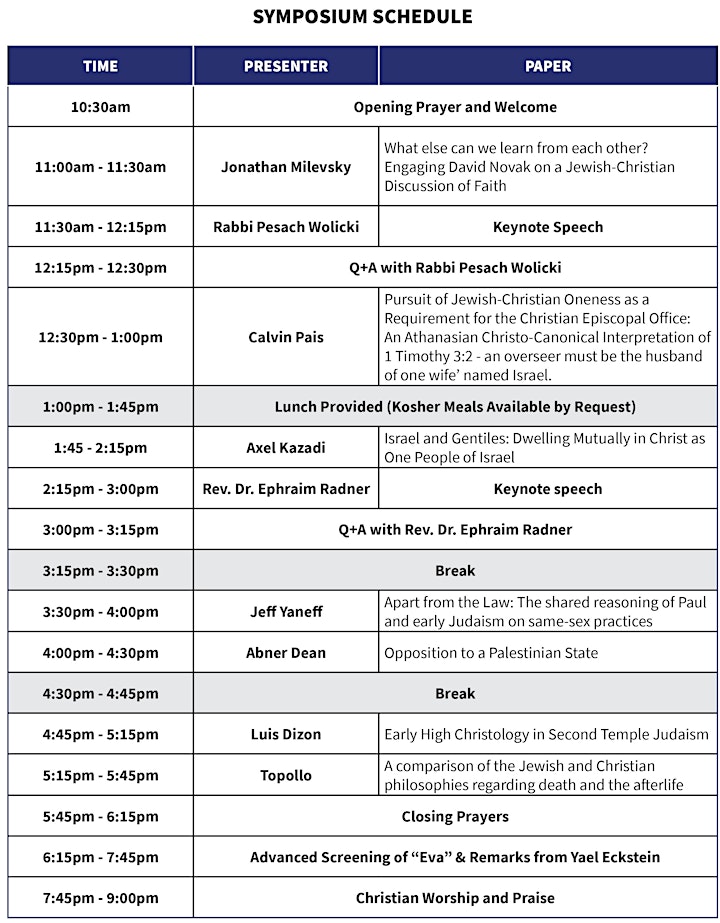 Organizer of Intersections between Jewish and Christian Thought