Intersections of Care: Dance Artists and Caregiving | Intersection de la charge des soins et des artistes de la danse
About this event
How do we shape the terms of dance work to include the realities of care work? | Comment formuler les modalités relatives au travail de la danse de manière à y inclure la réalité de la charge de soins ?
Highlighting the urgent concerns of dance artists who simultaneously hold primary caregiver responsibilities for children and/or elders, this panel presentation draws necessary attention to longstanding systemic issues in the sector, which have been exacerbated by the Covid-19 pandemic. The event welcomes dance artists, arts workers, arts organizations, funders and others in the sector, with the goal of working together toward supportive action and critical change. | Conscient de l'urgence des préoccupations des artistes de la danse qui ont aussi la charge de soins d'enfants ou de personnes âgées, le panel porte une attention bien nécessaire aux enjeux systémiques que vit le secteur de longue date et qui se sont trouvés exacerbés par la crise de Covid-19. L'évènement réunit notamment des artistes de la danse, des travailleurs du secteur des arts, des organismes artistiques et des bailleurs de fonds dans l'optique d'une action commune pour obtenir des mesures de soutien et des changements critiques à ce chapitre.
Panellists | Panélistes : Justine A. Chambers, Lisa Emmons, Bonnie Kim, Diana Lopez Soto, Victoria May, Natasha Powell
Co-convenors | Coorganisation : Susie Burpee, Tracey Norman, Kathleen Rea
Facilitator | Animation : P. Megan Andrews
Sunday, April 18, 2021
9:00-11:00am Pacific
12:00-2:00pm Eastern
1:00-3:00pm Atlantic
Dimanche 18 avril 2021
9 h à 11 h, heure du Pacifique
12 h à 14 h, heure de l'Est
13 h à 15 h, heure de l'Atlantique
ASL, Live Auto Captioning & English-to-French simultaneous translation provided. This is a caregiver-friendly event. | ASL, Sous-titrage codé en direct avec interprétation simultanée en anglais et en français. Activité conviviale pour les proches aidants.
This event was shaped by the valued contributions of a national artist/caregiver working group. | Cet événement est le fruit de la contribution appréciée d'un groupe national d'artistes et de proches aidants.
Myriam Allard, P. Megan Andrews, Susie Burpee, Justine A. Chambers, Emily Cheung, Allison Cummings, Lisa Emmons, Ming Hon, Neena Jayarajan, Bonnie Kim, Julie Lebel, Suzanne Liska, Diana Lopez Soto, Victoria May, Viv Moore, Sally Morgan, Tracey Norman, Bee Pallomina, Natasha Powell, Kathleen Rea
Supported by | Soutiens : Balancing Act, CADA/East, Canadian Dance Assembly | Assemblée canadienne de la danse, Dance Ontario, Dance Nova Scotia, Dance Umbrella of Ontario, Dancer Transition Resource Centre | Centre de ressources et transition pour danseurs, The Dance Centre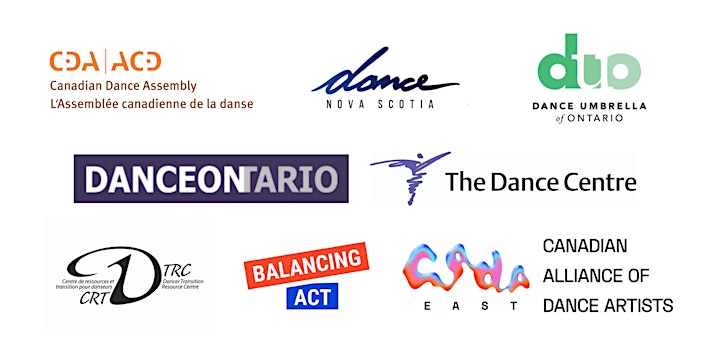 PANELLIST BIOGRAPHIES | NOTICES BIOGRAPHIQUES DES PANÉLISTES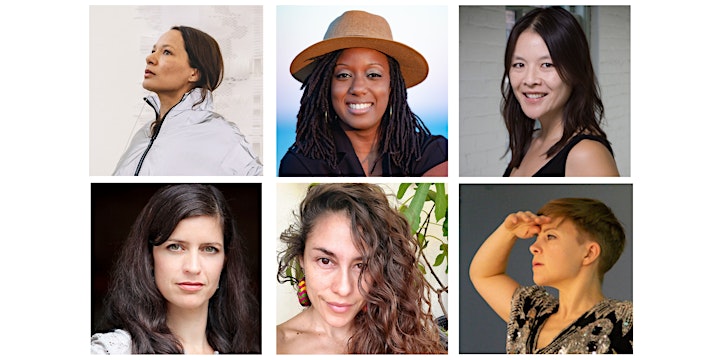 Justine A. Chambers is a dance artist living and working on the unceded Coast Salish territories of the Sḵwx̱wú7mesh, Musqueam and Tsleil-Waututh Nations. Her movement-based practice considers how choreography can be an empathic practice rooted in collaborative creation, close observation and the body as a site of a cumulative embodied archive. Privileging what is felt over what is seen, she works with dances that are already there – the social choreographies present in the everyday. Chambers is currently Artist in Residence at Simon Fraser University's Community Engaged Research Initiative (CERi). She is Max Tyler-Hite's mother. | Justine A. Chambers est artiste de la danse ; elle vit et travaille dans les territoires non cédés de la côte salish des nations sḵwx̱wú7mesh, musqueam et tsleil-waututh. Sa pratique, fondée sur le mouvement, tient compte de la façon dont la chorégraphie peut être empathique et s'ancrer dans la création collaborative, dans l'observation serrée et dans le corps en tant que site où s'accumulent des archives incarnées. Privilégiant le senti plutôt que le vu, elle travaille avec les danses qui existent déjà, soit les chorégraphies sociales du quotidien. Chambers est présentement artiste en résidence dans le cadre de l'initiative de recherche en mobilisation communautaire de l'Université Simon-Fraser. Elle est la mère de Max Tyler-Hite. Photo by/de iiii photography. justineachambers.com
Lisa Emmons (they/them): "Lisa Emmons has the audience holding their breath with every movement" (Veronica Appia, The Theatre Reader). Lisa Emmons is a dance artist based in Hamilton and graduate of the York University dance program (2004). They have worked with Motus O Dance Theatre (2000-2006) and independent artists Megan English, Alyssa Nedich and Susan Kendal. In February 2014, Lisa founded Aeris Körper Contemporary Dance, producing 17 works over 11 years in Hamilton, Burlington, Toronto and across the GTA. Lisa was an artist with the Burlington Whole Shebang (2014-2016) and was mentored by Andrea Nann in her Conscious Bodies Method. Lisa supported Andrea Nann in Memory is the History of Forgetting (Fall 2019) and was assistant to Peggy Baker for MOVE at the Art Gallery of Hamilton (Winter 2019). Lisa was nominated for a Hamilton Arts Award in 2019 for Dance and Performing Arts. | Lisa Emmons : « Lisa Emmons tient son auditoire en haleine à chacun de ses mouvements. » (Veronica Appia, The Theatre Reader). Lisa Emmons oeuvre comme artiste de la danse à Hamilton et est titulaire d'un diplôme du programme de danse de l'Université York (2004). Lisa a travaillé pour le Motus O Dance Theatre (2000-2006) et avec les artistes indépendantes Megan English, Alyssa Nedich et Susan Kendal. En février 2014, Lisa a fondé Aeris Körper Contemporary Dance, et produit dix-sept oeuvres sur une période de onze ans à Hamilton, à Burlington, à Toronto et dans la grande région de Toronto. Lisa a travaillé comme artiste au Burlington Whole Shebang (2014-2016) et a été dirigée par Andrea Nann dans le cadre de la méthode du corps conscient. Lisa a assisté Andrea Nann dans Memory is the History of Forgetting (automne 2019) ainsi que Peggy Baker pour MOVE, présenté à la galerie d'art de Hamilton (hiver 2019). Le nom de Lisa a été cité dans la liste des candidats à un prix des arts de Hamilton 2019 pour la danse et les arts de la scène. Photo by/de Jess Bullock. aeriskorper.com
Bonnie Kim: A dance artist for more than 30 years, Bonnie Kim is a multiple Dora Award Ensemble nominee and was named one of "Toronto's top five dancers" by Eye Weekly. Upcoming performing projects include Peter Chin's international Trillionth I, a commissioned piece by Tedd Robinson for the 20th anniversary of Older & Reckless and a multi-generational work by Hanna Kiel. Bonnie was Rehearsal and Associate Director of Dancemakers for nine years, and is highly regarded as a teacher, mentor and outside eye. She trained at Claude Watson School for the Arts and the School of Toronto Dance Theatre and performed with many of Canada's most respected artists and companies including Winnipeg's Contemporary Dancers, Fondation Jean-Pierre Perreault, Peter Chin and Claudia Moore. Bonnie is also a writer and has been published in The Dance Current, Eye Weekly, Toronto Star, Toronto Life and the Fall for Dance North magazine. | Bonnie Kim : Artiste de la danse depuis plus de trente ans, Bonnie Kim a été proposée maintes fois comme candidate au prix Dora Award Ensemble et a été citée parmi les cinq plus grands danseurs de Toronto par Eye Weekly. Au nombre des projets de spectacle à venir, on compte Trillionth I, oeuvre de Peter Chin de la scène internationale, commandée par Tedd Robinson pour le vingtième anniversaire de Older & Reckless, et une oeuvre multigénérationnelle par Hanna Kiel. Bonnie a été directrice de répétition et directrice associée de Dancemakers pendant neuf ans, et est très estimée comme professeure, mentor et regard extérieur. Elle a suivi des formations à la Claude Watson School for the Arts et à l'école du Toronto Dance Theatre, et s'est produite avec de nombreux artistes et troupes de grande renommée, et notamment les Winnipeg's Contemporary Dancers, la Fondation Jean-Pierre Perreault, Peter Chin et Claudia Moore. Bonnie est aussi auteure et a été publiée dans The Dance Current, Eye Weekly, Toronto Star, Toronto Life et la revue Fall for Dance North. Photo by/de David Hou. emmandbee.wordpress.com
Diana Lopez Soto is interested in movement as an act of full awareness and sees her body as a space of potential. Her work is process based and often site-specific, exploring the relationships between ecology, body and dance in motherhood, decolonization and sustainability. Diana was born and raised in Mexico and holds a BFA from Emily Carr University. She is grateful to have received support from the Canada Council for the Arts and the Ontario Arts Council in diverse projects and phases of her career. Diana has participated, exhibited, presented and performed her work in France, Panama, Mexico, Costa Rica, USA and Canada. She works in collaboration with other artisans, knowledge keepers and family members and is currently in co-creation with Alejandro Ronceria. She also collaborates with Mata Danza, Circus Orange, Femme Du Feu, Flying Solo, Hercinia Arts, Fly with Me and Look up Theatre. Diana is a member of Vanguardia Dance Projects and a body alignment instructor. | Diana Lopez Soto s'intéresse au mouvement en tant qu'il s'agit d'un acte de pleine conscience, et elle voit son corps comme un espace de potentiel. Son travail s'ancre dans le processus ; il se fonde souvent sur un site particulier qui met en valeur les rapports entre l'écologie, le corps et la danse dans la maternité, la décolonisation et la durabilité. Diana est née et a grandi au Mexique. Elle est titulaire d'un baccalauréat en beaux-arts de l'université Emily-Carr. Elle est reconnaissante du soutien qu'elle a reçu du Conseil des arts du Canada et du Conseil des arts de l'Ontario pour divers projets et à des étapes diverses de sa carrière. Diana a participé, produit, présenté et exécuté ses oeuvres en France, au Panama, au Mexique, au Costa Rica, aux États-Unis et au Canada. Elle travaille en collaboration avec d'autres artisans, gardiens de la connaissance et membres de la famille, et travaille présentement à une cocréation avec Alejandro Ronceria. Elle collabore aussi avec Mata Danza, Circus Orange, Femme Du Feu, Flying Solo, Hercinia Arts, Fly with Me et Look up Theatre. Diana est membre des Vanguardia Dance Projects et est instructrice en alignement du corps. Photo courtesy of the artist. | Photo gracieuseté de l'artiste. dianalopezsoto.com
Victoria May is a dancer, choreographer and teacher with a career spanning nearly 30 years. She has danced with the Royal Winnipeg Ballet, Goteborg's Danse Kompagni, Danish Dance Theatre and independently for Danse-Cité, Louise Bédard, Dominique Porte and Barbara Diabo among other artists. She is a citizen of the Manitoba Metis Federation with family and community ties in Prince Albert, Saskatchewan. She is a graduate student at Concordia University pursuing her MA in the INDI program. Her most recent choreographic work Kiwaapamitinaawaaw (2020) was presented at the Biennale d'Art Contemporain Autochtone (BACA) at Centre de Création O Vertigo (CCOV). | Victoria May est danseuse, chorégraphe et enseignante, et sa carrière s'étend sur près de trente ans. Elle a dansé pour le Royal Winnipeg Ballet, la Danse Kompagni de Göteborg, le Danish Dance Theatre et, à titre indépendant, pour Danse-Cité, Louise Bédard, Dominique Porte et Barbara Diabo, pour ne nommer que ces artistes. Elle est citoyenne de la Fédération métisse du Manitoba et compte des parents et des liens communautaires à Prince Albert, en Saskatchewan. Elle fait présentement des études de maîtrise à l'université Concordia au sein du programme INDI. Son oeuvre chorégraphique la plus récente (2020), Kiwaapamitinaawaaw, a été présentée à la Biennale d'art contemporain autochtone (BACA) au Centre de Création O Vertigo (CCOV). Photo by/de Sabrina Reeves.
Natasha Powell is a Toronto native who has been working in the dance industry for 17 years. Growing up in a Caribbean home, dancing has always been in her life. No stranger to the stage, Natasha has collaborated and created over 20 dance works for live performance. As the founder, artistic director and choreographer for her company HOLLA JAZZ, she created the award-winning show FLOOR'D. The production was nominated for four Dora Mavor Moore Awards (including Outstanding Original Choreography by Powell, and Outstanding Production) and winner of the Outstanding Performance by an Ensemble. Natasha is an experienced producer for live dance performance. She worked at the Dance Umbrella of Ontario as the Manager of Producing and Administration, and gained invaluable experience as the Metcalf Foundation Arts Management Intern with Peggy Baker Dance Projects and Volcano Theatre. | Natasha Powell est originaire de Toronto et travaille dans le secteur de la danse depuis dix-sept ans. Elle a grandi dans un foyer antillais et la danse a toujours fait partie de sa vie. Natasha, pour qui les planches n'ont plus de secret, a collaboré et créé plus de vingt oeuvres chorégraphiques pour la scène. À titre de fondatrice, de directrice artistique et de chorégraphe de sa compagnie HOLLA JAZZ, elle a créé le spectacle primé FLOOR'D. La production a été citée quatre fois en candidature à des prix Dora Mavor Moore (chorégraphie originale remarquable et production remarquable) et a remporté le prix de l'exécution remarquable pour un ensemble. Natasha est une productrice d'expérience de spectacles sur scène. Elle a travaillé pour Dance Umbrella of Ontario comme directrice de la production et de l'administration, et a acquis une solide expérience comme stagiaire de direction artistique de la Metcalf Foundation pour les Peggy Baker Dance Projects et le Volcano Theatre. Photo by/de Kendra Epik. hollajazz.com
COALITION STATEMENT | DÉCLARATION DE LA COALITION :
Coalition Statement: The three co-convenors of this initiative acknowledge that they are white, cis-gendered women dance artists and caregivers to children. One of the co-convenors is on the autism spectrum and identifies as being neurologically atypical. The working group process gathered a diverse group of individuals with a range of unique personal experiences to generate a complex and intersecting conversation. We are all differently implicated in and impacted by the structures and systems of power and privilege that elevate some and continue to marginalize many. We recognize that the challenges experienced by dance artist-caregivers intersect with the challenges experienced by those who are marginalized in other ways, and that multiply-marginalized individuals experience much greater impacts. In this work, we centre the experience of the dance artist-caregiver and come together as a coalition around this issue, not at the expense of other issues but with sensitivity to these many intersections. We acknowledge the fundamental systems change required to reckon with and redress the deep inequities that yet prevail in the arts, and in society generally, and understand this initiative as a small part of that larger work.
Déclaration de la coalition : Les trois coorganisatrices de la présente initiative déclarent être des artistes de la danse, femmes blanches d'expression cisgenre, qui ont la charge d'enfants. Une des coorganisatrices se situe dans le spectre de l'autisme et se dit atypique sur le plan neurologique. Le groupe de travail réunit un ensemble diversifié de personnes dont l'expérience personnelle est unique, l'idée étant de produire une conversation complexe qui fasse converger des enjeux multiples. Nous participons toutes et tous, à des degrés divers, aux structures et aux systèmes de pouvoir et de privilège qui élèvent certaines personnes et continuent d'en marginaliser beaucoup, et en subissons aussi les contre-coups à des degrés divers. Nous comprenons que les défis auxquels font face les artistes de la danse qui sont aussi proches aidants recoupent les défis auxquels font face les personnes marginalisées d'autres manières, et qu'avec la convergence de tous ces défis les personnes déjà marginalisées subissent un impact encore plus grave. Dans le cadre du présent exercice, nous nous concentrons sur l'expérience de l'artiste de la danse qui est aussi proche aidant et faisons front commun en tant que coalition, non pas au détriment d'autres enjeux, mais pleinement conscient.e.s de la convergence de ces nombreux enjeux. Nous comprenons aussi que les systèmes fondamentaux doivent changer. Ils doivent reconnaître les iniquités marquées qui existent toujours dans le monde des arts et dans la société en général, et y apporter remède. Enfin, nous comprenons que la présente initiative ne constitue qu'une partie seulement d'un travail plus vaste encore à réaliser.
Organizer of Intersections of Care: Dance Artists and Caregiving
The Canadian Dance Assembly (CDA) is the voice of the professional dance sector in Canada which advocates for a healthy, sustainable environment in which professional dance practice can grow and thrive.  CDA cultivates a strong national voice for Canadian professional dance and supports the development of resources for this field of artistic expression.