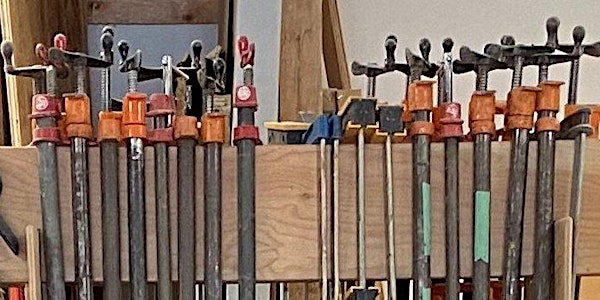 Intersections Wood Collaborative Membership Nov 1, 2022-December 31, 2023
Intersections Wood Collaborative invites you to join as a Member!
When and where
Location
Intersections Wood Collaborative 299 10th Street East Owen Sound, ON N4K 1S4 Canada
Refund Policy
Contact the organizer to request a refund.
Eventbrite's fee is nonrefundable.
About this event
Add you name to the growing community of woodworkers that is Intersections Wood Collaborative!
Your support is needed to make this new, fledgling non-profit a success. Members benefit the continuity and viability of the Intersections Wood Collaborative (IWC) as a sustainable non-profit organization. Membership fees provide revenue to help us defray costs like rent, utilities and shop operations. A strong membership base builds networks and strengthens connections, it demonstrates to potential grant agencies and funders that their support can have a real impact and benefit across the community. Supportive members are sources of volunteers and help us recruit willing project teams or future Board members.
What does it mean to become a Member of IWC?
Automatic subscription to electronic correspondence
Organizational news
Advance notice of upcoming workshops
Special presentations
Expert demonstrations
Exclusive "Early Bird" registration opportunities
Invitations to members-only events
Access to a woodworking library
Shop rental eligibility
Possibility of exhibition of completed works in the store-front (for sale, or exhibition only)
Importantly, it also means that you are helping to sustain the legacy left to us by Stephen Hogbin – to create a community hub where those interested in woodworking, design, and the environment can feel welcome to gather, share, learn and collaborate with each other.

Membership Fees
Normally, memberships will start and end with the fiscal year (1 January to 31 December). This year is an exception- the year will be Dec 1/22 to 31Dec/23. Fees are $60.00 per year. This fee will normally be prorated in $15 increments by quarter depending on the date of registration. For example, a new member who joins in the last quarter (Oct, Nov , Dec), pays $15 and will be asked to renew their $60 membership in the following January. You can also show deep support by becoming a lifetime member for $500.
Gift Memberships
Ask us about Gift Memberships!
Special offer! With the purchase of a gift membership for someone, you will receive a small, carved tree (as long as supplies last).
Background
Intersections Wood Collaborative is a fledgling not-for-profit corporation. We formally were incorporated on March 1 2022 after months of planning. We have a five-member Board made up of volunteers who are dedicated to creating a welcoming network for woodworkers. World-recognized woodworker, artist, designer, writer, and environmentalist, Stephen Hogbin founded Intersections Wood Studio and Gallery; a place where he shared his knowledge of woodworking and design, as well as his infectious optimism for a better future through the arts, with all who passed through the doors. Intersections became a gathering place for those in the community who shared Stephen's enthusiasm for creative woodworking and design, as well as his unwavering respect and care for trees and the environment at large. Before his death in early 2022 he supported a group of like-minded wood enthusiasts to carry on the principles and values behind his business in the form of the not-for-profit collaborative it has become.