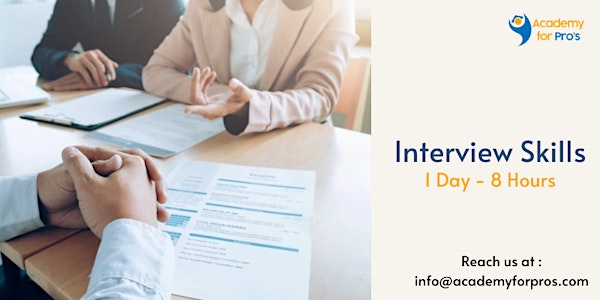 Multiple dates
Interview Skills 1 Day Training in Kitchener
Our classroom training provides you the opportunity to interact with instructors and benefit from face-to-face instruction.
Date and time
February 17 · 9am - December 21 · 5pm EST
Location
For venue details reach us at: info@academyforpros.com +1 469 666 9332 Kitchener, ON N2H 6M6 Canada
Refund Policy
Refunds up to 7 days before event
About this event
Certificate: Course Completion Certificate Language: English
Duration: 1 Day Credits: 8
Course Delivery: Classroom / Virtual
Course Overview:
This interview skills training will help your learners to develop their selection interviewing techniques. you will also develop many of the skills and techniques that will help you to use the structure effectively.
Course Contents:
The selection of new employees can be a long drawn out and expensive process. This means that we must do everything we can to ensure that when we do make a decision we choose the right person. Having gone to all the trouble of working through a selection process there is nothing worse than taking on a new employee who turns out to be unsuitable.
A robust selection process will minimise the risk of this happening and, of course, effective interviewing needs to be part of that. If you handle selection interviewing in a logical, structured and professional way the risk of choosing the wrong person is much smaller.
This interview skills training concentrates on developing interview techniques. Although we will briefly touch on the laws of discrimination a detailed discussion of it is outside of the scope of this programme. Similarly the topics of Diversity and Equality of Opportunity will only be covered briefly.
We concentrate on competency based interviewing skills in these training. This is sometimes described as behavioural, situational or job related interviewing.
Course Topics:
Similar Circles – This icebreaker requires some listening and questioning and therefore provides a very relevant start to the training.
The Selection Interview – We explain what a selection interview is with particular reference to competency based interviewing. The learners then participate in an activity to identify the benefits and drawbacks of this approach before looking at ways to overcome those drawbacks.
Diversity and Equality of Opportunity – In this brief look at the topic participants are reminded of the importance of treating job candidates fairly.
The PRICE structure – Learners are introduced to our PRICE structure.
PRICE organisation – In this activity learners consider 37 action cards that describe behaviours and techniques that may be used by interviewers. Their task is to fit these cards within the context of the PRICE structure. This will help them to develop a good understanding of PRICE and how they may be able to use it.
Wrinkle Chaser – Participants conduct a short interview activity to demonstrate the difficulty of interviewing without adequate preparation.
The Selection Process – Learners are reminded that interviews are a part of a selection process and do not normally stand alone
Question Plans – Preparing a question plan is identified as key to good preparation. Participants are encouraged to use a structured approach supported by our Question Plan template.
First Impressions – Learners take part in activities to help them consider both the importance of making the right first impressions on candidates and the danger that interviewers can be unduly influenced by their first impressions of interviewees. We also look at rapport building at the start of the interview.
Traffic Lights – In this activity learners consider nine different question types and decide whether they should be used in interviews.
Effective Listening – Learners identify barriers to effective listening and ways to overcome those barriers.
The Close Phase – This provides advice on what to cover with the candidate at the end of the interview.
The Evaluation Phase – Learners are encouraged to suspend judgement until the interview is over. They are then taken through an approach for evaluating and scoring the interview linked to their question plan.
Interview Practice – Learners take part in two or three interview simulations. They act as interviewer once and then as an interviewee and/or observer. Each of these roles gives them a different perspective of interviewing and will help them to apply the principles covered in this programme when they conduct real selection interviews in the workplace.
Course Feature:
By the end of this Interview Skills training you will be able to:
Take a logical approach to selection interviewing using the PRICE structure and Question Plan
Prepare effectively for selection interviews
Build and maintain appropriate rapport with candidates
Conduct selection interviews effectively and professionally
Manage the expectations of candidates when closing selection interviews
Evaluate the interview to help select the best possible candidate
Certification:
Once after the training you receive course completion certificate from Academy for Pros
Who can Attend?
Anybody who is interested in learning Interview Skills.
Note:
However, catering to the demands of busy professionals, our virtual training programs are as effective as face-to-face learning. Reach us at info@academyforpros.com for dates and details of Instructor Led Live Virtual Sessions.
If you would like to get this course customized and delivered exclusively for your group, we have an On-Site Training Option you can reach us at info@academyforpros.com for more details about on-site or corporate training.
Offers:
Groups of 3 people 10% Discount
Groups of 5 people 15% Discount
Groups of 10 people 20% Discount
About the organizer
We deliver training solutions to Corporate, Government Agencies, Public sectors, Multinational organizations and Private Individuals. Our Primary focus is to train in a wide range of areas from IT Technical, Personal Development, Human Resources and Management Courses to Project, Program and IT Service Management.
We have most experienced trainers in the Industry. Our Trainers are highly skilled in their subject areas and are uniquely positioned to provide participants with deep industry experience. They are motivated to transfer knowledge through practical support post and pre-training to provide participants with additional support outside the classroom.