To learn more about Raja Yoga spiritual study that focuses on self-transformation
About this event
Interview with a Raja Yogi in English (Online)
Tuesdays | 7:35pm – 8:15pm | Click HERE to join us online at BKCalgary Youtube channel at the time of event
Questions about Raja Yoga? What is it for? How do you practice and apply it? How is it relevant to my life? Whether you have little, some or no experience in Raja Yoga, join us online with an experienced Raja Yogi to learn more about this spiritual study that focuses on self-transformation.
Feel free to email us your questions in advance at calgary@ca.brahmakumaris.org
All programs and services are offered free of charge as a community service.  Open to all.  No experience required. NO Registration required.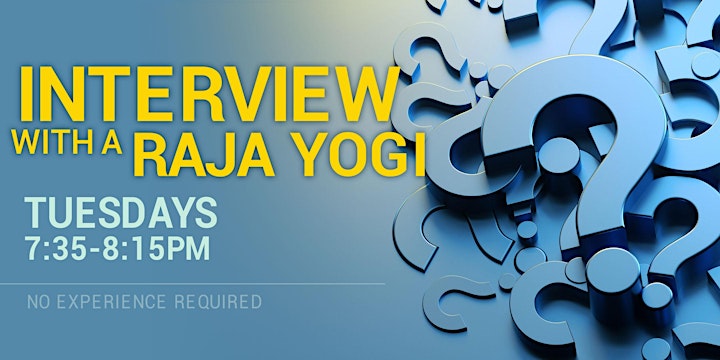 Organizer of Interview with a Raja Yogi in English (Online)
The 
Brahma Kumaris World Spiritual Organization
 acknowledges the intrinsic goodness of all people. We teach a practical method of meditation that helps individuals understand their inner strengths and values. A worldwide family of individuals from all walks of life, we are committed to spiritual growth and personal transformation, believing them essential in creating a peaceful and just world. Acknowledging the challenges of rapid global change, we nurture the well-being of the entire human family by promoting spiritual understanding, leadership with integrity and elevated actions towards a better world.  
Raja Yoga Meditation is a method of relaxing, refreshing and clearing the mind and heart. It helps you look inside to rediscover and reconnect with your original, spiritual essence – thereby restoring a functional and healthy balance between your inner and outer worlds.