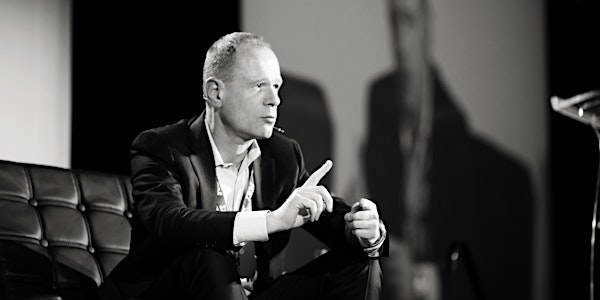 Interzone I The Third Act
Join us online on December 1, 2, and 3 for Interzone I the genesis of an ethical digital blueprint for the post-pandemic economy.
About this event
Politik is proud to present the long-awaited third chapter of Interzone I the genesis of an ethical digital blueprint for the post-pandemic economy.
This year's gathering will be held online on December 1, 2 and 3 from 12:00 PM to 1:30 PM PDT and will bring together socially conscious digital leaders from government, technology and enterprise to explore the purpose of humankind in the new millennium.
We hope you will join us on our path towards an enlightened future built on the endless possibilities of technology-driven innovation.
###
The PROGRAM.
"Technology is amoral, but it requires humanistic values to steer it in a way that's empowering, and not detrimental to social progress. It's up to us to maximize the good and minimize the bad." - Ro Khanna
Tuesday, December 1
We are in the early stages of a new economic system that fundamentally thrives on the sharing and open distribution of physical, intellectual and artistic resources. The proliferation of closed and privately-held intellectual property no longer provides the greatest value to any conceivable group of stakeholders. Political and economic power is rapidly shifting from centuries-old centralized institutions to more agile, adaptable and distributed socio-economic frameworks. And, yet these innovative frameworks are rapidly acquired and controlled by the same power structures and further entrenched in oligarchic incumbencies.
Will the utopia of democratized technologies drive equality and opportunity, or will it merely be the case of one ruling class replacing another; with incumbency and inequality further entrenched by the ever-increasing dominion of technology?
Hosted by
KOLEYA KARRINGTEN I CEO of Absolute Combustion | Executive Director of the Canadian Blockchain Consortium
Featuring
JOSH CRUMB I Founder of GoldMoney, BitGold, Mene and Abaxx
JOSHUA MCKENTY I Co-Founder of OpenStack, Piston Cloud and EQ Labs
TOM RAFTERY I Global VP, Futurist and Innovation Evangelist at SAP
ANN ROSENBERG I Global Program Lead for #SheInnovates at UN Women
CHELSEA RUSTRUM I Co-Founder of Instigation Protocol and Alchemy Spaces
###
Wednesday, December 2
The hyper-acceleration of innovation over the last 30 years has seen technology move from the narrow confines of the largest governments and corporations, to become an integral part of all aspects of human endeavour, across its various manifestations in individual interactions, economic organization and social structures.
This miracle, however, is tempered with an unwritten requirement that participation in modern society requires the voluntary yet uninformed relinquishment of privacy and that the vast majority of humanity are passive consumers of new truths controlled by the very people who control access to the technologies.
Can we restore access to and control over technology back to the people it was designed to serve, or will innovation remain an amoral force without an ethical core; subject to the imagination of the cabalistic technocracy who design, control and prosper from it?
Hosted by
SOPHIE ALCORN I Founder of Community for Global Innovation | Cybersecurity Contributor at TechCrunch
Featuring
MICHELLE DENNEDY I Former CEO of Drumwave I Former Chief Privacy Officer at Cisco, Intel Security and McAfee
ROHIT GHAI I CEO of RSA Security
BRENT HOMAN I Deputy Commissioner at the Office of the Privacy Commissioner of Canada
TIM MCCREIGHT I Chief Security Officer at the City of Calgary
CAROLINE WONG I Chief Strategy Officer at Cobalt
###
Thursday, December 3
Artificial Intelligence is leading to the fundamental reengineering of all aspects of our human experience and how we as a species interact with our universe. The inequalities, incumbencies and biases of the innovators designing AI have a direct impact on how the technology guides human information, perception and action.
As AI leads society to the next phase of human evolution, it is becoming increasingly more evident that we are at risk of creating a future in the flawed image of her maker; and, perhaps a blueprint constructed from nothing more than glorified digital eugenics. Can we create an intelligence that is not constrained by the limitations and prejudices of its creators to have AI serve all humanity, or will it become the latest and most powerful tool for perpetuating and magnifying racism and inequality?
Hosted by JOHN KOETSIER I AI Contributor at Forbes and Business Insider
Featuring
BEENA AMMANATH I Executive Director of the Deloitte AI Institute | Founder of Humans for AI
ANIMA ANANDKUMA I Executive Director of Machine Learning Research at NVIDIA
DR. CINDY GORDON I Founder and CEO of SalesChoice | AI Leadership Contributor at Forbes
DR. DANNY LANGE I Senior Vice President of AI at Unity Technologies | Former Head of Machine Learning at Uber and Amazon
DR. LOBNA KAROUI I President of AI Exponential Thinker I Global AI Panel Contributor at Forbes and MIT
###
End CREDITS.
Created, Directed and Produced by ROBERT BRENNAN HART
Written by ROBERT BRENNAN HART and EDWARD WILSON-SMYTHE
Opening Remarks by EDWARD WILSON-SMYTHE
Presented by POLITIK
A Special Thank You to our Community and Media Partners ELECTRONIC RECYCLING ASSOCIATION, NTT DATA, FORBES, AND IT WORLD CANADA
###
For the full event program, cast of speakers, and information on our past events, please visit us here.
For information on speaking and sponsorship opportunities, please contact us at events@politik.ca
What side of the digital divide will you be on?