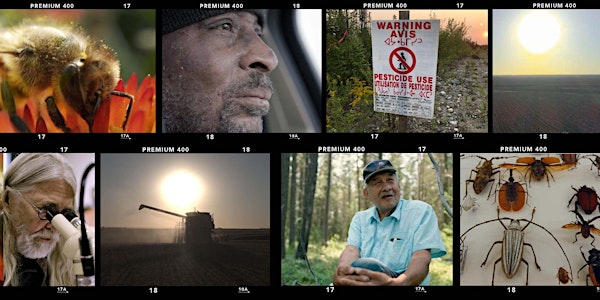 INTO THE WEEDS—Montreal Premiere with Director Jennifer Baichwal and Guests
INTO THE WEEDS —Montreal premiere followed by a discussion with director Jennifer Baichwal and environmental and human rights activists!
When and where
Location
Concordia University 1455 Boulevard de Maisonneuve Ouest Montréal, QC H3G 1M8 Canada
About this event
Join us for the Montreal premiere of INTO THE WEEDS—Many documentary films have shown just how brutal the agrochemical industry is, but this documentary is unique in its focus on one courageous and unstoppable individual—Dewayne Johnson—whose body has been ravaged by the chemicals in Monsanto's Roundup herbicide but who refuses to accepts the injustices he has suffered and wages a fierce fight against the corporation.
The director Jennifer Baichwal will be in attendance as part of a post-screening discussion with environmental and human rights activists.
Guest Speakers:
Romain Rigal—works for the Canadian Cancer Society and volunteers as the Vice President of Victimes of Pesticides in Québec.
Rachel Cheng—community organizer working at the intersection of food, sustainability and race.
Devlin Kuyek—an active researcher at GRAIN focusing on monitoring and analyzing global agribusiness, including land grabs.
Jennifer Baichwal—Canadian documentary filmmaker, writer and producer who most recently directed Into the Weeds.
This event is co-sponsored by the Sustainability Action Fund and co-presented by Victimes des pesticides du Québec, Climate Justice Montreal, Solidarity Economy Incubation Zone (SEIZE), ETC Group (Erosion, Technology, Concentration), CKUT 90.3FM and GRAIN.
Admission is by donation ($5-10 suggested). The venue is wheelchair accessible. In order to prevent the spreading of COVID 19, wearing a mask at Cinema Politica Concordia events is strongly recommended.
//
ABOUT THE FILM
INTO THE WEEDS
Jennifer Baichwal / Canada / 2022 / 96' / English
INTO THE WEEDS follows groundskeeper Dewayne "Lee" Johnson and his fight for justice against Monsanto (now Bayer). Johnson's case was the first to go to trial in a series of lawsuits involving tens of thousands of plaintiffs claiming Monsanto's weed killer Roundup, or its industrial counterpart Ranger Pro, contributed to their cancer. The film follows this groundbreaking trial, while also stepping back to consider the systemic effects of the world's most widely used herbicide. Will Monsanto (Bayer) be forced to change Roundup's label? To compensate the myriad victims? To address the wide-ranging ecological effects? INTO THE WEEDS ultimately considers whether this kind of David vs. Goliath fight is capable of instigating lasting and substantial change.
More info: https://www.cinemapolitica.org/film/into-the-weeds/
ACTION AGAINST GLYPHOSATE
Join INTO THE WEEDS in their fight for the health of humans and the environment by getting this harmful pesticide banned. Sign the petition here: https://www.intotheweedsimpact.com/
--------
Rejoignez-nous pour la première à Montréal de INTO THE WEEDS—De nombreux documentaires ont montré à quel point l'industrie agro-chimique est brutale, mais ce documentaire est unique en son genre en se concentrant sur un individu courageux et invincible - Dewayne Johnson - qui a eu le corps ravagé par les produits chimiques contenus dans l'herbicide Roundup de Monsanto, mais refuse d'accepter les injustices subies et mène un combat acharné contre l'entreprise.
La réalisatrice Jennifer Baichwal sera présente après la projection pour une discussion avec des militants de l'environnement et des droits humains.
Conférenciers invités :
Romain Rigal—travaille pour la Société canadienne du cancer et fait du bénévolat en tant que vice-président des Victimes des Pesticides du Québec.
Rachel Cheng—organisatrice communautaire travaillant à l'intersection de l'alimentation, de la durabilité et de la race.
Devlin Kuyek—chercheur actif à GRAIN, qui se concentre sur le suivi et l'analyse de l'agro-industrie mondial, y compris l'accaparement des terres.
Jennifer Baichwal—documentariste, écrivaine et productrice canadienne qui a récemment réalisé Into the Weeds.
Cet événement est co-parrainé par le Fonds d'action pour le développement durable (SAF) et co-présenté par Victimes des pesticides du Québec, Climate Justice Montréal, Zone d'incubation de l'économie solidaire (SEIZE), ETC Group (Erosion, Technology, Concentration), CKUT 90.3FM et GRAIN.
Admission par don (5-10 $ suggéré). Le lieu est accessible en fauteuil roulant. Afin d'éviter la propagation du COVID 19, le port d'un masque lors des événements du Cinema Politica Concordia est fortement recommandé.
//
INTO THE WEEDS
Jennifer Baichwal / Canada / 2022 / 96' / Anglais
INTO THE WEEDS suit le gardien de terrain Dewayne "Lee" Johnson et sa quête de justice contre Monsanto (aujourd'hui Bayer). L'affaire Johnson a été la première à être jugée dans le cadre d'une série de procès impliquant des dizaines de milliers de plaignants qui affirment que le désherbant Roundup de Monsanto, ou son homologue industriel Ranger Pro, a contribué à leur cancer. Le film suit ce procès révolutionnaire, tout en prenant du recul pour examiner les effets systémiques de l'herbicide le plus utilisé au monde.
Monsanto (Bayer) sera-t-il contraint de modifier l'étiquette du Roundup? Pour compenser les innombrables victimes? Pour répondre à la multitude d'effets écologiques? Nous examinons les limites des délits de masse et l'utilisation des tribunaux comme outil de bienfaisance sociale, ainsi que la probabilité que des dommages financiers affectent la pratique d'une entreprise valant des milliards. En racontant l'histoire de Johnson, INTO THE WEEDS se demande finalement si ce genre de combat de David contre Goliath est capable de provoquer un changement durable et substantiel.
Pour plus d'informations, visitez: https://www.cinemapolitica.org/film/into-the-weeds/
ACTION CONTRE LE GLYPHOSATE
Rejoignez INTO THE WEEDS dans son combat pour la santé des humains et de l'environnement en faisant interdire ce pesticide nocif. Signez la pétition ici: https://www.intotheweedsimpact.com/