Intro to Cheese Making
When and where
Location
UBC Farm 6182 S Campus Rd Vancouver, BC V6T 1W5 Canada
Description
Intro to Cheesemaking
Join cheesemaker David Asher Rotsztain as we explore the fascinating realm of cheese. David will demonstrate and explain the techniques for making three basic styles of cheese: paneer, yogurt cheese and camembert, an aged rennet cheese. These lessons will provide a solid foundation for those interested in making cheese at home, or anyone who wants to know how their cheese is made.
The workshop will emphasize a 'natural cheesemaking', with a focus on simple, DIY methods that are well suited to the home kitchen. David will also discuss the topics of raw milk, rennet-free cheeses and dairy ferments. At the end of the workshop, we will feast on our freshly made cheeses.
What to bring
Bring along a container to take home fresh cheese and some dairy cultures.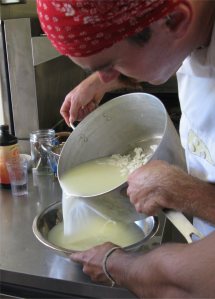 Date: Thursday, November 29, 6-9:30pm
Location: UBC Farm Centre
6182 South Campus Rd
Vancouver BC
Cost: $40 (+ $1.99 registration fee).
Materials included.
David Asher Rotsztain is an organic farmer and farmstead cheesemaker on Mayne Island. He developed his cheesemaking skills though various teachers, including a Brown Swiss Cow named Sunday on Cortes Island. In addition to making many varieties of cheese at home, David leads cheesemaking workshops for food security-minded organizations and cooking schools around the Salish Sea. He is a dear old friend of the UBC Farm.
Visit guerrillacheese.wordpress.com for more info on David's workshops.