Intro To Coaching & The Coaching Biz Webinar
The vision behind Certified Flourishing Coaching™ is to train and certify coaches who empower human flourishing.
About this event
In our post-pandemic reality, many are transitioning from professional careers to become certified as a coach to either build a full-time coaching business or add it to their current work. Tons of executives are adding a coaching certification to their resume in order to become better listeners and better leaders. Some add a coaching aspect to their speaking career or to books they have written.
Wondering when it's a good time to start? If you have been on your own personal growth journey, then you're more ready than you think. All you need is a certification process! Real coaches lead themselves first and are committed to their own growth. Notice this mentions nothing of living a perfectly successful life. It's not about perfection, it's a commitment to GROWTH. If you are committed to that then you're ready.
Join us on this webinar at no cost to learn more about this concept of Flourishing , why some people flourish despite massive ADVERSITY and small OPPORTUNITIES, and why others have little adversity and abundant opportunity, and yet do NOT. AND..... How you can make an impact and income by helping others.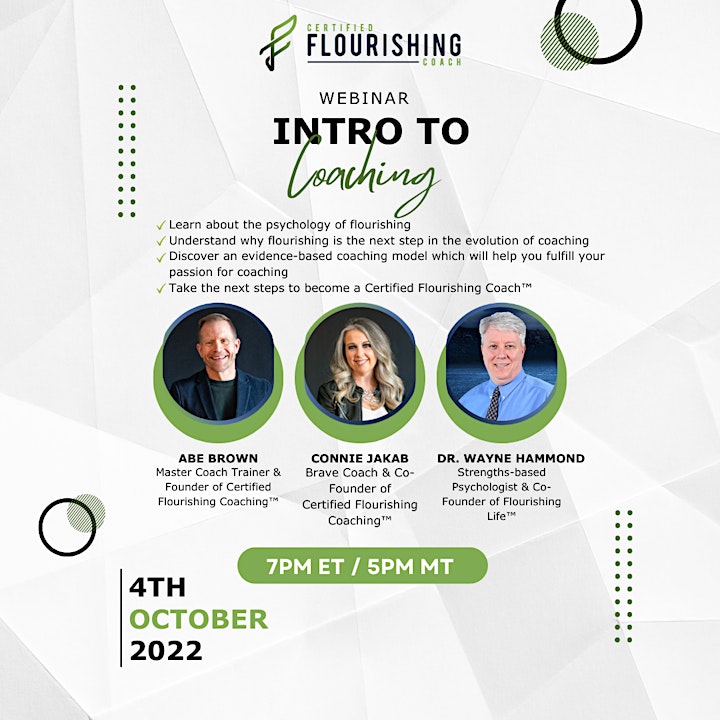 Come prepared with pen and paper and don't forget to invite your network. Together we can Flourish, it's all about taking the first step. The following will be shared:
The psychology of flourishing
Why flourishing is the next step in the evolution of coaching
An evidence based coaching model that will help you fulfill your passion for coaching
Take the next steps to become a Certified Flourishing Coach™