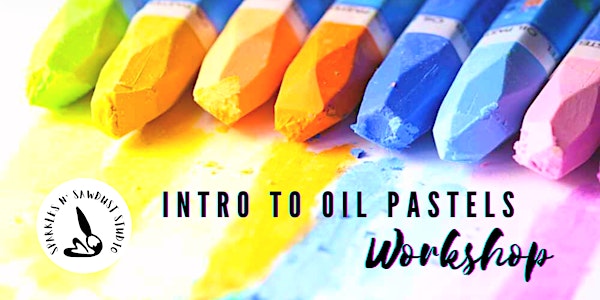 Intro to Oil Pastels Workshop
Learn how to use oil pastels to create beautiful artwork during this fun intro workshop!
When and where
Location
Sparkles n' Sawdust Studio 5239 Blowers Street Halifax, NS B3J 1J8 Canada
About this event
Intro to Oil Pastels Workshop | Beginner Friendly
Hosted by Sparkes n' Sawdust Studio: www.sparklesnsawdust.com
Instructor: Zyanya Bárbara Juárez Arellano | Included: 3 hours of instruction and supplies
Age Group: Adults (Anyone under 18 must be accompanied by an adult)
Workshop Description:
Oil Pastels are adored by many Artists and Hobbyists for their radiant vibrancy, accessibility and their soft velvety texture.
Pastels are perfect for creating quick sketches, full pieces of artwork and are also a wonderful medium to use in any mixed media project. Oil Pastels are truly a unique medium, and therefore can take some practice to learn how to work with them.
This workshop is a great opportunity to learn the basic skills needed to work with oil pastels - in a low pressure environment. Our studio provides a friendly and supportive atmosphere, so that people from all walks of life can experience the joy of art and creativity.
This workshop begins with covering the very basics to get your feeling comfortable using the materials. Following this you will learn some basic color theory, which leads into some fun skill building exercises, with accompanying practice sheets. These will help you learn a good range of beginner friendly techniques to pastel painting.
What you can expect to learn during this workshop:
- Techniques: Heavy pressure blending, light pressure blending, scumbling, sgraffito, stippling, color mixing and a solvent blending technique.
- Tips & tricks to working with oil pastels
During the last hour of this workshop you will focus on creating a beautiful pastel painting. A template will also be provided for those who wish to use it, to help ease the process.
With friendly guidance, Zyanya will walk you through the steps to putting the skills that you developed throughout the earlier portion of this workshop - to good use. Participants will leave with their finished artwork and have gained a solid understanding of the basic techniques to working with this beautiful medium.
____________________________________________
Instructor Bio:
Zyanya Bárbara Juárez Arellano was born and raised in Mazatlán, Mexico. She is is an Artist, Film director, screenwriter, cinematographer and editor. She is also a passionate poet and skilled painter, who has experience working with a diverse range of mediums.​
Zyanya is a recent Bachelor of Fine Arts graduate from NSCAD University, who is thrilled to be the newest member of the Sparkles n' Sawdust team.​
Zyanya is kind and gracious and motivated by the love and support of her family. Her warm personality is truly like a breath of fresh air.
__________________________________________________
Health & Safety Policies:
Masks are not mandatory, however recommended
Plexiglass cubicles are optional (please select your preference when registering)
"Bubble Duo" Ticket is available in limited quantities for those who want to sit at a private table with their partner, family member or friend. This includes a $5 discount. For group bookings, please get in touch by email: info@sparklesnsawdust.com and we are happy to accommodate seating, if space is available.
Our Stay Home Policy remains in-effect (please see below for details)
Wall mounted hand sanitizer will be available indefinitely
Small class sizes (max. 10 participants)
We have air conditioning, with an air purifier for the warmer seasons
Supplies is divided up in advance
Our workshops are carefully timed and therefore to make sure that everyone get the most of the experience, attendees who arrive more than 5 minutes late are not permitted to participate and therefore will forfeit their ticket. Thank you for your cooperation!
Stay Home Policy: If you are unable to attend due to illness, recent exposure or self isolation please get in touch with us by email prior to the event and we will issue a credit note with a 3 month expiration date. Please note that tickets are non-refundable and all sales are final. No compensation will be provided for anyone who contacts the studio after the event has started or for no-shows.
Registration Policy: Online registration is required in advance, to attend any workshop at Sparkles n' Sawdust Studio. Walk-ins are not permitted nor is same-day registration - sorry! Workshop registration closes at promptly 11:59 PM the evening before any scheduled event (*some exceptions may apply) We highly recommend early registration to not only help us prepare, but to also reserve your spot because workshops often sell out in-advance.
Cancellation Policy: Sparkles n' Sawdust Studio reserves the right to cancel a class if our minimum enrollment is not met. In this rare circumstance, you can expect to receive an email notification at a minimum of 24 hours in advance. A credit note or class transfer will be issued, with no expiration date. Please check your junk mail or "other" folder. just incase. Please note that if a workshop is cancelled the studio will be closed that day and therefore we will not be able to take phone calls. If you have a question, please email us at: info@sparklesnsawdust.com
Refund Policy: Due to our studio offering small and personalized workshops, we are unfortunately not able to offer refunds or class credits for missed workshops. However, what we do provide for our guests is an unforgettable experience! *Please read our covid-19 policy above for exceptions - thank you!
MEMBERSHIPS are the best option for you - if you want to attend multiple events at Sparkles n' Sawdust Studio, because it will save you money and includes some special perks: View options
Find us on SOCIAL @sparklesnsawduststudio