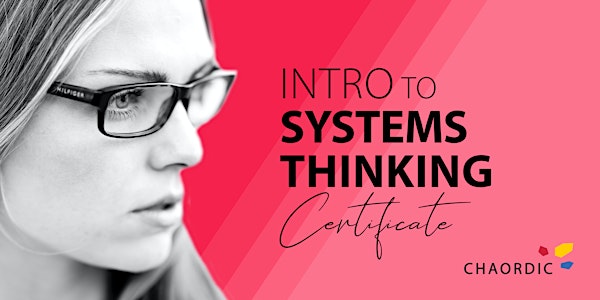 Intro to SYSTEMS THINKING -- Digital Certificate -- TORONTO
JOIN US for this HALF-DAY digital certificate to gain valuable Systems Thinking skills that you can start using immediately!
When and where
Location
TORONTO -- Digital 507 King St East Toronto, ON M5A 1M3 Canada
Refund Policy
Refunds up to 7 days before event
Eventbrite's fee is nonrefundable.
About this event
Intro to SYSTEMS THINKING Digital Certificate
Overview
How can we improve our understanding to engage today's complex innovation challenges?
Systems Thinking enhances our appreciation of the complex environments where innovation challenges take place. It makes visible the interaction dynamics that influence our innovation impacts. It also enhances our appreciation of the rich contexts that our participants, teams and stakeholders are immersed in – which helps us design more nuanced inquiry and improved collaboration processes. Systems Thinking helps us to investigate whether we are asking the right questions, and are working on the most relevant issues. It makes it possible to identify potential areas of intervention and impact - and then prioritize within the finite time, budget, participant availability, and other resources. As such, Systems Thinking further enables Design Thinking, Human-Centered Design (HCD), and Foresight practices - while providing an enhanced understanding that empowers innovation in complex environments.
Join us in this half-day, instructor-led workshop - and experience Systems Thinking through hands-on collaboration..
Key Outcomes
This instructor-led digital course will enable you to:
Understand system boundaries: to help guide your innovation design activities
Identify enclosing systems: that your participants, clients and stakeholders are immersed in
Map systemic relationships: to represent diverse perspectives and innovation resilience
Prioritize interventions: to enhance comprehensive impacts within innovation initiatives
Key Learning
At the end of this introductory half-day course, you will be able to understand key elements of using Systems Thinking – including how to work with the notation, define system boundaries, infer relationships, notice system archetypes, and identify 'leverage points of intervention' in a system.
You will experience working within a collaborative team – and will also identify potential inflection points to address a complex challenge..

Key Takeaways
Design effective, resilient and successful innovations, and:
Understand how to use Systems Thinking
Emerge insights about rich relationships in complex environments
Identify intervention strategies to enable impactful innovation initiatives
At the end of the course, you will receive a digital package of the canvasses necessary to enact Design Thinking workshops. The canvasses will be delivered in the PDF format.
Previous Knowledge
You don't need previous experience in design or innovation for this course. All of the relevant theories, methods and techniques will be presented within the workshop session.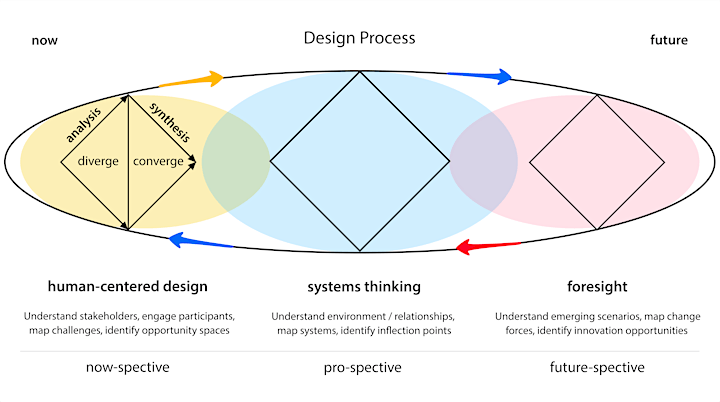 Participants
The course is designed to provide foundational innovation skillsets to benefit all types of participants, including:
Product / service designers: to further hone critical innovation skillsets
Leaders / managers: to enable teams and develop innovation competencies
Entrepreneurs: to enhance success in pursuing emerging market opportunities
Innovators: to develop products / services in complex innovation environments
Public servants: to enable resilience and enhance value creation in the public sector
Project managers: to empower innovation initiatives with customer-centric outcomes
Certificate
At the end of the half-day workshop, you will receive a digital certificate of completion.
Your Instructors
Your Instructors regularly speak at various international events and conferences, hold master's degrees in innovation design (MDes), and have facilitated multiple innovation initiatives over the last 10-year period, across diverse industries.
They regularly present at various international conferences, where they participate with the leading experts to help advance the field of innovation design, including in the domains of creating new theory, methods and techniques. Their award-winning work has been published in international journals and innovation textbooks.

Goran Matic, Design Strategist & Chief Innovation Officer, Chaordic Design | MDes SFI, EA
Goran helps organizations co-design effective innovation outcomes – by creating strategies that result in stakeholder engagement and sustainable value creation. His focus is on designing collaborative approaches in 'wicked problems' and cross-sector settings. Goran's work has been published in reference innovation publications and at leading international conferences. His latest contributions explore how economic actors can thrive in complex environments.
Goran also serves at several advisory boards – at the UN's World Creativity and Innovation Week (WCIW) and the Canadian Network for Imagination and Creativity (CNIC) – to help emerge competencies for building a creative, innovative and sustainable world.
He is an invited speaker at the Emerging Innovation Summit 2022 (EIS22) in Australia, and the Urban Economy Forum 2022 (UEF4) in Canada.

Ana Matic, Innovation Designer, Chaordic Design | MDes, SFI
Ana borrows approaches from varied areas of expertise – including business development, brand / identity design, sociology and entrepreneurship – to drive innovation, facilitate change, and design sustainable human-centric initiatives. Her work and research focus is on aggregate collaboration and amplification of positive impact with design thinking, systems and foresight practices within complex challenges. Emphasis is on evolving methods for sustainable value creation – to enable positive organizational and community resilience in ecosystems.
Ana has co-authored several well-received design theories, and is an avid speaker and trainer at leading international conferences such as Relating Systems and Design Thinking (RSD), MindCamp, CREA Creativity and Innovation (Italy), SxSW (Austin, TX), and others. Her latest research focuses on building participatory resilience in innovation journeys to advance participant contribution. Ana is passionate about women's leadership and is the co-founder of WILL: Women in Leadership League, an organization that offers free leadership and innovation training to all, to advance the impacts of women, women-identified persons, and allies.
Private Workshops
If you have a larger group or a dedicated team and would like to arrange for a private immersive workshop for your organization, please feel free to contact us directly at
workshops@chaordicdesign.com or go to