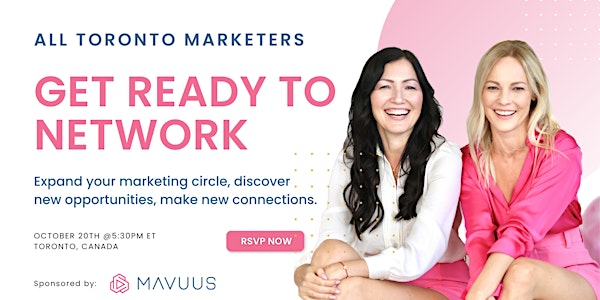 Introducing Mavuus Launch Party (Public)
A networking event to celebrate the launch of Mavuus - #1 Marketplace for Trusted Marketing Vendors
When and where
Location
Downtown Toronto - the exact address will be sent upon approval Toronto Toronto, ON 00000 Canada
About this event
The power of personal connections is strong and we all know it. Can you ever be too well-connected? We think NOT!!
Come and join us for a special occasion to celebrate the launch of MAVUUS - the new marketplace that connects marketers and vendors based on professional connections they know and trust. Join other peer marketers and their favorite contractors for an evening of useful connections and personal introductions.
Whether you are looking to expand your marketing network, discover new opportunities or find new ideas this evening won't disappoint.
Come and make the event special on October 20th @5.30pm ET (the location will be sent upon approval).
Brought to you by the founders of Mavuus, this event will give you an opportunity to:
Get a free VIP membership* with MAVUUS for 3 months
Connect and network with other like-minded marketing peers
Meet various vendors/contractors who have been personally vetted by us
Discover potential opportunities and projects that are in need of quality contractors
Learn from a KEYNOTE speaker, Richard Dolan, an Executive Performance Advisor who specializes in amplifying executive performance and accelerates the institutionalization of aspiring companies. Richard will conduct an interactive session on how to 'Boost Your Communication to Build Meaningful Connections'.
Take part in a raffle for a chance to win fun prizes
Enjoy a beautiful evening with delicious drinks and horderves
We are excited to gather with all of you bright marketing minds and start growing the Mavuus community to create stronger marketing together.
Who shoould attend:
Marketing professionals (any level)
Marketing entrepreneurs
Marketing consultants and agencies
Website designers/developers
Graphic/animation designers
Video/photography professionals
Copywriters
Social media professionals
PR professionals/agencies
Marketing influencers
And other marketing related professionals and vendors
We look forward to seeing you!
You can SAVE YOUR SPOT for the event by clicking 'Register' button.
*Important Note: All attendees MUST BE also registered for Mavuus in order to get admissions. In order to ensure valuable connections at the event, all registrations will be approved by organizers and the exact location information will be sent upon approval.
—--This event has been brought to you by two sisters and founders of Mavuus, Elmira Abushayeva and Dilya Abushayeva, who truly believe in the power of networking and personal recommendations.